Are you looking for an exceptional 50s vintage fashion this fall? The 50s are known for some of the most elegant outfits in 20th-century fashion. The New Look by Christian Dior was trending strongly with its romantic feminine silhouette; narrow waist and wide-hipped full skirts. Fashion designers were willing to try out new fabrics, patterns, and prints. If you are into 50s vintage, the houndstooth pattern should be in your outfit ideas, because it was one of the trendier patterns of the decade. This vintage pattern has made a strong comeback, especially for fall collections.
What is the houndstooth pattern?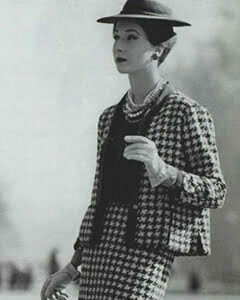 If you look closely at tweeds, you will notice a kind of two-toned pattern with four-point shapes, which look like broken checks. The pattern is commonly in black and white but also other colors like brown and white, but it should be a duotone pattern with a dark-colored shape on a lighter colored background. The houndstooth pattern is also called pied-de-poule, dogtooth, and dog's tooth pattern. Smaller patterns are known as puppy tooth. The canine theme comes from the shape of the patterns that resemble dog teeth.
You should know that this interesting pattern dates back hundreds of years. It has Scottish origins as seen in woven tweed and wool from middle ages Scotland. The classic houndstooth was made by weaving a simple 2:2 twill using four light and four dark threads. This pattern was used in heavy cloaks for winter protection. But the first use of the name houndstooth was in the 1930s when the pattern started being used in gent's suits. Houndstooth has gone beyond the classic dog tooth pattern to include more shapes like 'chicken feet.' Since then, this pattern has become popular for both men and women's outfits including haute couture by designers such as Christian Dior and Alexander McQueen.
Classic 50s houndstooth ideas
You can never go wrong with a houndstooth skirt and blazer suit. It is so the 50s style when paired with elegant pumps and a pair of stockings. The color combination is classic black and white. You can add a modern touch with a stylish contemporary shirt, and ankle boots instead of pumps.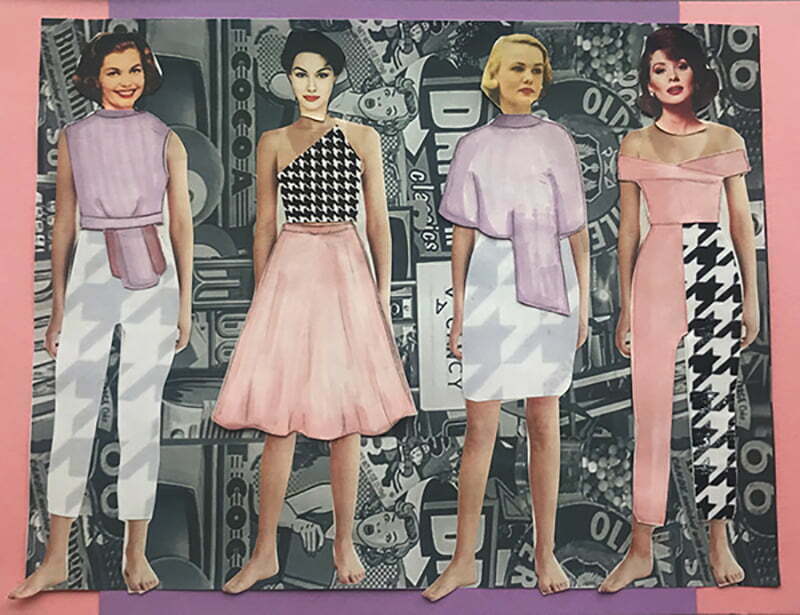 Technicolor houndstooth ideas for Pinup Girls
Technicolor houndstooth is colors other than black and white. This could be black and red, black and blue, black and yellow, and the rustic black and light brown. It is black against any of your favorite light color. You can go beyond the classic blazer and skirt, and try pairing a blazer and pants for a semi-formal look. Avoid looking tacky by always choosing white for the shirt or blouse. You can also pair a black/white blazer with black or blue jean, and a white top.
50s Trendy houndstooth look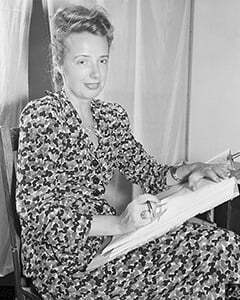 Houndstooth is promising to continue pulling in lots of fashion fans. It has already been showcased on the runway by D&G, and Chanel for the 2020 fall collection. For a trendy youthful look try a houndstooth pattern thermal roll neck jumper with black cotton or denim pants, and a white top. The pants can also be plain red or navy. This monochrome look straddles both vintage and contemporary styles.
50s houndstooth outfits
For 50s vintage wear, you cannot go wrong with recreating the New Look of that decade.  The shoulders were round and unpadded, the bust was sharply profiled, dropping to a narrow closely defined waistline. The waist flared out into full billowy skirts. This was a throwback to an even older era; the Victorian era when narrow wasp thin wasps were trendy.
Another outfit you can try is the dirndl dress from the 50s as well. This was a dress with a billowy skirt that reached to the knees. It was sleeveless, or with small puff sleeves. A skater skirt will do if you can't find a full dress.
The pencil skirt made an appearance in the late 50s and became quite popular for formal wear. You can create this elegant vintage look by pairing a black/white houndstooth blazer with a black skirt, and black pumps.
Women's pantsuits were also slowly gaining popularity in the 50s, but for semi-formal occasions. Again, you cannot go wrong with the classic blazer paired with black pants. Give a modern touch with a pair of trendy heels.
Ladies also wore blue jeans in the 50s, more so the teenage and college girls. For a girl-about-town look, pair a black/red houndstooth blazer with a pair of skinny blue jeans and ankle boots.
The elegant chic look of the 50s is easy to recreate with houndstooth patterns. This look is versatile enough such that you can step into the office in it, attend the school PTA in it as well. If you are looking into getting the vintage 50s vibe going, a houndstooth outfit or two will do well to add to your vintage collection.