Christmas is fast approaching. It is a season of endless celebrations and parties when you may be a host or an invitee. Maybe, you want to host a Christmas party but still have not gotten the perfect outfit ideas. Why not lighten the party mood with a vintage Christmas party outfit. It could be the party dress worn in the '20s, '30s, and '40s. Just anyhow, you wish. The most important thing is this – there is nothing like living in both worlds and loving them.
On the other hand, some are yet to get Christmas party invitations from families and friends. While, it may be easier to dress in your usual party dress, have you wondered if any of the forth-coming occasions may call for a vintage dress for Christmas. Also, you may have received many invitations for the upcoming Christmas season. Perhaps, some require you to wear a vintage party dress, but you have no idea what to wear or find it hard to pick a dress.
Irrespective of the category you fall into, do not worry. There are timeless vintage-inspired outfit ideas that can fit for the Christmas occasion. More so, celebrating the season like this is a fun and special way to brighten your party.
What should I wear for a Christmas party?
You have lots of options when looking for what to wear to a Christmas party. Even, if the occasion calls for a vintage/retro dress, a dress can fit in the category.
Even if it does not look exactly like a pure replica of any of Jean Harlow's curve-skimming gowns from the '30s, for example. It is much better than dressing the wrong way for the occasion. Therefore, I will explicitly give some samples of Christmas party outfit ideas that can fit any vintage occasion.
For formal vintage occasion
Your choice of clothing is unlimited. With lots of decades before us, there are many vintage formal wears at your disposal. Anyways, not all formal parties are business parties. Even on such occasions, who would like to be too serious in a season that calls for relaxation and comfort?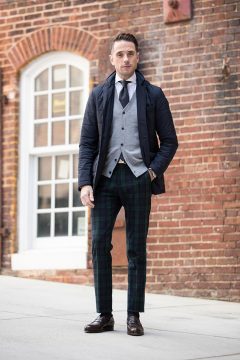 Wearing tight suits and pencil skirts? In as much as having a business party is possible, you may want to relax your outfit a bit. If you will attend a business party this Christmas, wear a jumpsuit or sequined wide pants with a matching top. The latter will remind you of Diana Ross in her 70's and 80's.
You can also wear elegant vintage separates. Wedding parties and special dinner invitations are other examples of formal occasions. Women can wear slinky gowns and men can dress just as if they would in any semi-formal party. Tweed suits can give any man the ideal traditional look they want. Even more, wear something as simple as a casual shirt and plaid pants.
For informal vintage occasions
An informal occasion may include a lunch party or just any casual Christmas party. In this scenario, no need to overdress. A casual, smart, and comfortable outfit will do. More so, there is no need to wear all shades of red and green because it's Christmas. You would like some other Christmas color twists.
How about a vintage outfit with Christmas theme prints? Smart casuals like boucle skirts, midi skirts with crop tops, red polka dots. You cannot go wrong with any of those. An informal occasion could also be an ugly Christmas sweater party – a Christmas party with friends and colleagues.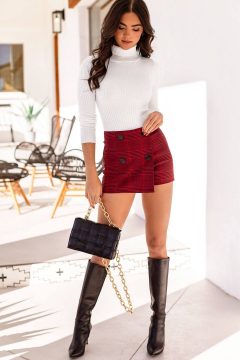 Thus, if you are in locations that experience snowing or cold during Christmas, then, it calls for a sweater dress. You have many options on your plate, from ugly Christmas sweaters to funny and pretty ones. However, dressing in the season's sweater dress is just an option. Perhaps you want what you can wear any time of the year and yet still fit in into the season, without looking like you are celebrating Christmas at the wrong time.
There is also something in stock for you. You can opt-in for other neutral vintage sweater dresses or their alternatives.
For semi-formal vintage occasions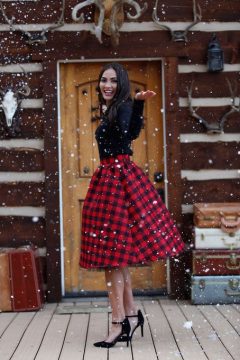 Some occasions may require some form of outfits that can make you comfortable and yet stylish. Such is in the case of a cocktail and even a wedding party. Your popular dressing code may be your choice but it requires a bit of glamour.  It could be a Christmas color plaid gown, a green rockabilly dress, a slinky gown, or a cocktail-appropriate suit for the men.
If the occasion calls for a Christmas character party outfit, dressing like snow white, Elsa and her sister, Anna (in frozen) will suit the occasion better. It makes little sense now to dress in Madonna's material girl outfit in this case. It is Christmas! – Unless the occasion allows any character outfit or you had better be a material girl in Christmas colors.
Just do not forget to wear matching satin opera gloves and rock the Marilyn Monroe hairstyle too.
What are Christmas colors to wear?  
What is Christmas without colors? Most holidays have specific colors associated with them. For example, Thanksgiving colors are orange (pumpkin), red (cranberries), yellow (corn), and brown (turkey). Besides, it is in these colors that the purpose of the season becomes clearer. Christmas surely has its colors, and it is more than a combination of green (Christmas tree) and red (baubles). It is also a season of white, blue, gold, and purples colors.
Red – blood, and death of Jesus Christ
Green – everlasting life or the birth of Jesus Christ
White – purity
Gold – gift or light
Blue – royal, cold, and ice (season's weather)
Therefore, putting on a dress according to the season will require these colors, either singly or in combination. Great deals and discounts on Christmas party outfits are already up for this season. Therefore, you can start making your choice of the appropriate vintage wear.
Of course, there are many ways to make a Christmas party occasion lively. However, the choice of a vintage dress over current fashion trends will make it even more fascinating.