No one needs to tell me how boring it is to have a Christmas party at the office without any Christmas costume ideas. I have experienced it countless times and it is nothing more than having a little chitchat over a lunch break for me.
Office Christmas party comes only once a year. Therefore, if you make it boring, you will have to wait for another full year to make it up to yourself and your colleagues. Why not bring up the idea now. Something odd but fancy. Let them know how celebrating the season with Christmas costumes will brighten their next coming office Christmas party. Besides, in case you do not know, the majority of companies now celebrate Christmas parties in a fun and splendid display. Thus, do not be left out in this season merriment.
What should I dress up for Christmas?
The question looks a whole lot simpler if you know and understand the theme of the Christmas party. The theme of the party influences the costume and helps to narrow down the options. That way, you will not be looking like frosty the snowman at a supposed cocktail office party.
Here are some costume ideas and Christmas themes for parties that best fit.
Ugly Christmas sweater party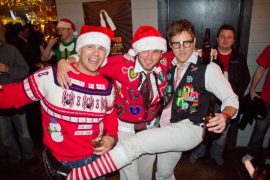 You can embrace the season trends or have a vintage look. It is your choice. What is important is for you to dress according to the occasion. Ugly Christmas sweater party requires you wear one of the tackiest or horrible looking Christmas sweaters.
However, ugly Christmas sweaters are not ugly per se. They look lovely, although you can still find some looking hilarious. You can have a spare ugly sweater for those who may show up without anyone. A more horrid one would do, at least that is the price to pay for coming without any.
To bring more life to the party, do not forget the ugly Christmas sweater contest, no matter what. The attendees will have to cast a vote each on who wore the ugliest Christmas sweater. The person with the highest vote wins. The game comes in many forms. It could come as a funny runway, where some will act as judges to choose the winner. Just do that whichever way you want as far as it makes the party more fun.
Christmas character party
Christmas character party allows you to dress like your favorite character. However, since we are talking about Christmas, a Christmas character will flow well with the season. It could be a major cartoon animation/fictional character like Frosty the snowman, Rudolph the red nose reindeer, and the frozen sisters.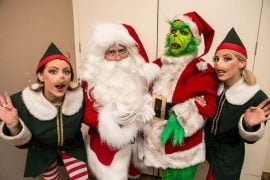 Grinch costume is also very popular. Besides, if you are all about the green this season and perhaps the Grinch green does not fancy you, try the Elf green.
Elf costume can be a great alternative. It could also be your favorite legendary Christmas character like Santa Claus. Many Santa Claus outfits are available, such that there is an outfit for anyone.
Men wear Santa suits but for a unique look, you can dress like Grinch in a Santa suit. Women's Santa suit is available too but guesses what? There are even more Santa Claus fancier costumes for women. Such examples are the traditional Mrs. Claus costume, Miss Santa Claus cosplay costume (for a sassier look).  If you are all about the season, do not miss the sexy Santa lingerie and nightwear too. Of course, it is not for an office party but it is worth having.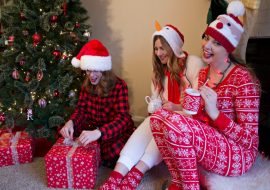 Pajamas party! How about that? Well, if you think a pajama party is awkward, then, you may be living on Mars without knowing it.  Do you even know April 16 marks National Pajamas Day? Students go to school in their PJs, even workers too.
Pajamas party is one of the trending costumes for offices, not only for Christmas but also for lunch parties. Even, some offices have a "pajamas-themed day," just to lighten up the mood. The fun in the atmosphere is so much to imagine.
However, PJ parties require you wear a decent one. There are stylish daytime pajama outfits you can wear in the public. Some come in lightweight cotton, silk, or polyester fabrics with beautiful prints and designs too.
Have you tried the Christmas family pajamas party or shoot?
You can have a nice photoshoot with your family this season on "family pajamas." Don't you think sharing love and fun with families matters too?
Extra Tips
We all know Christmas is the busiest time of the year. Therefore, you or your colleagues may not have enough time on your plates to start looking for specific party costumes.
On the other hand, you may be tired of being Santa Claus every Christmas and need something different. Why not try some DIY Christmas costume, doing it a little at a time – something simple but hilarious.
Instead of wearing heavy and uncomfortable costumes, you can make yours with old clothes and materials. For example:
Dress in a religious costume. You can be Joseph or one of the wise men. From the dress to the headpiece you have something in your closet that can fit. Just be creative and you will come out looking stunning.
You can make a red-nosed reindeer shirt with sew-in antlers and a red ball or balloon for the nose.
Get an old green sweater and sew-in Christmas garlands, red baubles, and stars. I bet you will look dazzling at your office Christmas party.
Why not make your gingerbread costume if you have a brown long sleeve dress. Even if you overdo it and looks so yummy, do not worry, no one will take a bit.
Perhaps, you have no cloth to fit into any of these costume ideas, you probably would have a big empty box to present yourself as a Christmas present.
Bottomline
There is no better time to start the implementation of these Christmas costume ideas than now.  I know you may have a stylish outfit you would love to wear. Haven't we all been wearing something similar for months now? Well, you can save that until the next working day or cocktail party. For now, our target is to look different in a fun way with friends and colleagues. We can look more serious afterward.