The 1970s were the pinnacle of entertainment and fashion, with a focus on comfort and daring. There are many not-so-subtle similarities between modern fashion and what was popular in the 1970s.
The hippie fashion trend was at its peak with gaucho pants and halter tops, so there was never a shortage of creative and colorful ways to dress.
Hippies were known for developing their own way of life that was more of a community than a fashion statement, and they were at the forefront of the 70s fashion scene.
Five 70s Fashion Trends – What and Why?
Fashion in the 1970s was a mash-up of styles, colors, and patterns. From vibrant paisley to glittering disco dresses and bohemian tassels, there's something for everyone.
The 70s fashion scene's theme was extravagant and jaw-dropping. Here are some clothes and accessories and why they were popular.
High-waisted jeans – Still popular in the fashion world, high-waisted jean combines comfort and style. The elongated waist makes it ideal for wearing with tiny tops and fitted blouses while remaining comfortable. They were not limited to one gender, as both men and women wore and dazzled in them.
Platforms– The beauty of pairing them with clothing pieces and the new heights that could be attained by wearing one made them a popular choice among women in the 70s fashion They could be worn with almost any outfit, and their versatility added to their appeal.
Tie and Dye– Since the fashion scene was colorful, adding a splash of color to one's attire was the way to go. Experiments with colors and materials were conducted, which resulted in the availability of colors and it was very colorful among hippies.
Floppy Collars – Shirts came with ridiculously large collars. The collars looked stunning when paired with neck pieces or embellished with brooch pieces; they also looked great with ties.
Folk and Beads– Bright prints with cultural ties to native American and European origins were popular. People who were not into hippie fashion but wanted to wear brightly colored clothes accepted this style.
Tips for what to wear to a 70s-themed party
Dressing up for a 70s party is a fun activity; the difficult part is deciding what to wear and where to get it, but once you do, the pairing comes naturally. You could go with a hippie costume or a flare-pants look.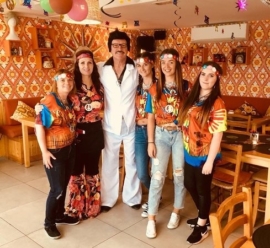 Here are a few suggestions to keep you on track:
Afro with a tiny shirt and hot pants
Tie and dye top with flare pants and jewelry
Shirt with a big collar, brooch, and Corduroy flares
Bell sleeve mini dress with platforms.
Boxo style maxi dress, flashy jewelry, and sandals
It is important to note that dressing up for a 70s party will not be complete without some eye-catching make-up and jewelry. There is no such thing as over or under-dressing, you could go in a hippie costume.
Equally, you can also create your signature look by incorporating one or two modern-vintage pieces now that 70s fashion is making a comeback.