The September 1953 issue of Vogue Magazine paid a tribute to lace saying that it was the most unique fabric in the history of women's fashion. It was independent of fashion whims that happens from time to time and was a perennial item in designers' collections. It is ageless and good for women of all ages. It is versatile and can be decorated in limitless ways. Lace was relevant to the styles of the 50s as much as it is still relevant in today's fashion designs.
50s Old lace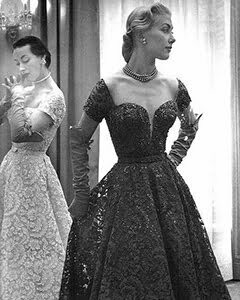 Lace has been broadly described as any light non-woven fabric. Back in the 1500s, it was made by hand, using a needle and bobbin, which made it very expensive and a fabric for the upper class and royalty. French royalty helped make a vibrant lace industry in towns such as Valenciennes, Alençon, Sedans, and Argentan which gave names to types of laces they produced. This lace is highly valued as a fashion collector's item, fetching thousands of dollars just like rare works of art.
Techniques for making lace became more advanced in the 1800s which made it more affordable and widespread in fashion for common people. It gradually became a fabric for women's fashion for use in evening wear and lingerie. The invention of the Jacquard made it easier to make patterned lace. By the end of the 1800s, lace was widely used as a decorative item for cuffs, collars, and hems.
1950s Twentieth Century lace
Fabric making machines like Leavers, Pusher, and Raschel made it easy to mass-produce lace in innovative ways, which made it possible for fashion designers like Coco Chanel to make very beautiful designs with it. Evening gowns with lace became a hit starting the 1920s onwards. It featured on all trendy women's wear even alongside other favorites like plaid patterns of the 50s.
1950s wedding gowns, for example, feature lots of lace. Chantilly lace was especially popular from the late 40s to the mid-50s. if you are searching for a vintage wedding dress from this decade, here is how to differentiate the lace on the gown;
#1 Alençon lace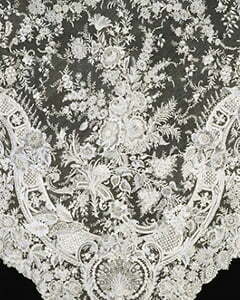 This is French-made lace from a town by the same name. It is needlepoint, with floral patterns on the sheer net.
#2 Guipure lace
This is also called Venetian lace. It is a bit stiff as it is made by embroidering on fine fabric. It does not have the sheer net fineness of other lace types.
#3 Embroidered lace
Patterns on this type of lace are stitched on to a base, sometimes appearing as if they are floating like an applique.
#4 Chantilly lace
This type of lace was popular for its extensive detailing. The patterns are outlined in a flat untwisted strand.
#5 Knit lace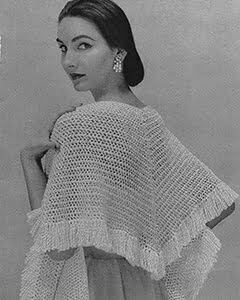 This type of lace is more flexible as it does not have a stiff background material, making it ideal for body-hugging gowns.
#6 Brocade
This type of lace features threads of silk, gold, or silver making it expensive and suitable for the opulent wedding.
#7 eyelet lace
This is not strictly lace, but a type of fine lightweight cotton with numerous little holes done in elaborate stitched patterns
You can never go wrong with well-designed lace. This is why it remains a favorite today and probably the future.