In the last decade, fashion has shifted from the reserved clothing worn by nobles to the era of free and comfortable clothing.
A hippie is someone associated with the 1960s counterculture, which began as a youth movement in the United States in the mid-1960s and spread to other countries around the world.
Hippies are known for forming their communities, listening to psychedelic music, supporting the sexual revolution, and using drugs such as marijuana and LSD to explore altered states of consciousness.
They are the cool kids of the twenty-first century; the hippie way of life was quite radical, and their values significantly impacted culture, influencing popular music, television, film, literature, and the arts.
What Did Hippies Wear In The 70s?
The 1970s saw a continuation of the hippie look of the 1960s, with a distinct ethnic flavor. Comfort is one factor that is known to be common and to exist as the foundation of what hippies wore in every era. The 70s fashion for Hippies included a lot of loose-fitting clothing, accessories, and forwards.
Women's bottom wear at the time included: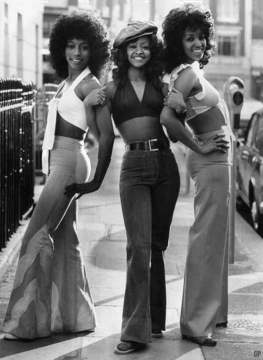 gauchos
frayed jeans
midi skirts
ankle-length maxi dresses.
Hippie clothing at the time was made in vibrant colors, with Indian patterns, Native American patterns, and floral patterns.
Early 1970s hippie accessories included:
chokers
handcrafted neck ornaments
accessories made from natural elements like wood, shells, stones, feathers, Indian beads, and leather.
Unisex hippie accessories included:
headbands
floppy hats
balumba balls
flowing scarves
Birkenstocks,
earth shoes,
authentic beaded and fringed Native American buckskin moccasins, including knee-high boot versions,
sandals: tire-soled versions, and huaraches.
Because of the hippies' back-to-nature attitude, there was a lot of walking around barefoot.
What Can I Wear To A Hippie Party?
Dressing up for a hippie party can be difficult, especially if you are unfamiliar with hippie fashion.
While putting together your hippie party attire, you will need to consider your hair, accessories, and footwear.
Here are 5 hippie costume ideas for your next hippie gathering:
Wear a bohemian-style dress with a jacket and boots.
A big tee with a peace sign and a bell bottom.
A tie-dye top paired with a flared pant
A white tee, vest, neckpiece, tie, dye pants, and glasses
A flowing maxi dress with a headband and sandals.
There are few restrictions on what you can wear to a hippie party, and you can always customize your clothes to make them hipper. There are a variety of clothing inspirations and ideas available on social media.
8 Ways To Dress Like A Hippie
Hippie dressing nowadays keeps the one thing hippie dressing is known for comfortable cloth pieces. These items may be oversized or appear strange to others.
If you want to dress like a hippie, here are eight ideas:
Choose tops that are loose, comfortable, and natural. If you have other accessories to dress it up, a simple tee will work, but try to opt for faded, old, or used tees. Hipsters have largely claimed the ironic and retro tees.
Jackets will necessitate the use of your DIY skills. There are other options if you want to spice things up with a vintage denim jacket. Go for it if it has beads, embroidery, or patterned trim. Suede, sheepskin, and leather. If you want some unique embroidery patterns, you can choose to make it yourself. Upload pictures with hippie elements to GS-JJ, you can use your design skills and start customizing your embroidery patches. These embroidered patches offer a fresh take on vintage fashion. Use them to accessorize your jackets for a more hippie look! Welcome to GS-JJ to learn more about embroidery patches!
Wear secondhand clothing. Shop at thrift stores, flea markets, and garage sales whenever possible. The whole point of hippie fashion was to abandon buying what big corporations were selling in favor of buying used clothing locally. Many hippies enjoy sewing and other handcrafts; even better if you can make your clothes. You might have to learn how to sew or settle for some do-it-yourself.
Wear Vests. The suede fringe vest was a classic option for both men and women in the 1960s, at the height of hippiedom. Many things scream "hippie," but this screams "hippie." Alternatively, any type of vest should be enough:
Long vs. short
Colorful vs. monochrome
Loose vs. tight
Floral
Wear denim bell bottoms: Faded, torn, or patched jeans will work if the rest of your outfit is hippie enough. Bell bottoms have always been a force to be reckoned with in the hippie fashion community, and nothing says "hippie" like them.
Wear boots: Hippie boots are typically made of suede or leather, which is also the material used in most boots. You can personalize it by adorning your boots with jewelry or beads.
Leather flip-flops or sandals: Leather flip-flops are simple to put on and take off, and they go well with dresses and skirts. Birkenstock sandals are also very comfortable and a hippie staple.
Jewelry:  Wearing jewelry is an important part of a hippie costume Simple bead pieces can be made by hand. If you like crystals or stones, you can use them to create the perfect jewelry.
Dressing like a hippie is cool, especially considering what the hippie culture stands for and what it means for the evolution of fashion and society. It is one of the fashion trends that will certainly always exist and be mentioned.