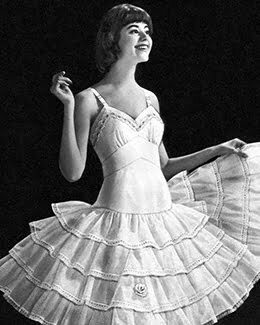 Petticoats were popular in the 1940s and 1950s, which became an integral part of the knee-length skirts and gowns worn by women. 50s fashion is known for its modesty and elegance.  The petticoat fashion is cherished today, and most women love to rock their vintage outfits. Women in the past loved to wear petticoats and twirl to the beat of the music with confidence.
If you've got a 1950s vintage dress that you wish to wear to an upcoming party, but you're confused whether you should wear a petticoat, this guide will help you in making the final decision.
Types of Petticoats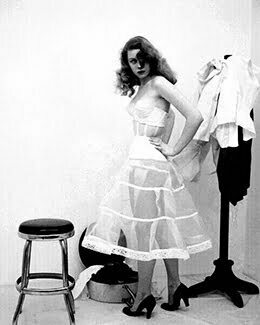 Before you buy a petticoat, make yourself aware of the different materials of the undergarment available in the stores today. There are various types of petticoat, such as Organza, Nylon, Net, and Aurora. Each fabric has its unique characteristics and appeal, so select the material comfortable for you.
Organza and Chiffon are popular petticoat materials that are stiff and give you the desired look. However, organza may cause itchiness to your skin. So, wear a slip underneath before trying the petticoat.
Styles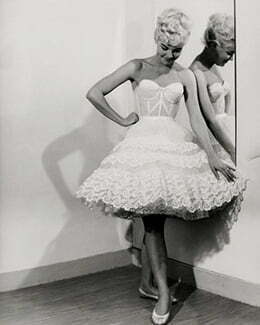 There are A-line and bell-shape petticoats. A-line adds volume towards the bottom of your dress, whereas bell-shape undergarment is perfect if you're wearing Lolita. The bell-shape petticoat add puffiness towards the top of the skirt and creates a curvy edge.
The dress you wear will determine which petticoat style you should go for. If you wear a Lolita dress, A-line/Bell-shape is petticoat is preferable, as it will give a puffy and enhanced look to your dress.  If you want to achieve the fullness of the dress, you can layer it up with more petticoats. The downside is you'll have to buy high-quality petticoats to achieve the fuller look, which will cost a fortune.
 Length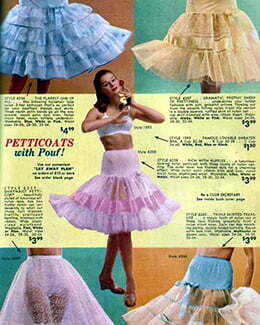 To select the right length, measure your skirt/frock from waist to the hem and match it with the petticoat. If you want a longer petticoat that sticks out, you can get a 1-2 inch longer petticoat but not more than that. For knee-length dresses, don't go for very short petticoats as this will give a weird waterfall effect.
Color
You'll find a wide range of Petticoats in vibrant colors. To opt for the right color, go for the color that matches your dress. A strikingly bold petticoat underneath a light dress would show through so pick out the color that goes best with your attire.
By now, you must have gotten an answer to your question. Petticoats would never go out of style and it can never go wrong with a chic vintage dress.