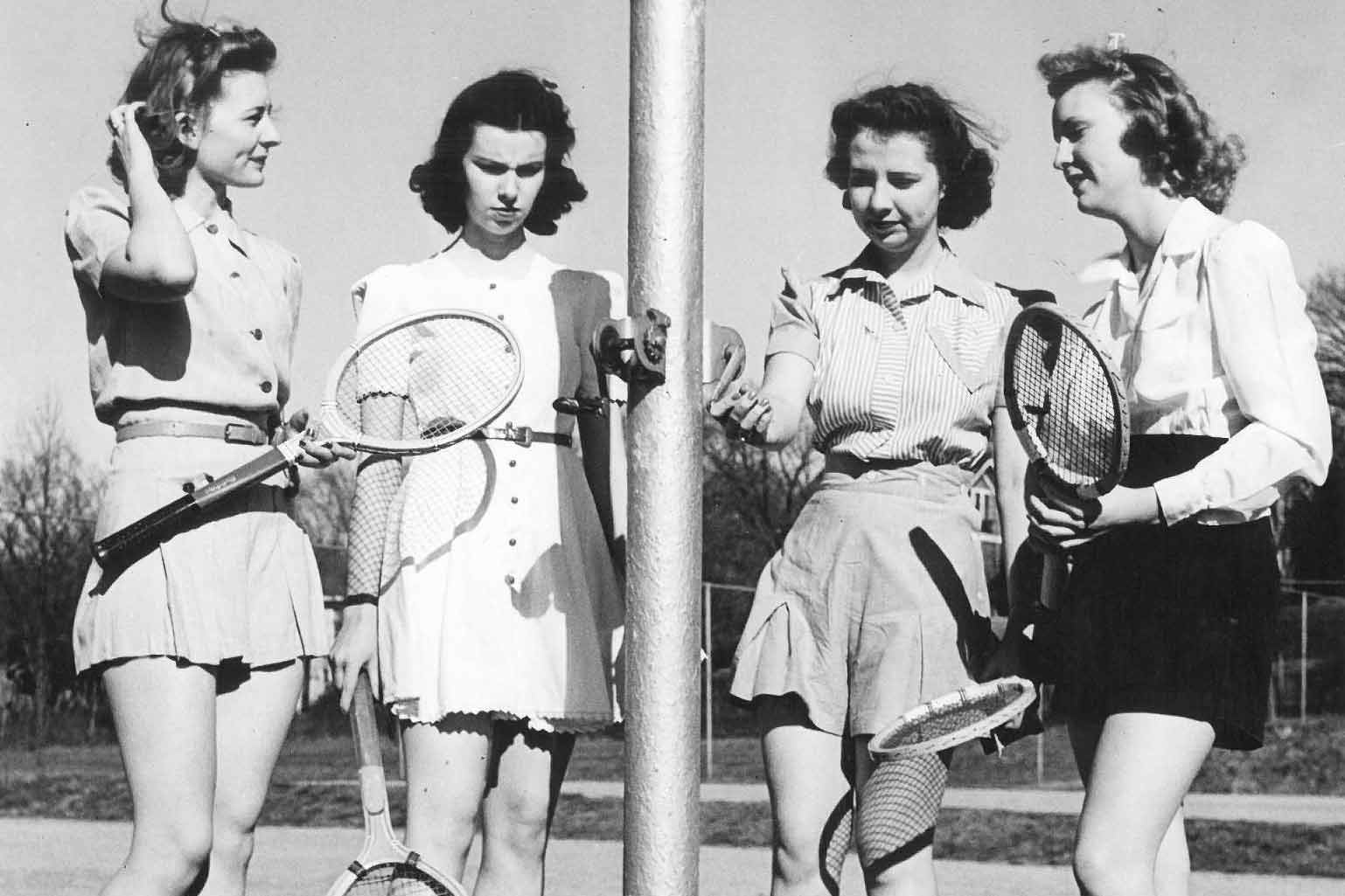 If you want to style a perfect retro look in an upcoming vintage-themed party and you are confused about which look to carry, then you absolutely don't have to worry as the best way to slay in such an event is to go for 40s vintage look. Learn about 40s women's fashion here.
Since the decade of the 40s is a combination of functionality, practicality as well as gracefulness, the dress code of 40s has special importance in history. But to recreate a 40s look, first of all, you have to look into the past and choose the look as this decade has many options to offer.
As the decade of the 1940s began with the outbreak of World War II, the fashion statement took a huge turn. The flowing dresses of the 30s were replaced by tighter dressing preferences.
As someone said:
"Don't change to fit the fashion, rather change the fashion to fit you"
Therefore, fashion was changed to fit the need of people and became straighter and tighter to offer ease in carrying the dresses. The designers made dresses with less fabric by shortening hemlines to economize the clothing and designed a more practical line of clothing that was largely accepted by masses.
The clothing came with more simple and classic designs, necklines were kept modest, fitted suits and pants were introduced, knee-length dresses were accepted, embellishments became frivolous and Peter Pan collars became quintessential elements of 1940s style.
1940s FASHION TRENDS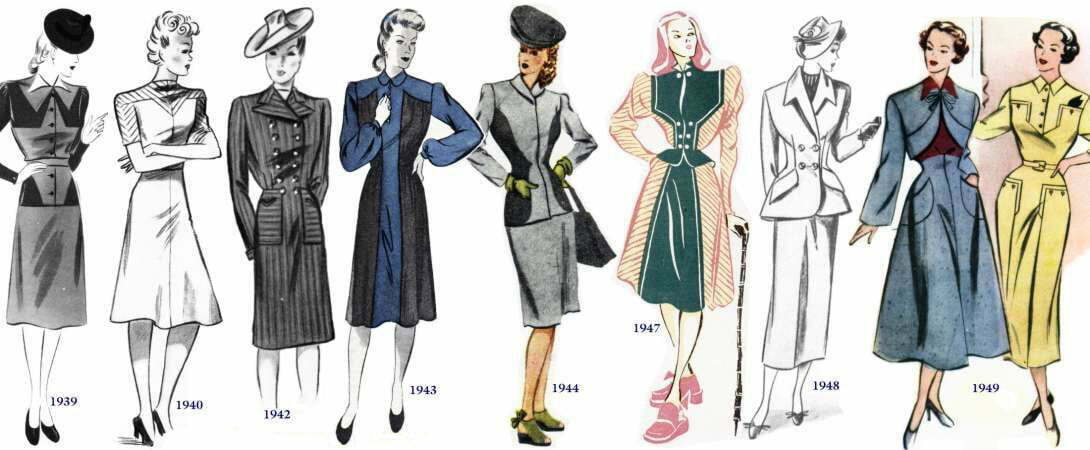 40s style was all about an hourglass figure with masculine detailing rather than 30s flowing and S-shaped corset look. Padded shoulders were introduced, A-line knee length skirts having polka dots, plaid or floral patterns were in huge demand, and wide leg high-waisted pants made its way in feminine wardrobes, which were only male dressing elements before.
The accessories became lighter in material but appealing in colors and makeup became more natural and subtle with bright-red lips to depict a cheerful face during difficult wartime. Hats, gloves, snood, headscarves, handbags, and flower clips were a mandatory part of women attire.
Major clothing looks of the 40s
1. Wide leg pants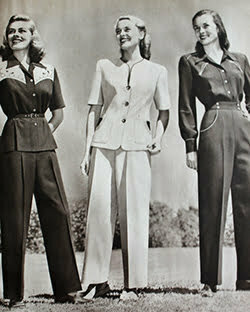 Until the late 30s, pants were a masculine dressing element. But as the decade started with a terrible war, pants were largely accepted by women as practical wear. They were high-waisted and wide-legged. The fabric used in its making was either cotton or denim. They were mostly worn during work hours by women, but later it became a part of their casual life.
2. A-line knee length skirts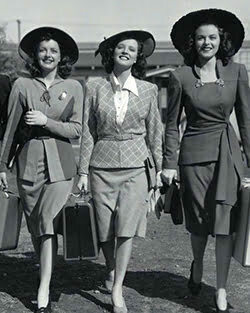 Due to the cloth rationing in the 40s, the size of women's dresses was reduced in size to overcome the shortage of fabric and became famous as the 40s style. Two piece suits for women were introduced which were known as Utility or victory suits. Sometimes, women also paired their two piece suits with a matching jacket to look more graceful.
The shape of the suit skirts was not pencil-shaped, rather they were made as A-line shape to make them comfortable and easy to carry. A-line skirts were flared up from thigh to knee. Most of the suits were designed with plaids, stripes, polka dots and floral patterns.
3. Dungarees and siren suits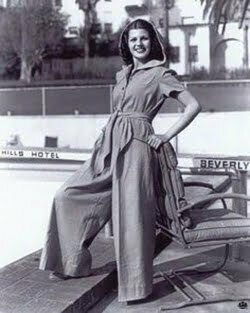 They were specially designed in the early 40s because of the ongoing war. Siren suits were similar to the jumpsuit and were designed to be loose-fitted. They were designed in this way so that it could fit over nightgown in case there was an emergency and one had to dress up in haste.
It was stitched with large pockets so that in the need of the hour, women could stuff them up with important items without the need for a handbag. Hoodies were also stitched with it to keep the head warm.
What are you waiting for?
We have looked into the vintage 40s style in very details to find the right retro look for you. Now it's up to you which style do you want to recreate. All the options of 40s clothing bring along a whole lot of glamour with them. So, just carry the look and SLAY it!! And don't forget to wear hot red lipstick with it to steal the show!