WHAT IS STUDIO 54 FAMOUS FOR?
Studio 54 is a Broadway theatre, a former disco nightclub located on 54th Street in Midtown Manhattan, New York City. The building opened as the Gallo Opera House in 1927. Under various names, it operated as an entertainment venue until 1942, when CBS started using it as a radio and television studio.
Ian Schrager and Steve Rubell opened a nightclub in the building in 1977, retaining many former TV and theatrical sets and naming it after its street. The club became world-famous, having launched at the peak of the disco dancing and music trend. It was noted for its celebrity guest lists, restricted entry, drug use, and open sexual activity on the club's infamous balcony and basement VIP rooms.
BRIEF HISTORY OF STUDIO 54
The venue was designed by famed architect Eugene Day Rosa and first opened in 1927 as the Galo Opera House was soon revised to Gallo Theatre named after its owner Fortune Gallo. After two years, the Gallo had many failed attempts to draw an audience and was later lost to foreclosure.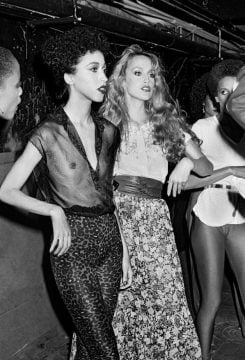 It became the WPA Federal Music Project of New York City's Federal Music Theatre/Theatre in 1937, and later the New Yorker Theatre in 1939, housing an all-black version of The Swing Mikado, for two months, when the production moved to the 44th Street Theatre to finish its run. May 1940, the New Yorker Theatre saw its final production, Medicine Show, after which the building remained vacant for three years.
In 1952, CBS purchased the building and renamed it Studio 52. From the 1940s to mid-1970s, CBS used the location as a radio and TV stage that housed such shows as "What's My Line?", "The $64,000 Question", "Video Village", "Password", amongst others.
In 1977, Ian Schrager and Steve Rubell transformed the theatre into a nightclub called Studio 54. They ran the company as Broadway Catering Corp. It took six weeks to transform the theatre into a nightclub and cost $400,000 before its grand opening on April 26.
While Rubell was the face of Studio 54, Schrager was the self-professed introvert of the business partnership. Schrager orchestrated the fantasy: regularly changed staging, set, and lighting design to create dazzling parties.
FASHION AND STUDIO 54
The point of Studio 54 fashion was to stand out, and people wore outfits that attracted the necessary attention.
There were velvet jumpsuits, gorgeous fluid satin dresses in high slits, bodysuits, shorts, fur coats, big and bold heels, bare legs, and of course, bare nipples. This made the club a haven for fashion designers looking to showcase their work and find inspiration.
70s costumes worn by attendees and workers of the club also added to the spectacle of the studio. On regular nights, shirtless bussers would skate around collecting glasses or arranging buckets of confetti. Special nights demanded intricate and unique outfits for staff and performers.
Half a dozen harpists in floating, pastel-colored tunics would line the entrance corridor, glittering clowns in bulbous pleated creations would walk around with sparklers, performers dressed in 18th-century clothes, complete with masks, powdered faces, and curling white wigs interacted with guests at the bar; a group outfitted in Roman attire would position in the space, mimicking the notorious
decadence of that period's opulent wealth. Special nights were created through intricate planning and creativity. No night was the same.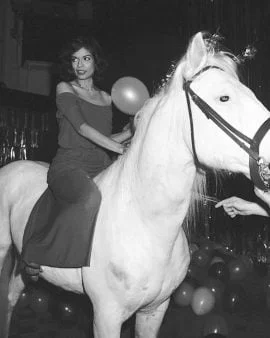 WHAT TO WEAR TO STUDIO 54 PARTIES?
Studio 54 attracted and hosted an endless list of famous clientele, including Cher, Elton John, Andy Warhol, Diana Ross, Truman Capote, Bianca Jagger, John Waters, and Grace Jones, to name just a few, so only the best outfit was fitting to attend a Studio 54 party.
Celebrities that had entrance to Studio 54 understood the goal and showed up in mind-blowing outfits that wowed everyone. There were certain events where celebrities showed up in memorable, timeless outfits.
Bianca Jagger in Halston, on a white horse. The fashionista stunned clubgoers during her birthday party at Studio 54 when she got on a horse wearing a Manolo Blahnik heels and Halston gown.
Pat Cleaveland wearing a Zhanda Rhodes Gown. The iconic Pat Cleveland attended Halston's Disco Bash at Studio 54 wearing a pleated lame gown made by British designer Zandra Rhodes in 1977.
Richard Gallo in oversized Quilt coat; New York City-based performance artist, Richard Gallo, was captured on camera by photographer Dustin Pittman wearing an oversized quilted coat, leather pants, and hardhat while out and about at Studio 54 In 1979.