There were plenty of hair accessories to play around with during the '80s. Of course, that much is expected as fashion became blown up. Women were not only lovers of bold outfits but also extreme hairstyles. Big curly and outrageous styled hair was in vogue.
Therefore, having hair accessories that can keep the voluminous curls, shaggy and puffed-up styles in place was very much appreciated. With the likes of sweatbands, ribbons, hair comb clips, hairpins, and scrunchies available, anyone can flawlessly rock any kind of hairstyle.
Scrunchies is one of the fashion hair accessories of the 80's that I found interesting. We will take a good look at the 80s Scrunchies. Because not only was it one of the popular accessories then but also the decade gave birth to its recognition.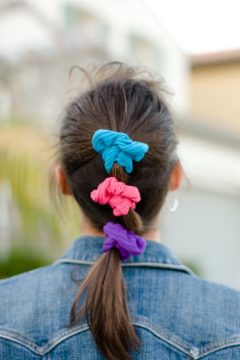 What is a scrunchie?
You may have been using a scrunchie (scrunchy) without knowing the name. A scrunchie is an elastic hair tie covered with a piece of fabric. It comes in different patterns of fabrics and designs. You can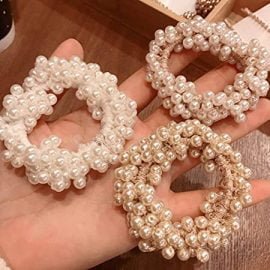 get a beaded scrunchie too. Apart from the fact that it can fasten hair without damage, it can come in matching outfits. More so, some do wear it as a wristband to complement their outfit.
Did women wear scrunchies in the 80s?
Of course, yes. The 80's hairstyles needed it. In the mid-'80s, mega perm was common for both genders. However, it was unfashionable to part it. So, even if they choose to wear the style not parted, they have an alternative in scrunchies.
Again, as crimped hairstyles replace perm hair by the end of the decade, scrunchies even became more popular. It suited many hairstyles. It can perfectly secure ponytails, stylish buns, curly hair, and long braids. The fact that women can wear scrunchies in many ways is one of the reasons it remained in fashion. It is loose but fits hairstyles just as wanted.
Other reasons are that it causes no hair breakage or other unseen damages to the hair, unlike hair bands. For the younger adults and teenagers, scrunchies are one of the best fits for 80s theme parties. It can add some pop of color to their outfits.
When were scrunchies invented?
Scrunchies have been in existence since 1960. However, it was until Rommy Revson patented it that it became trendy. The late 80's (precisely, 1986) was the year of scrunchies' recognition. A nightclub singer by the name "Rommy Revson" was the icon behind it. She has experienced many hair breakages from the use of rubber bands and other metal hair ties common at that time. To find a better alternative, she developed a scrunchie.
The original name she gave it was Scunci. However, because the hair accessory looked scrunched, the name scrunchie (scrunchy) sounded better and easier to pronounce. In the year 1987, she patented the hair accessory. Owing to its many benefits, scrunchies became very popular.
Even among celebrities, scrunchie was a trendy hairpiece. Some of the 80's celebrities like Paula Abdul, Janet Jacket, Sarah Jessica Parker, Demi Moore, etc., made it their favorite hairpiece.
What are the characteristics of the 80s Scrunchies?
One of the features that the 80's scrunchies by Rommy Revson offered was their varieties. It came in different textures, fabrics, and sizes. There were bigger-sized scrunchies, such that, even some women can use them as a full headband. Some came in smaller sizes too to serve other ranges of hairstyles like piggy tails. There were scrunchies made of fine satin, velvet, sequins, cotton, and fur also in many other lovely fabrics.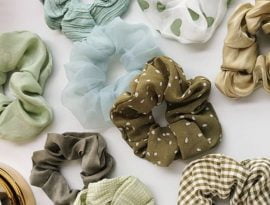 Some even came in crotched wool and beads. Unlike most hair accessories, you can get a scrunchie for every dress. When it comes to designs and patterns too, you have more on your plate to choose from. With designs likes polka dots, animal and floral prints, and tie-dye scrunchies, you cannot love it any less. No stone was left unturned as far as it concerned the 80's scrunchies. In terms of styles, there was more than just a scrunchie hairband.
Some of the style variations also include the bow scrunchies, headbands scrunchies, scarf scrunchies, bunny ear scrunchies, and ribbon scrunchies. Since then, many brands have developed an interest in its production. Hence, you can find up to a thousand variations of scrunchies today. The designs, patterns, fabrics, and colors ranges are massive. More so, you can find it almost in every woman's accessories store.
Conclusion
Scrunchies give your hair the layers of protection it needs. No need to worry about breakages and damages from detangling that hairbands can cause.
However, in comparing the 80's scrunchies with what we have now, I can say, it has evolved but on the positive side. It now comes in more beautiful fabrics and styles such as patchwork scrunchies, ruffle scrunchies, and tulle scrunchies.
Thus, regardless of what Carrie Bradshaw says, the 80's scrunchies are back and even better.