Nothing could be more colorful and mesmerizing like the 80's fashion. That is why even today, there are many vintage-inspired collections from the decade.
The '80s left no stone unturned even when it comes to shirts. It displayed varieties of styles, colors, and patterns of shirts, which graced both men's and women's wardrobes.
What trends were popular in the '80s?
Shirts are comfortable to wear for both genders. Although it is a simple piece of cloth, it comes in different stylish designs. In the '80s, women's shirts were also very popular, just like today. It is a perfect fit for casual or corporate purposes, although, it depends on the type of shirt. It comes in varieties like polo shirts, Henley shirts, t-shirts, button-down shirts, camp shirts, etc.
When it comes to shirts specific to women, different styles come to play. Women's casual shirts include color block shirts, ripped shirts, striped shirts, and western shirts (some come beautifully embroidered). For a corporate look, you can find secretary shirts, banker's shirts, tuxedo shirts, tunic shirts. It comes in lovely patterns and designs too. In between casual and corporate wear, you have the lace shirt. It perfectly fits any stylish look you want. Perfect as workwear and stunning as casual wear.
Today, you can find other alternative varieties of lace shirts, which come in beautiful blouses and tops. Even more, vintage lace shirts and blouses are much available.
What did the lace shirts look like in the 1980s?
Not much difference was between the lace shirts of the '80s and that what we have. Although they now come more in beautiful designs, most of them still have the 80's fashion look.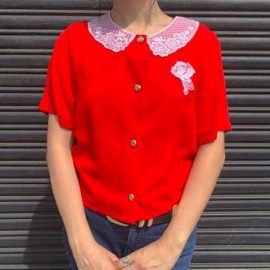 Lace collar shirts were very popular. The shirt or blouse is usually of other fabrics other than lace, only that it features a lace collar. Now, some women's lace shirts come in detachable collars. Even more, there are detachable fake collar half shirts. Isn't that amazing? At least for someone that wouldn't want to wear a full shirt.
Furthermore, other parts of the shirt like the cuffs and pockets can also come in similar lace designs to improve the look.
Carefree button lace shirts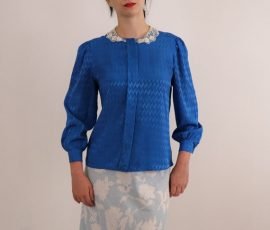 Women may like to wear something bold in the '80s but they value their comfort as well. Carefree button lace is comfortable to wear for many women. It comes in designs like ruffled cuffs, puffy shoulders, and different styles of hemlines. Bottom down lace shirts, bottom-up lace shirts, and lace prairie blouses were trendy. It is suitable for all kinds of outings, be it casual or formal (office wear).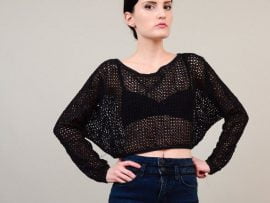 Women's net lace in all varieties of tops, like shirts and blouses, was very prominent in the '80s. You can find them as crop tops and in other stylish designs. It is a perfect dress for summer. It fits well with denim or miniskirts and gives you a laid-back look.
Women's lace shirts are light, breathable, and stunning. With new fashion trends and inspirations, more stunning lace shirts are yet to come.