So pink, fancy, and gorgeous was the outfit worn by Madonna in her music video titled "Material Girl. The song was released in 1985 and became one of her greatest hit songs in America and Japan, the UK, Canada, etc. Many have debated that the song was behind the popularity she has today.
Anyways, why this song is still the talk of the town, we are very much interested in Madonna Material Girl outfit.
What did Madonna wear in this music video?
Madonna wore a pink satin gown in her "Material Girl" video. Though that was not the only dress she wore, it was the center of attention and was also one of the song's highlights. For over three decades, she released the song, many designers have copied and duplicated the style.
Even if you request for the "Material Girl" custom or her other range of fancy outfits, you are bound to get it.
Madonna's outfit for the video includes:
Madonna's Material Girl outfit was a strapless pink gown made of fine satin. It has a 1-niche band around the waist and a big bow at the back, a little beneath the waistband.
She improved her appearance with matching pink satin opera gloves. To look more elegant, she adorned herself with expensive jewelry – A chandelier earrings, necklace, a ring, and bracelets. The glittering necklace and earrings she wore in the video were from Connie Parente's collection, a famous Hollywood jewelry collector.
Then, Palace Costume Company borrowed her Production Company the ring, rhinestone bracelets, fur stole, and the beautiful pink dress. She made up to look like Marilyn Monroe's, from her makeup to hairstyle – blonde curly style.
Highlights  
The dress was not famous because it was pink or of satin fabric. It was because Madonna, a pop diva, wore it again. Yes, she was not the first to wear that style, but she was the original imitator. Madonna dressed like Marilyn Monroe from "Diamonds Are a Girl's Best Friend" performance video released in 1953. She was also a pop culture icon.
However, Madonna's admiration for such an icon inspired her outfit and the video song. That earned the pink dress fame. Subsequently, other personalities have worn a replica of the dress as a tribute to the originator.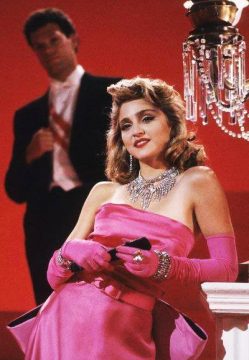 How to dress like Madonna
Many people have replicated the material girls clothing so many times, and you can too.
A strapless pink gown
A waistband with a big bow at the back
White and long fur stole
Glittering jewelry – bracelets, earrings, and necklace
Pink satin opera gloves
Then perfect your look with a blonde short curly wig, a black upper lip mole, and red lipstick. You cannot be Madonna without her looks.
Apart from the "Material Girl" costume, there are many other "Madonna in the 80s" outfits to make you look like her. Each passing decade comes with its unique fashion. Just like anyone, celebrities change their styles as fashion evolves.
However, her 80's dress style reflected her most iconic look. You can go through Madonna music performances to choose a style. Regardless of the one you choose, you cannot dress like Madonna without her accessories.
Madonna in the 80s
Black and white jelly bangle-bracelet
Big dangling earring
Rock punk leather bracelet with cross
Multi-layer chain and crucifix necklace
Bustier top, crop top, or fishnet T-shirt
Fishnet gloves
Flare layered lace skirt or tutu skirt
Lace tight
Hair bow (headband) or lace hair ribbon
Shrug Bolero cropped jacket with long sleeves
Perhaps, you have an interest in buying her Material girl outfit. Let me save you the stress – SOLD OUT.  It sold out in 2006 for almost $13,000.
However, the explicit outfit ideas as aforementioned are enough to give you that iconic look.