Halloween Wedding Costumes & Halloween Wedding Decorations

The Significance of Halloween Weddings
It's no secret that October is a popular month for wedding celebrations. The weather is beautiful this time of year and the fall color palette is appealing for many couples! For a memorable wedding day, you might choose the most unusual day of the month in a year – Halloween! Halloween now is not just a day for ghosts anymore. It can be an elegant, fun wedding day too. With unique affordable options, a Halloween wedding can be a show stopper if you keep your creativity in balance with elegance and class.
Halloween weddings are not common, so if you want to stand out from every other couple getting married, you definitely will. While other brides will be decked out in white and lace, you can take advantage of fun Halloween wedding dress and decor ideas, such as black dresses, masks, pumpkins, and cakes at your celebration. Besides, you can also incorporate whatever fun and crazy details you and your fiancé want into your celebration. Years afterward, your friends and family will probably still remember your wedding and all of the fun times they had.
Halloween Wedding Costumes Ideas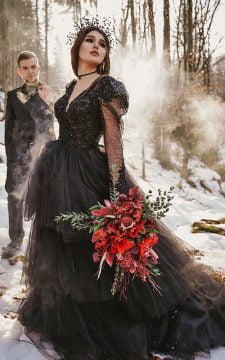 Have you been dying to rock a black wedding gown? Or maybe you want to sport a bold burgundy lip color? This is your time to shine! More and more often we're seeing couples transition from traditional wedding attire. So if a white gown isn't your cup of tea, rock it out with something you love!
Gothic Wedding Ideas
When it comes to your Halloween wedding day look, these Gothic wedding ideas will do the trick.
Gothic Wedding Style is best known for being theatrical, dark, and even a little morbid at times, but that's exactly what makes it so unique. The main elements of it include a dark and moody color palette combined with opulent details to create a sense of fantasy. For example, there have skeletons, pumpkins, candles, chandeliers, red roses, and black wedding dresses, etc. Here are the detailed introduction of this style as below:
A dark gown, a black birdcage veil, and even layers of tulle in deep shades of gray will be your excellent choice, which makes for an unexpectedly romantic look for you. Also, not only the black color, but stunning deep crimson, scarlet, and red colors, all will dazzle your imagination. Conjoined with a coarse black, they picture a terrific outlook. In conclusion, a festivity decorated in Gothic black and red appeals with its shadowy charm.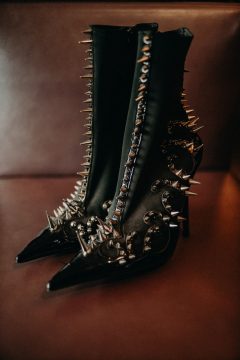 All the Gothic wedding shoes are inspired by a mix of Victorian Gothic, Steampunk, Macabre, and simple dark elegance. Dramatic dark high heels are in the majority, such as, a pair of spiked black booties, which will make a statement well with your bridal attire—but we'd suggest switching out of them before hitting the dance floor so you don't accidentally poke your guests.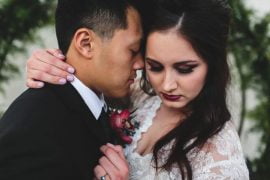 Smokey eyeshadow, full lashes, and berry lipstick are perfect for a Gothic wedding. Keep the rest of your makeup light, so that makes the overall look of the bride not too overwhelming.
Halloween Wedding Decorations Ideas
As we all know, what can't be missed is the wedding venues, which can also play a role in the theme of your Halloween wedding. A beautiful hall, for example, with more mood lighting and decorations can create an ambiance of richness without becoming tacky while playing up the spooky theme. Then, it turns to talk about the Halloween wedding decorations:
Black linens, moody flowers, a flower-donned skeleton are all expert ways to add a hauntingly perfect touch of drama. Here, the elegant floral arrangement, featuring shades of merlot, black, and deep green, is a study in stunningly dark design that will keep your guests wrapped up in the spookiness of it all.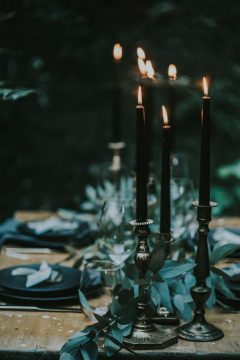 Candles are always a necessary element of an elegant tablescape. Moody and unexpected, black taper candles are a subtle nod to a Halloween-inspired design.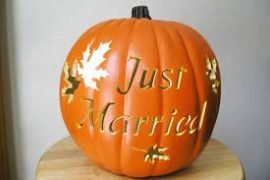 There will be no mistaking your inspiration when guests arrive at their tables strewn with pumpkins and the like. Playoff the vibrant hue by incorporating a mix of more modern tones and touches. Also, you could literally do anything with a pumpkin – and what says Halloween or spookiness more than the orange autumnal vegetable. You could carve your new surname into one, go with a simple "Just Married" – or even go for the date of your special day.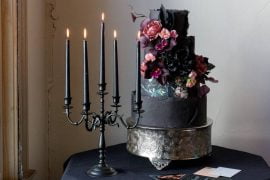 The wedding cake is usually the centerpiece at the reception, so it makes sense that it would fit in with the event's theme. If there was ever a time to have a black wedding cake, a Gothic wedding is it. Black fondant is the perfect backdrop for oversized purple and burgundy sugar flowers on this gorgeous dessert. You can still have a traditional wedding cake but decorate it with some Halloween-inspired colors and accents.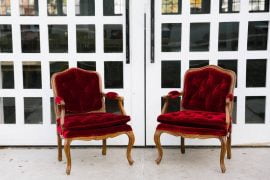 As the guests of honor, you and your spouse deserve extra-fancy chairs for your sweetheart or head reception table. A pair of vintage armchairs upholstered in red velvet fabric is luxuriously Gothic style.