In this enchanting era of nostalgia and timeless elegance, vintage-themed weddings have made a captivating comeback. Delighting in the allure of the 20th century, couples are infusing their special day with dusty rose color palettes, floral lace fabrics, and charmingly homemade stationery.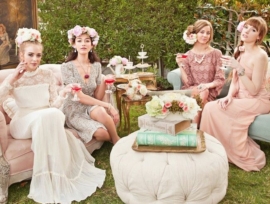 Whether you're yearning for a 1920s Art Deco ambiance or a rock 'n' roll 1950s vibe, going on your journey towards a vintage celebration requires early and thoughtful planning. Here are tips for having a vintage-themed wedding that will thrill your guests and make your special day a memorable one:
Choose a Historical Venue
The perfect venue is paramount to infuse your wedding with a sense of history and character that aligns with your vintage theme. Historic venues possess a distinctive charm that can transport guests back in time, creating an unforgettable experience. Consider enchanting old estates, opulent ballrooms, or centuries-old manors, all offering a rich backdrop for your romantic affair.
One of the primary benefits of choosing a historic venue is the inherent ambiance it provides. Often adorned with intricate architectural details, vintage furnishings, and elegant decor, these locations evoke the essence of bygone eras. These distinctive features minimize the need for excessive decorations and lend a unique and authentic feel to your celebration.
Choosing a Vintage Palette
The color palette sets the tone for any wedding, and a vintage-themed celebration calls for careful selection to achieve an authentic atmosphere. Dusty roses, muted pastels, and earthy tones are popular choices that evoke a sense of nostalgia and timeless beauty. These shades blend with vintage aesthetics effortlessly, creating a soft and romantic ambiance.
To choose the perfect palette, draw inspiration from old photographs, vintage fabrics, and period art. Look for colors that were popular during the era you wish to encapsulate. 
Also, consider your wedding season, as certain colors may be more fitting for different times of the year. Incorporate the chosen colors into various elements of your wedding, including floral arrangements, table settings, invitations, and bridesmaids' attire. The cohesive use of a vintage palette will enhance the overall atmosphere and leave a lasting impression on your guests.
Vintage Wedding Dress

Blog Post: Laura and Chloe's Modern Twist on a Vintage Wedding, Nashville
The vintage wedding dress is the centerpiece of any wedding, and for a vintage-themed celebration, the dress plays an even more crucial role. Channel the elegance of past eras by selecting a wedding dress that embodies the style of your chosen period. 
For a 1920s Art Deco vibe, opt for a glamorous and figure-flattering sheath dress adorned with shimmering embellishments and fringe details. Alternatively, embrace the gracefulness of the 1950s with a tea-length dress featuring a cinched waist and a full, flouncy skirt.
Complementing your vintage wedding dress, a carefully chosen wedding band can accentuate the timeless charm of your celebration. You can go for wedding rings for men and women with intricate details, such as filigree or milgrain work, reminiscent of vintage jewelry craftsmanship.
Consider antique or vintage-inspired rings that align with the overall theme of your wedding. Vintage rings often feature unique gemstones or cuts that differ from contemporary options, adding a touch of individuality and character to your bridal jewelry.
While antique rings possess a genuine connection to history, vintage-inspired rings offer a blend of classic design and contemporary craftsmanship. Whichever you choose, let your wedding band be a symbol of enduring love that embodies the elegance of a bygone era.
Guide your guests through a journey back in time with retro signage that complements your vintage-themed wedding. Vintage-style signs serve a practical purpose while adding a whimsical and nostalgic touch to your event. From wooden arrow signs pointing the way to the ceremony and reception venues to chalkboard signs displaying the day's schedule, retro signage can be both functional and decorative.
To achieve an authentic vintage look, consider using weathered wood, distressed paint finishes, and retro fonts that harken back to past decades. Personalize the signs with romantic quotes, witty sayings, or names of iconic places from the era you are celebrating. For instance, if you are embracing the 1950s, incorporate phrases like "Love is the word," paying homage to classic rock 'n' roll lyrics.
Furthermore, vintage signage can be a delightful addition to your photo opportunities. Utilize oversized marquee letters spelling out your initials or the word "love" as a stunning backdrop for your wedding portraits. With creative placement and thoughtful design, retro signage can elevate the overall atmosphere of your vintage-themed wedding, adding a dash of nostalgia and a hint of whimsy.
Vintage-Style Photo Booth
Create lasting memories and entertain your guests with a vintage-style photo booth that captures the essence of the past. Photo Booths have become a staple at weddings, and infusing yours with vintage charm will elevate the guest experience. Design a backdrop that complements your chosen era, such as art Deco patterns for a 1920s theme or retro floral prints for a 1950s vibe.
Provide a treasure trove of vintage-inspired props for guests to play with, including feather boas, bowties, retro hats, and oversized sunglasses. These fun and quirky accessories will encourage your loved ones to embrace the spirit of the past while striking playful poses. To complete the vintage photo booth experience, opt for photo prints that mimic the look of old-fashioned snapshots. 
Vintage Trunks
Incorporate vintage trunks as decorative elements to add character and practicality to your vintage-themed wedding. These versatile pieces not only serve as stylish décor but also double as functional storage solutions for various wedding items.
Place vintage trunks at the entrance to display your guest book or to collect cards and well wishes from attendees. Consider using them as unique coffee tables or cake stands to complement the overall vintage ambiance. 
Vintage trunks also make for charming displays for wedding favors or desserts, creating a sense of nostalgia and charm for your guests.
Incorporating vintage furniture into your wedding décor can add an element of nostalgia and sophistication to your vintage-themed celebration. Seek out antique pieces carefully selected for their charm and character to create inviting and intimate spaces for your guests. Vintage sofas, armchairs, and tables can be placed strategically in lounge areas, allowing guests to relax and mingle in style.
For a 1920s Gatsby-inspired wedding, consider art Deco furniture with sleek lines, geometric patterns, and rich, luxurious fabrics. To capture the rustic charm of a 1950s country wedding, opt for weathered wooden furniture adorned with floral cushions and soft throws. Mix and match different pieces to achieve a collected and eclectic look that complements your overall vintage theme.
When choosing vintage furniture, prioritize comfort and functionality while staying true to the style of the era you are evoking. These statement pieces serve as decorative elements and create memorable spaces for your guests to enjoy throughout the festivities.
Fabric bunting is a delightful and whimsical addition to any vintage-themed wedding. This timeless decoration consists of triangular or pennant-shaped flags made from fabric, exuding a quaint and charming atmosphere. Fabric bunting can be strung across outdoor spaces, adorning ceremony arches, or hung along the reception area to infuse the venue with color and vintage flair.
Select fabrics that complement your chosen color palette and reflect the era's aesthetic to create a cohesive look. For a bohemian 1970s-inspired wedding, opt for earthy tones and floral patterns. Alternatively, for a classic 1940s theme, choose patriotic colors and nostalgic prints.
Fabric bunting also offers an opportunity for DIY creativity. Consider repurposing vintage fabrics, family heirlooms, or thrifted materials to craft your personalized bunting. Handmade bunting adds sentimental value to your wedding, making it even more special and unique.
Outdoor chandeliers are a captivating way to illuminate your vintage-themed wedding with an enchanting and romantic glow. These elegant fixtures suspended from trees, arches, or gazebos can transform an outdoor setting into a dreamy wonderland.
For a vintage garden wedding, opt for chandeliers adorned with cascading crystals that glisten in the sunlight and twinkle under the stars. To embrace the rustic elegance of a vintage barn wedding, select chandeliers with wrought iron frames and antique candle holders, casting a warm and intimate ambiance.
Outdoor chandeliers serve as decorative focal points and ensure that your celebrations can continue into the evening. Soft lighting from these enchanting fixtures will create an ethereal and magical atmosphere, leaving a lasting impression on your guests.
The bridal bouquet is a quintessential element of any wedding, and for a vintage-themed celebration, it becomes an opportunity to infuse the arrangements with nostalgic charm and elegance. Embrace lush and bountiful bouquets that feature a mix of delicate blooms and cascading greenery, harkening back to romantic eras.
For a 1930s-inspired wedding, choose roses, peonies, orchids in soft pastel hues accented with trailing ivy or ferns. To embody the vibrancy of the 1960s, opt for bold sunflowers, daisies, and wildflowers, arranged in a free-spirited and unstructured style.
Wrapping Up
And that's it– we've come to the end of our tips for organizing a wedding with a vintage theme. From the choice of your wedding venue, bands, and dresses to the photo booth and decors, you can give your wedding a vintage essence as you so desire. It's your special day, so don't limit yourself!