During your baby's first Thanksgiving, there must be a lot to be grateful for. Thanks for your angel baby's arrival. Be grateful for all the love in your newly expanded family. Or you are just grateful for having an excuse to dress your baby up in a cute outfit for the big occasion. In this big, first holiday season, you can prepare something to make your family different. No matter what your Thanksgiving style is, just find the perfect outfit for your baby's first-holiday photo. If you like vintage theme just like me. I do have some ideas to dress the baby in a retro-style so as to preserve some precious photos for our family.
During the roaring 20s, children's fashion became a distinct sector of the 1920s fashion industry. At that time, kids girls dressed in short dresses with no waistlines, and little boys wore sorts, often with tunic-like tops. Comfort and mobility were emphasized in children's clothing. Thus even in the highest price range, children's clothing was simply styled and easy-fitting in silhouette.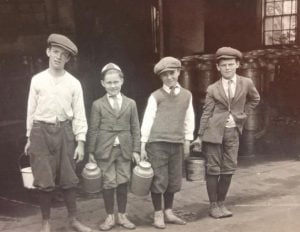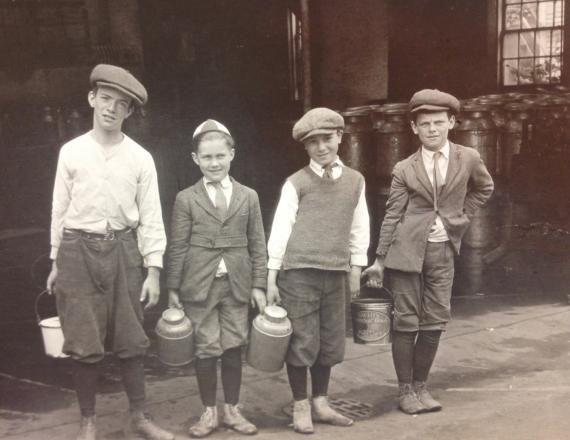 The choice of fabric delineated the difference between daywear and special occasion clothes. Versatile and washable, cotton was the favorite fiber for children's clothing. Linen and lightweight wool were also common. While occasions such as weddings and parties called for elaborate, sometimes whimsical, dress, the trend for dressing children in antique styles and decorative frills had largely passed. Soft pastel versions of the robe de style were common for teenage girls for special occasions.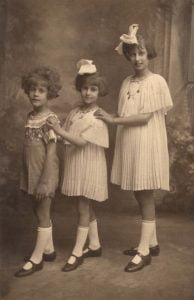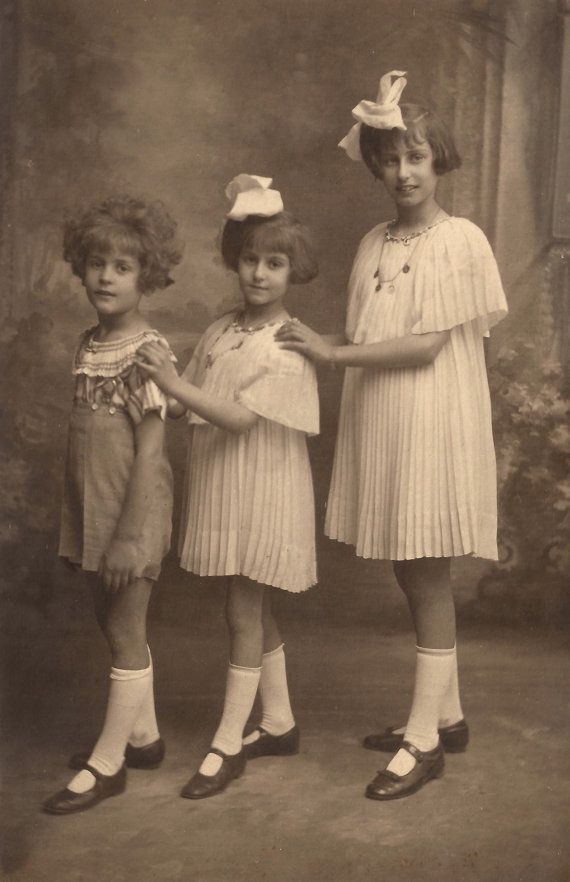 Buttoned boots were almost universally abandoned in favor of flat shoes. The new fashion also eliminated the dark stockings that had been worn almost year-round. Children wore bare legs with white knitted knee socks or crew socks. Overall, children were less covered on a daily basis; their clothing was trimmer, shorter, and less voluminous. There were fewer occasions when hats were required and gloves were rarely worn. Underwear for the young followed the trend of adult underwear. Lightweight clothing and a straight silhouette called for an end to frilled petticoats for girls, and to corsetry for children. The practice of dressing little boys in dresses was virtually abandoned. Even as toddlers they wore rompers and short shorts. Outerwear, too, reflected the move toward simplicity. Double-breasted coats and jackets, often with piping and appliqué, reinforced the geometric styling. Mini cloches over short bobs and shingle cuts made little girls – from toddler age through the teen years – look as modern as their mothers.
Baby's Thanksgiving Outfit Inspired by 1920s Fashion
We searched online looking for some examples of Baby's Thanksgiving Outfit Inspired by 20s fashion. Hope moms can get some inspirations when preparing the turkey day. Once you've identified your clothes, you can move on to more pressing tasks, like decorating your Thanksgiving table and planning the perfect Thanksgiving dinner recipe.
Retro Thanksgiving Baby Boy's Clothes
Gatsby 1920's Newsboy Newsie Boys Child Costume
This Child's Newsboy costume includes a hat, shirt with attached bow tie and suspenders, knickers, and bag. It is a classic style from the Great Gatsby.
This tuxedo knickers outfit is an especially style of 1920s men's clothing. There is classy Houndstooth print with suspenders, bow tie, knicker pants, hat, and an ivory shirt. Baby boys in the tuxedo knickers outfit must be handsome. It is great for all special occasions-Christmas, Easter, Weddings, Church, etc… Timeless and never goes out of style.
This outfit makes for great portraits and capturing a magical time
Baby Girl Thanksgiving Outfit in 20s fashion
Vintage Rustic Baptism Lace Flower Girl's Dress
Pretty lace combines in a cap sleeve dress. The style is typical of the vintage dress of the 1920s. moreover, the elegant look is suitable for wedding, party, banquet, church, school, formal and business activity. For daily wear, a baby girl in this dress is also cute.
Little Miss Flapper Costume
The roaring 20s is a decade of flappers. Choosing a little flapper dress for your baby girl is trendy. Otherwise, don't forget to match feather headbands, which are the typical 20s accessories for women.
This is a perfect thanksgiving gift guide for your baby's first-holiday choice.