1930s Themed Wedding Ideas
Flamboyance was the only feature that the 1930s wedding dress lacked. That is if you compare it with what we have today.
The era may have focused more on a simple, classy wedding dress but it still explicitly portrayed women's glamorous looks.
1930s wedding dress history
Many people's attention shifted from fashion during the early 1930s. Being that many was still trying to overcome the effect of the great depression.
With poor money circulation, lack of job opportunities, hunger, and hardship, people became so tight with money. As well as developed a more conservative approach to fashion.
Most brides then, simply wore their best frock for their wedding, as many could not afford the cost of a wedding dress or buying a fabric and sewing one.
Even brides who attempt to wear one sparingly request for white wedding dresses, as many try to afford what they can wear again.
No one wants to spend money on a wedding dress that she would wear just once. Some who still went for white wedding dresses prefer materials they can easily dye later e.g. rayon.
1930s Wedding Dress Trends
Unbothered is the right word I can use to describe how the brides of this decade felt.
As much as many were eager to get the best wedding ideas possible, their choice of wedding dress was not influenced by social standards.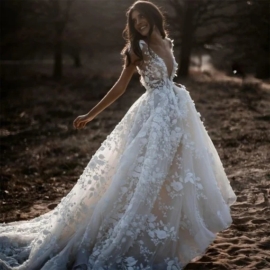 Fabrics were scarce, and natural materials were expensive. However, there were still women who wore satin and silk wedding dress. Even a lace wedding dress was in vogue.
With the introduction of cheaper artificial fabrics such as rayon, women were capable again to sew their wedding gowns.
A simple and floor-length dress with a figure-skimming silhouette was the real deal. Also, high neck wedding dresses with long sleeves seem to be the fashion trend of the 1930s era.
Even more, some brides wore long skirts with matching suits. It was not like now that wedding gowns are prevalent.
As the decade wore on, wedding dresses with cowl and lower necklines became the latest fashion trend.
Free and gathered drop waist gowns became clingy for more pronounced feminine features.
Although white has been a common color for wedding dresses, the 1930 brides care less about colors.
Many went for off-white wedding dresses, nude or golden. Those who wore white still dyed them after the wedding to wear it to other occasions.
1930s wedding accessories
This period showed a significant drop in the wedding rate. The few, who endeavor to wed, prefer a low-key ceremony, low-budget wedding dress, and minimal décor.
Thus, the wedding accessories as of that time were nothing more than wedding veils such as tulle veil, shower bouquet, white pantyhose and shoe, and a piece of simple jewelry.
Wedding dresses and accessories have evolved through the years. Each decade comes with its distinctive trend and ideas.
The 1930s reflected one of the mellow versions of wedding dress. It may look simple and plain but it possesses such an aura that will make heads turn as you walk down the aisle.