Halloween is a fun time for everyone; while children enjoy themselves, adults also participate in activities that help them bond and have fun.
Buying Halloween decorations can be stressful. While having gift ideas is fun, bringing them to life may not be. The costume hunt can also be challenging.
This article will provide a brief history of Halloween, a buying guide for unique costumes, and, most importantly, simple gift ideas.
Brief History of Halloween
The history of Halloween has a bit of spiritual underpinning. It is a worldwide celebration held on October 31, the eve of the Western Christian feast of All Hallows' Day. It marks the start of Allhallowtide, dedicated to remembering the dead.
The Irish and Scots, who had been celebrating it for a while, brought it with them when they immigrated to the United States. It spread further in the early twentieth century due to American influence.
Fun Halloween Activities
There are numerous activities that can be undertaken to have fun during this celebration. Here are a few to indulge in: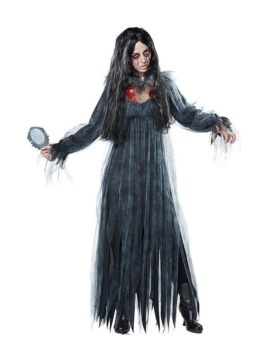 Trick or treat– This has gradually become a yearly tradition and will always be enjoyable to partake in.
Dress up – Dressing up as characters, things, and people is a fun part of the day.
Bonfires and Camplight– Lighting bonfires and spending time with loved ones.
Carving pumpkins – This is primarily for decoration purposes, but the tradition of carving pumpkins into jack-o-lanterns is enjoyable.
Party– A celebration is incomplete without a party. Another exciting activity to participate in is organizing or attending gift-giving parties.
Unique Halloween Costume Themes
Halloween costumes are a lot of fun. You have the freedom to be as creative and daring as you want.
Here are a few themes and platforms to think about when shopping for your next costume:
Hero– It's always fun to dress up as your favorite superhero from a TV show or anime. It may necessitate purchasing clothes from online platforms such as AliExpress and dying your hair, but it is the only way to go.
Villain– There's nothing wrong with playing the bad guy for a few hours. Choose a fashion icon, such as Mojojojo, and start dressing up.
90s Vintage retro– There is no way to go in terms of fashion if it is not back. The 90s look is a sophisticated and comfortable Halloween costume. Vintage-retro is a great place to look for high-quality costumes.
Magic– People dress up as witches, fairies, and princesses for Halloween. It goes well with fairy tales; you can make your dress sexy if you feel frisky.
Simple Halloween Gift Ideas
On Halloween, there is so much you can give. Why? All the gift needs is a gothic vibe to fit the theme. This means that anything can be the ideal gift.
Here are a few gift suggestions to add to your shopping list:
Alcohol– It may appear simple, but simple is perfect. Give some alcoholic beverages, such as vodka or red wine.
Customized plates– These will look great on the dinner table when Halloween is over. Find the perfect creepy plate and purchase it!
Glassware– There are numerous skull and hand-shaped glassware, particularly cups and drinking glasses. This would make an excellent gift.
Custom Items– Keychains are essential to our daily lives and custom keychains are the perfect Halloween gift ideas. Custom acrylic standees are also perfect, which can make a wonderful tabletop decoration. So, get a custom gift from Pdodo and let your imagination run wild.
Bottom Line
Keep in mind that the only thing you should associate Halloween with is fun. While having fun, it's important to respect your family's traditions.
It's natural to be conflicted about how to dress, what to give as a gift, and how to have fun. This article has covered all these topics and provided advice on what to buy on Halloween.