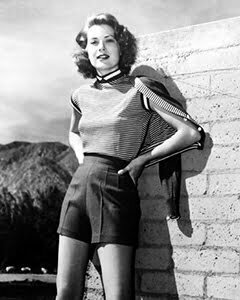 By the 50s women had more variety of separates for casual wear apart from usual dresses. Trendy tops became the favorite to wear with skirts or pants. Synthetic fabrics gave designers more space to experiment with colors, embellishments, and designs while keeping the price low. Women could afford several tops for different outfits. White and ivory were the most popular colors to wear with neutral or dark skirts.
Tops in the 1950s style of clothing were neither tight nor loose but fit comfortably. They reached the waist and had straight sleeves or were sleeveless. Some designs of the early 50s were decorated with pintuck pleating and lace frills. These tops had small buttons of matching color.
One interesting fad was the dad/boyfriend's top. Bold teens wore their fathers' shirts for casual wear around the home or when doing chores outdoors. The front tails would be tied around the waist. This fad inspired designers to make tops that were inspired by male shirts. Some women preferred the tailored cotton shirts but they were problematic as they needed ironing and shrank after washing.
Tops were usually worn in the summer in bright and cheerful colors like white, pink, red, and baby blue. Polka dots, small prints, and patterns were also popular summer decorations. There was a brief fad for him and her matching colors where young ladies matched their tops with their boyfriends' shirts.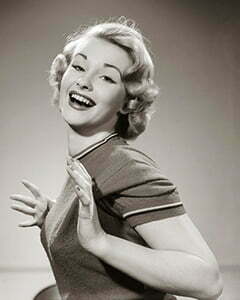 California was the top capital of the world because of its sunny climate. If a trend was out, it was very likely that it started in California.
Synthetic fabrics were the best thing to happen for top designers. Unlike cotton tops, these materials did not shrink or wrinkle. They were also fast drying, good enough for a splash at the beach. Synthetic blends with Orlon and Dacron were the most popular.
The peasant top of the 40s continued being trendy in the 50s. They had ethnic inspirations of bohemian or Mexican culture. They were decorated with folk embroidery, bright colors, and nature-inspired patterns and prints. The neckline was gathered and sleeves puffed.
The party blouse was for formal events. It could be worn with a swing skirt to a cocktail party, or with a pencil skirt to a job interview. This top was made of silk, satin, or sheer chiffon. These tops had a tailored look with larger collars and long sleeves.
Tops for the summer
Halter blouses had two straps that were tied behind the neck instead of shoulder straps. This allowed the top to have a low back and sleeveless, which was a hit for the summer tourists. The colors were bold, with bright floral prints.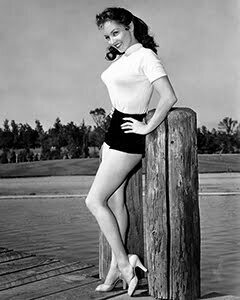 The spaghetti top with thin shoulder straps was also a popular summer design. It was worn with a strapless bra and shorts for a trip to the beach.
The Hawaii men's shirt inspired the Tea Timer shirt design for the ladies. Like the Hawaiian shirt, the theme was bright tropical colors with fruits, leaves, and flowers. The buttons were coconut shaped which allowed the top to be buttoned up in the evening breeze, or opened to cool down. This top had a mandarin collar and could have sleeves or be sleeveless. They were commonly worn with capri pants for a chic look.
Knit tops were also popular in 1950s women's fashion. These were short-sleeved versions of the popular sweater tops that were popular with young women. Those with V-necks and shawl or pointed collars were also called polo shirts. But the most popular collars were the traditional point and Peter Pan collars. Synthetic materials made these tops less bulky and comfortable to wear under a cardigan.
The sleeves on these nit tops could be long, medium, or short. The were mutely decorated, mostly in plain colors but sometimes decorated with knitted in designs. The waistband was wide to allow tucking into a skirt for a chic formal look, or wearing over pants for a casual look.
The knit top was popularly worn with a bright-colored scarf. The scarf color added a pop of color to plain colored knit tops. The scarf was usually tied on the left. Trendy showbiz girls wore knit tops several sizes-small for the 'sweater girl' look. By the end of the 50s, women tops were the favorite casual wear because of their versatility in wearing different styles.