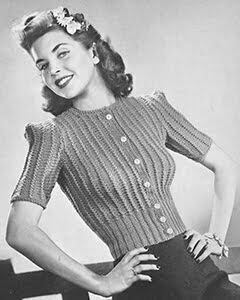 The spirit of improvisation in the early 40s had many women knitting sweaters at home, sometimes for making extra income. Knitted sweaters remained a popular item in women's wardrobes to the end of the 40s. Short cardigans had crossed into the 40s from the 30s with the most popular ones made of wool and Angora. Sweaters were often called knitted blouses because they mostly shared trendy blouse designs. British women called them jumpers. The cashmere sweater became popular towards the end of the 40s. They were light and warm which made them ideal for wearing alone, a style that was very popular with college girls and other young ladies.
Wool was in shortage in the early 40s which made wool synthetic blends the alternative. Some were made purely with synthetics. Sweaters were worn in a layered style. Cardigans would be worn with a top, but sweater tops could be layered or worn alone.
Solid color sweaters matched well with a variety of 40s women's fashion. Pastels and soft hues like white rose and powder blue were worn in brighter spring weather, while light summer sweaters were in bright colors like red and yellow.
The most common sweater design had wide shoulders. With a crew neck and a fitted waist the sleeves were short or long. Most women bought sweaters a bit larger to allow for shrinking and remain comfortable while worn over a camisole. Some girls bought fitted sizes that shrank to show a sharper bust profile. Sweater blouses reached just below the ribcage and had a cinched wide knit band to accentuate a slim waist.
1940s Cardigan for Women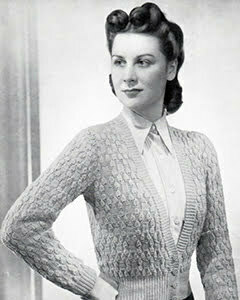 The cardigan sweater was heavy and long. It reached to the mid-hipline and came with buttons. It had a crew neck and could be short or long-sleeved. The buttons were plastic and either plain or in a matching color. A ribbon inside held the buttons in place, but it could also be on the outside for decoration.
40s Dashion Winter sweaters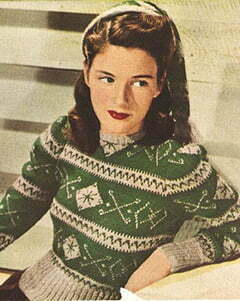 This sweater was for wearing over other tops in cold weather. It could be in a pullover or button-up style. The neck was large and high, while sleeves were long with tight wrist bands to keep cold air out. This sweater was made of wool and in red, blue, or green.
1940s Sweater tops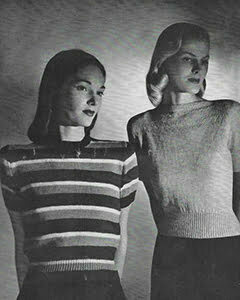 Light sweater tops were popular to wear in the spring when they could be matched with a light skirt or a pair of pants. Sweater tops were short and came with beaded cuffs, collars, and buttons. They were made of cashmere, which is light and warm. But pure cashmere was very warm for wearing in spring, so it was blended with silk. These sweaters were very expensive. The alternative was angora wool, which was not as expensive but was also pricey in that hard time.
Novelty sweaters for 40s Women
These were sweaters having cute designs of fruits, flowers, and animals. They could be either in a pullover or cardigan style.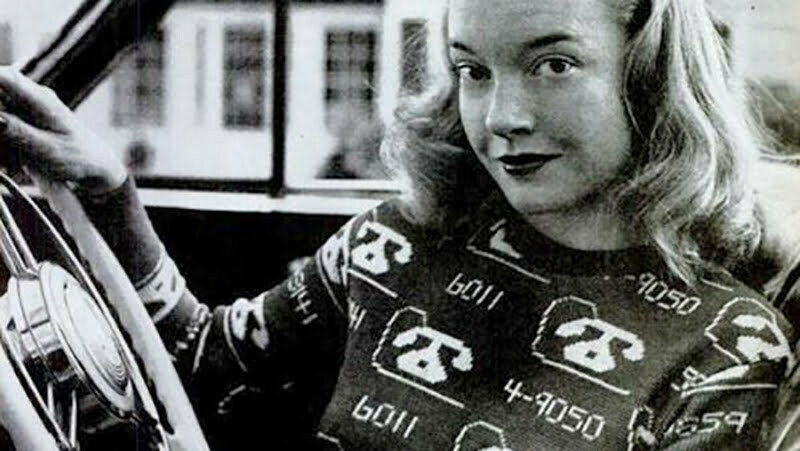 40s Sloppy Joe sweaters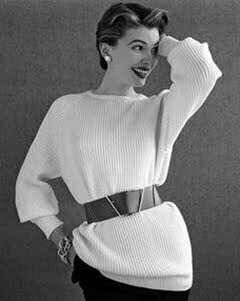 This was a popular style of wearing sweaters by teenage girls in 40s fashion. The sweater was several sizes larger such that it bagged at the low hip. It had a large crew neck and long loose sleeves. The oversize sweater was worn with rolled-up jeans or a plaid skirt. Ankle-length socks worn with saddle shoes completed the look. These teenage girls were nicknamed bobbysoxers.
1940s Sweater girl look
This was a look popularized by pin-up girls and showbiz starlets like Lana Turner. The sweater was worn snugly to bring out a sharper bust, which was a head-turning look in those conservative times. This look remained popular with young bold ladies into the 50s.