The early 40s deprivation changed the way women accessorized during those years. Leather was a scarce commodity in the early 40s so leather belts, gloves, and shoes were hard to come by and very expensive. Designers like Ferragamo experimented with reptile skin like alligator and snakeskin handbags and shoes. The utilitarian dressing had thin waistbands needing very thin fabric belts. Late 1940s dresses, however, featured wide waistbands and wide belts. Women had to do with drawstrings on handbags as zippers were scarce as well.
1940s Belts
Leather belts were unavailable in the war years as all leather went to making soldiers' boots.  Utilitarian dresses of the war years came with matching fabric belts that were 1.5-2 inches. The tie belt was common in the early 1940s women's fashion. It didn't have a metal buckle as metal was also conserved, but was simply tied in a knot to fasten. Metals when they were used, were functional and simple copying the men's styles. Black fabric belts were popular because they matched well with most outfits.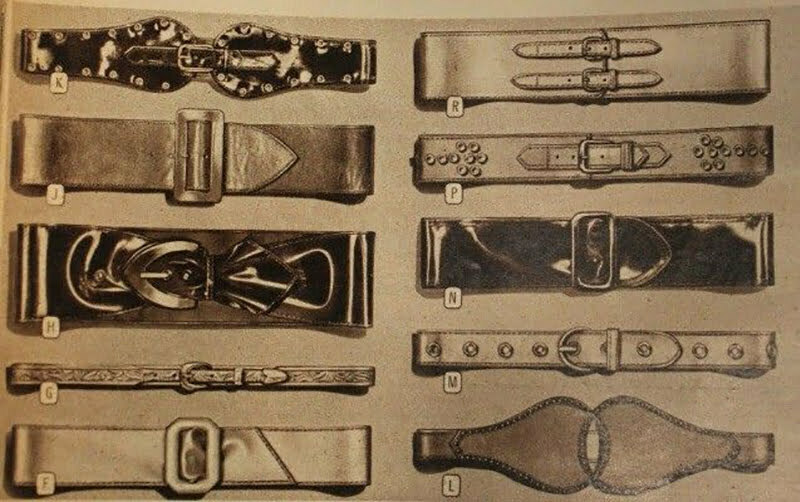 Fancy women's belts reappeared after the war and the emergence of the new look. This look had a waspish waist which was made so using a wide belt. Belts grew upwards of 3 inches wide. Women had more variety in materials; leather, plastic, and fabric.
Starting around 1947 belts became a noticeable accessory for the new look. The rectangular belt was a wide straight belt without a fancy buckle. The stomacher belt was wider and made of leather or velvet. Some had laces to tie at the back instead of a buckle. The polo belt was a fancy stomacher with two or three buckles. Leather belts in western style had silver buckles and rhinestone decorations.
1940s Gloves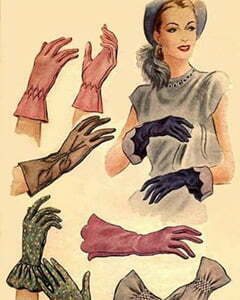 The early 40s gloves were made of velvet and other soft fabrics. Some women pushed down elbow-length gloves back down to have a ruched look. This later became a popular look for leather gloves later on. Gloves were in neutral dark colors that were easy to maintain like black, brown, tan, and navy. With many women being active in the day, fancy gloves became impractical and were left for evenings. White or ivory rayon gloves were popular accessories with evening wear.
Knitted gloves were popular for wearing in cold weather. Woolen yarn was scarce so women used blended wool, heavy cotton, or rayon. Many women could knit and knitting patterns were available in many fashion catalogs.
1940s Scarves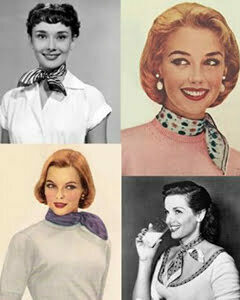 Wearing a scarf on the head became popular in the 1940s fashion. The headscarf was a 20-33-inch triangular shape often made of rayon. Headscarves were brightly colored with natural or floral prints. Popular colors were red, green, yellow, and blue.
Early 40s scarves often carried patriotic slogans like 'We Love Our Troops' or propaganda messages like 'Our Boys Are Winning!' This was more so in the US where kerchiefs had been worn for longer by women in the west. In the UK, the most popular scarves were from Jaqmar.
In the late 40s, women started wearing larger scarves around the neck instead of tying them around the head. They were also larger, up to 35 inches, and left a flap at the back.  A neck scarf became a popular accessory for the outdoors. It went well with jeans and a plaid shirt, for a western-style throwback look.
1940s Stockings
Nylon was scarce as well which led to the innovation of liquid stockings which were painted on the legs using leg cosmetics. A woman would often require the help of a friend to draw a straight 'seam' down the back of the leg! Nylon became plenty once again after the war and stylish stockings once again became a must-have accessory.