Trousers' Fashion History
There was a misunderstood story in the aspect of ladies' wearing trousers. In modern times, there seems to have been a dispute about wearing trousers for ladies from the beginning, but from the late 18th century, wearing trousers still came with a lot of trouble and regulations.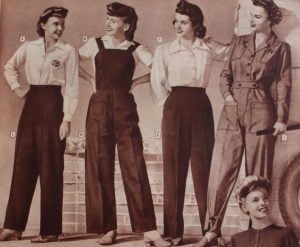 In the 1890s, ladies began wearing trousers for horseback riding, and later on, after the first world war, ladies began wearing trousers often indoors for housework although they had not been permitted to do so yet.
In the 1920s, during the era of flapper fashion, ladies began wearing men's trousers. They were still not accepted by the majority. Pajamas were also becoming quite popular at the time and many flapper ladies loved the new trend.
By the 1930s, trousers were still not accepted widely but that didn't stop ladies from wearing them. Hollywood stars, like Kate Hepburn, were known to wear trousers off camera and so her production team had to make efforts to prevent her from wearing trousers between sets.
By the mid-30s, through the influence of more female celebrities, politicians, and other wealthy people, trousers began to be more publicly accepted. They had begun to be accepted as sportswear for ladies.
The trousers worn by females in the early 30s were free-fitting, more like the MC Hammer pants. By the mid and late 30s, lady trousers became more form-fitting but they weren't allowed to hug their bodies. At this point, everyone wanted trousers. They had obviously become a fashion that was ready to stay for the long haul.
Fast forward to the 1940s, trousers became more popular. Although in some places they were rejected, they were still permitted at other places even into churches. They were also not permitted to be worn at all events, but for simple home events, gardening, war work, beach, and some indoor events, trousers were quite suitable.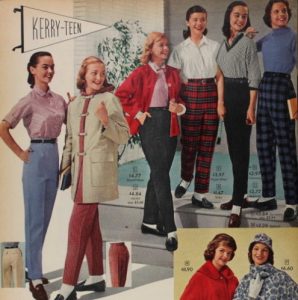 By the mid and late 40s, trouser legs became narrow and were added to teen fashion collections. Adult women's trousers were made to be a bit more conservative. It was also around this same period that women's jeans were made available like men's jeans. Before theirs were provided, ladies wore male jeans if they wanted to wear dungarees.
In the 50s, female trousers became slimmer. They were still not as fitting as the trousers of today but they were close enough.
Although trousers had become quite popular and a lot of ladies had them, the majority of them had their reservations about wearing them to public events. Until ladies like Lucille Ball and Vivian Vance began wearing them often on television, did ladies begin to feel more comfortable wearing them at every public event?
By the 50s, trousers were categorized into different types like: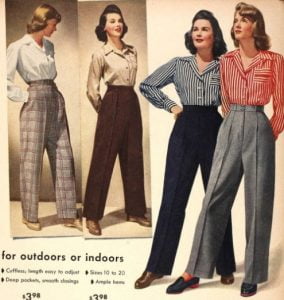 These pants first gained popularity from the 40s but by the 50s they had a better fitting. They had side zippers to differentiate them from male pants, high crotches like men's pants, and two pleats.
They were normally seen to worn with belts to define the waist and came in fabrics like cotton, wool, rayon, and gabardine. These pants typically came in plain colors like brown, black, navy, and gray, but eventually other colors like deep gold, copper rust, forest green, and cobalt blue would be alongside plaids in red, black-blue, or white. This was an improvement from the simple colors of black and brown that was available in the 40s.
Cigarette pants
These fitted pants came into the mainstream in 1955. They were known as cigarette pants as they had high waists, wide waistbands, flat fronts, side or back zippers, a slim-fitting, and an ankle-length.
Cigarette pants came in a variety of colors with the fabric being mostly wool or cotton. Women loved these pants because of the flattening effect that they had on the tummy and the slimming effect of the legs.
These pants were a lot like cigarette pants, however, their only difference was that they were a few more inched above the ankle. They sometimes rose as high as mid-calf and were constantly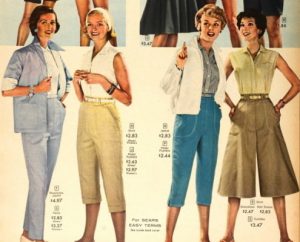 confused with pedal pushers.
They came in a variety of colors, but black and white were the popular colors. These colors were prevailing because they complemented striped shirts
properly, giving the wearer an Italian look.
White Capri's with wide folded hems were known as yachting pants, while white or red shirts matched with black Capri's provided a European look.
These were a type of Capri pants that were in between shorts and pants. These style pants came with a variety of patterns and designs at the time. They have similar features to Capri's and cigarette pants like high waists and flat fronts but had other fancy details.
Some pedal pushers had belts at the back, some had embroideries and others had stylish colorful designs. Another version of pedal pushers was called the Culottes which had legs wide enough that they looked like skirts.