Glamorous Hollywood stars like Ingrid Bergman, Rita Hayworth, Katherine Hepburn, Vivien Leigh, and Dorothy Lamour were among the most closely watched for their fashion wardrobes in the 40s. Hollywood never stopped churning out movies even as WWII was at its height. If anything, more people looked to the movies to provide some comic relief from their worries and fears. The movies had also played a big role in shaping fashion trends since the 30s. The Hollywood scene had set itself apart with homegrown designers to offer an alternative to the Paris fashion scene. Designers like Gilbert Adrian of MGM created innovative designs that have remained fashionable to date.
The early 1940s fashion was feminine and practical. Wartime guidelines had raised the length of the skirt to knee level slim lines and nipped-in waists were also used to bring out a sensual silhouette. Hollywood designers adopted this look to create glamorous, elegant, and sophisticated designs for evening gowns and cocktail dresses. Hollywood stars could afford silk and satin, which were scarce for the rest of the public. They could also afford fabulous accessories including diamond necklaces.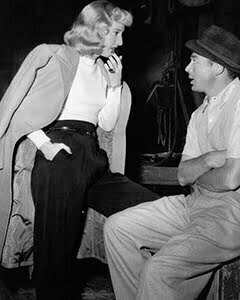 In the hard times of WWII movies were a pleasant way for women to see their fashion dreams come true on stage. If it was on the screen, it was possible to have it at a later time when fortunes improved. It kept the morale up just as much as putting on some lipstick. Hollywood fashion designers fulfilled this need by dressing up movie stars to bring out their characters in a way that would resonate with the audiences.
The femme fatale looks from some of the film noirs of that era were seductive and every woman wanted to be them. They worked with designers who could bring out this seductive side, for example, Edith Head working with Barbara Stanwyck in the movie Double Indemnity (1944).
1940s Hollywood designers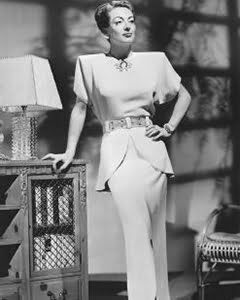 One of the biggest designers in 40s Hollywood fashion was Gilbert Adrian who worked with MGM until 1941. He is credited for having introduced the padded shoulders signature look of Joan Crawford. He also worked with Greta Garbo and Katherine Hepburn. His Gingham designs were popular through the 40s even after he left MGM to start his ready-to-wear line. His designs can be seen in the movies Pride and Prejudice (1940), Strange Cargo (1940), New Moon (1940), The Philadelphia Story (1940), When Ladies Meet (1941), Ziegfeld Girl (1941), Woman of the Year (1942), Slightly Dangerous (1943), Possessed (1947) and Lovely to Look At (1952).
Jean Louis was another famous designer who worked with Universal and Columbia Pictures. One of his memorable designs was the light green silk gown worn by Rita Hayworth in the movie Gilda (1946). Its crystal beads trim spelled glamour and glitz.
Irene Lentz followed Adrian as MGM's head designer. Her innovation was seen in the use of color in enhancing characters. One of her memorable designs is the all-white outfit worn by Lana Turner in the movie The Postman Always Rings Twice (1946). The high-waisted shorts, turban, and heel look set a trend that lasted for several years.
1940s stars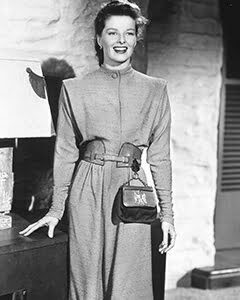 Katherine Hepburn's experimentation with androgynous outfits made her one of the most followed Hollywood stars in the 40s. Some called her the First Lady of Menswear. She popularized the leisure look in her on-screen appearances as well as off the screen. Her high-waisted slacks and button-down shirts defined the emerging American woman look and pushed more women to wear trousers. Her androgynous look was to be imitated by other Hollywood stars like Lauren Bacall as well.
Lauren Bacall's elegant cool chic outfits made her one of the most fashionable stars in Hollywood. One of her memorable roles was in the movie To Have and To Have Not (1944) in which she effortlessly wore floral prints and androgynous day wear. The glamorous black satin evening gown with a thigh-length split made fashion headlines.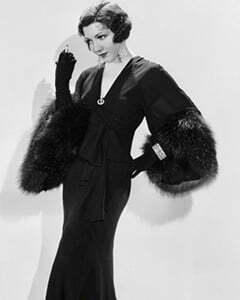 Claudette Colbert's famous pink gown in The Palm Beach Story (1942) has seen several contemporary iterations worn by other glamor girls like Kylie Minogue.
Hollywood continued to set the trends in fashion in the 40s and beyond, as more people went to the cinema, bought TVs and accessed fashion tabloids. Some of the takeaways from the 40s Hollywood scene include;
Midi length skirts and monochrome colors of the early 40s ala Ingrid Bergman in the movie Casablanca
Opulent jewelry with real or imitation stones
Shoulder pads popularized by Joan Crawford
Floral prints and floral corsages popularized by Lauren Bacall and Carrie Bradshaw
High waisted shorts and slacks popularized by Katherine Hepburn
Crop tops by Olivia de Havilland
Statement headwear like the Lana Turner's turban
Fabulous swimwear as seen on Brigitte Bardot
Preppy chic and Peter Pan collars
Pastels
Nautical styles
Belted waists
These takeaways have remained fashionable in one style or another through the years up to date.