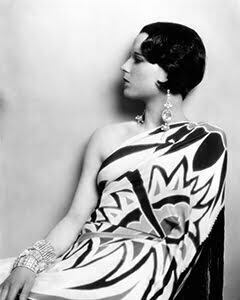 Are you in search of vintage jewelry for a Great Gatsby theme party? Why not go with a few beautiful Art Deco pieces from the 20s? Art Deco is generally used to describe that creative period in the 20s and 30s that was seen in fashion, arts, architecture, and even in designing machines. It took inspirations from varied influences; cubism, Ancient Egyptian, Maya civilization, German Bauhaus, Russian Ballet, and the orient. The Egyptian theme was the strongest after the discovery of King Tutt's pyramid in 1922.
Art Deco jewelry is identified by motifs such as Egyptian hieroglyphs, sphinx, and pharaohs. You will also see clean lines, geometric shapes, and color contrast in these pieces. A lot of jewelry from the 20s was also flat and 2D.
Big design names such as Coco Chanel and Elsa Schiaparelli made great Art Deco jewelry to accessorize their fashion outfits. These pieces were tastefully designed and made of varied material from precious diamonds to affordable Bakelite.
Art Deco Earrings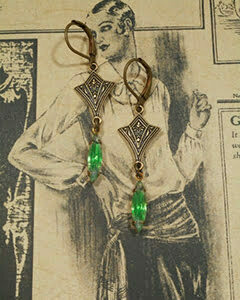 The bob was in the 20s women's fashion, and the cloche hat was also in fashion, which left plenty of neck space open. Drop earrings were preferred to accessorize this look because the 2-3 inches would perfectly highlight this area.
Diamonds were a girl's best friend even in the roaring 20s fashion. Every girl coveted a pair of diamond earrings even though they were considered extravagantly opulent. They were rare, the perfect sign of wealth and class. However, etiquette demanded wearing diamonds for evening occasions. They were set on white silver or platinum.
Alternatives for diamonds were semi-precious stones like agate, coral, jade, and marcasite. These were set in more affordable nickel, zinc, or silver plate. It was fashionable to wear earrings matching the headband or hat. it was also trendy to pull back the hair to show off an earring.
Art Deco Necklaces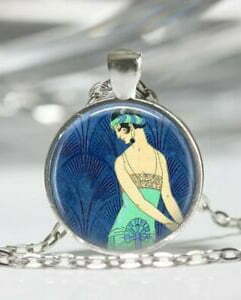 Pearl necklaces were also coveted accessories. Longer was better. Natural pearls were as precious as diamonds. Fake or 'cultured' pearls were more affordable, and they could be in other colors other than white.  It was popular to wear a layered pearl necklace, which swung perfectly as the flapper danced the night away. Chanel popularized pearl necklaces by designing and wearing them. She started a trend of looping a necklace around her wrist.
Art Deco necklaces were made of colored stones; white, black, red, and green were the most popular. Precious gemstones such as sapphires and rubies most desired, but expensive. The ordinary girl would wear Lucite, Bakelite, or colored glass which were more affordable. It was hard to tell a genuine from a fake when done by a good jeweler.
Sautoir necklaces were long with a pendant or a tassel hanging down the front or back. The extravagant ones had a big precious gemstone. Dog collar necklaces came in geometric shapes- oval, triangle, square, or rectangle stones set in silver, nickel, or zinc. Black onyx was especially popular in Art Deco designs. abstract designs included flowers, mythical beasts, and shapes.
Art Deco Bracelets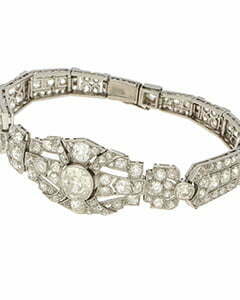 Wearing a snake bangle on the bicep to mimic Cleopatra was trendy in the 20s. Popular materials for bracelets were bone, shell, metal, and leather. Expensive bracelets would have colored gemstones set in silver or gold. Just like ancient Egyptian royalty!