The Art Deco style is a style that is reminiscent of the Art Deco Era. This era consisted of glamorous gowns and elegance and the gowns were in the design of the roaring 20s, 30s, and 40s. The Art Deco pattern patterns encompassing Great Gatsby Elements Style and include geometric shapes, long lines, exaggerated accessories as well as bias-cut dresses with a color palette that mainly included gold, black, and silver as well as accents of yellow, blue, and orange. Finally, since this time was mainly known for its glamor and decadence, the dresses were mainly evening gowns and were adorned with sequins, beads, flapper style, fringes, etc. Backless dresses are a great way to pay homage to this style and cape dresses are also cool. You can wear Art Deco patterns in The Great Gatsby elements style to cocktail parties, weddings, and Art Deco-inspired events. The Great Gatsby movie served to revive the Art Deco style from the 20s. Indeed, the roaring 20s fashion was glitzy and all about boldness and liberation and it is why the Art Deco pattern is still in vogue.
While it is not very prudent to purchase the actual movie's style elements unless you have truckloads of money, of course, you can get affordable headpieces, gloves, shawls, dresses, and shoes not to mention accessories such as earrings that will help you embody this style and look super glamorous while at it. So if you want to pay tribute to the Art Deco pattern and adorn yourself with The Great Gatsby elements of style, here are few ways you can achieve this:
Art Deco 20s Headpieces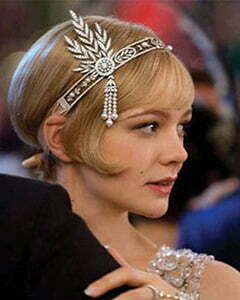 Nothing completes a 20s outfit quite like the headpiece. Indeed, headpieces are a valuable part of the outfit and after the movie, the gorgeous Savoy headpiece worn in The Great Gatsby movie now retails at about a whopping $200,000! You can get a headpiece set with rhinestones or feathers to go around your forehead or head. The roaring 20s fashion had women opting for the bob hairstyle. If you don't want this style you can pin up your hair or wind it up if it is long. This allows a headpiece to really stand out while giving your look a modern flair.
T-Strap Shoes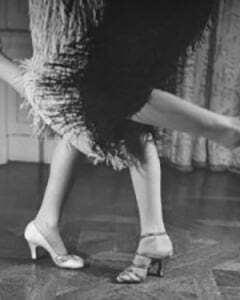 One of the most identifiable shoes of the 20s and indeed The Great Gatsby is the T-strap shoes. You can wear these flats or heels in different colors based on your tastes and the occasion in question. Straps can be thin or thick and the shoe can be mostly open or mostly closed. There are many different styles and colors when it comes to T-strap shoes and you just need to choose you.
20s Dresses
The dresses in the 20s were drop-waist dresses with a boyish silhouette or a demure collar. Evening gowns were however elegant and loose. The details were quite elaborate with ribbons, sequins, fringes, feathers, beading, and rhinestones among others. This style was carefreely meant for night outs and dancing.
Art Deco Accessories and Pattern
This style was all about lavish decoration hence to infuse the art deco style into your wardrobe, try glittering combs and headbands, shiny crossbody purses, glitzy clutches, etc. The more the pattern on your dress, headscarf, top, or accessories the better.