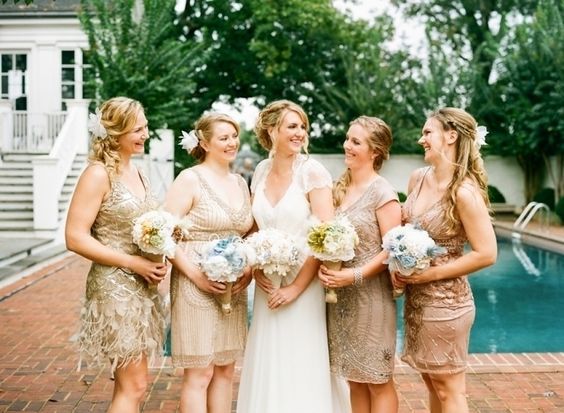 The 1920s theme is a popular one for weddings. Once you decide to tie the knot, one of the items on your to-do list will be deciding what your bridesmaids will wear on your big day. To complement and contrast with the bride, 1920s bridesmaid dresses can coordinate opposites such as flapper dresses paired with a modern wedding dress, or modern bridesmaid dresses paired with a Great Gatsby wedding dress. As the bride, of course, you want to help all the girls on your bride team feel beautiful in their bridesmaid dresses, no matter what size. Women come in all different shapes and sizes, and you may have a range of sizes represented in your bridesmaid crew, because squeezing all the bridesmaids into a single size often doesn't help you see the style. Plus-size women are more ample than other women. Thus there is a tough time finding Plus Size Bridesmaid Dresses fitting the theme. Choosing dresses according to their body shapes will be helpful to make them feel confident and gorgeous.
Here are some suggestions of plus size bridesmaid dress in the flapper style for roaring 20s themed wedding at the basis of the basic body shapes.
20s Dress Guide for Apple shape
One person who carries more weight in the upper torso and is more rounded with slimmer legs and arms, is apple-shaped. Because her body is overbalanced on the top half, you need to choose dress that can divert attention away from her upper torso. Thus a larger bust size, scooped necklines and V-necklines could be a greater choice. Besides, knee-length skirts and geometric prints will accentuate the slender legs and break up the line of the torso.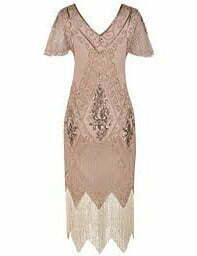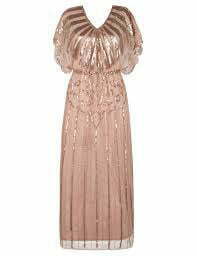 20s Dress Guide for Pear shape
The person who is pear-shaped, carries more weight in lower torso, hips, and thighs and is slimmer in the upper torso. Since the bust is likely on the small to average size, the best way to show the beauty is to create symmetry by showcasing her waistline and playing up the upper torso. Wide necklines such as a boat, ballet or square neck will help accentuate the upper body. Moreover, empire waistlines and asymmetrical hems help draw the eye upward and detract from the lower body.
20s Dress Guide for Straight or Rectangle Shape
If people are balanced between the upper and lower body and have little to no waistline, then she is most likely to have a straight shaped body. In other words, her body shape looks just like a rectangle with straight lines. For those people, you may want to create the illusion of a waistline, as well as for the people who are apple shaped. Deep scooped necks or V-necks with a defined high waistline will be helpful. Fit and flare dresses are a wonderful look for this body type.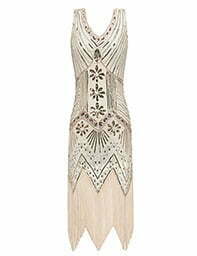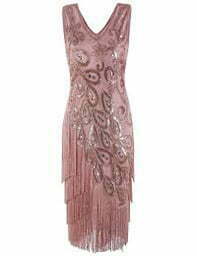 20s Dress Guide for Hourglass Shape
The evenly balanced lady with a defined waistline is the hourglass shape. Those people have the quintessential feminine look. Look for a dress that follows those natural curves of her body and try to minimize any trouble spots. The scooped neck and sleeveless design with the geometric beading defining the waistline will look fabulous on the hourglass-shaped woman.
20s Dress Guide for Inverted Triangle Shape
If your bridesmaid happens to have broad shoulders and narrow hips, her body shape is an inverted triangle. This makes the torso appear larger than the lower half. Your goal is to draw attention to the lower body and away from the shoulders. Thus, avoid boat neck collars and square necklines. Instead, opt for low scooped necks or V-necklines. The low scooped neckline and sleeveless design draw attention away from the shoulders.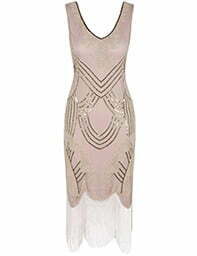 It is not easy to shop 1920s plus size bridesmaid dresses for your perfect day. There are tons of great choices for the plus-sized woman in 1920s fashion, but first knowing the body shape and how to dress for the body shape will help you to pick a fabulous dress that will look amazing on your bridesmaids!