The early years of the 1940s were defined by World War II and the deprivations that came with the rationing of essential goods including fabrics. This was for both sides of the Atlantic with the UK being hardest hit. People were encouraged to be frugal and innovative. The British government released a manual that would help people make clothes at home, while the US government restricted the way clothing designers made different items of clothing. Making garments from sewing patterns was a crucial role for women in the 40s. The frugal look continued up to the end of the war when the relaxation of rationing rules enabled designers to work with more generous lengths of fabric. This shifted fashion to more opulent designs like Dior's New Look in 1947 that became popular up to the 50s.
Make Do and Mend manual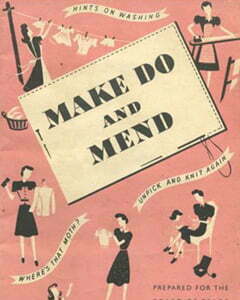 The British government appealed to the public to contribute to the war effort by being frugal included working with fashion designers to come up with designs that would be economical. The British Utility Scheme guided that clothes needed to use less fabric to make and also last longer. British designers under the Incorporated Society of London Fashion Designers came up with a utilitarian look that was simple and elegant. They also came up with the Make Do and Mend manual that detailed sewing patterns that followed these economical guidelines.
Sewing patterns for women restricted skirts from using more than 2.5 yards of fabric. Hems were also restricted to less than 2 inches depth. The number of pleats could not exceed three. The utility skirt was short, reaching to the knee, with no pockets, and with a slim profile. The waistband was thin with close-fitting hips.
Double-breasted jackets were banned Sleeve circumference for jackets could not exceed 14 inches at the wrist. The shoulder pads were thin and sharp. Colors were tan, brown, green, and blue hues.
Make Do and Mend also guided men's trousers to have a maximum of 19 inches for leg openings, with no cuffs (turn-ups). There were no double-breasted jackets for men either. Only one shirt pocket was allowed.
American Guidelines for 1940s Fashion Designers
The American War Production in the US put out guidelines for fashion designers. Sewing patterns for different items reduced on fabric;
Blouses:
Only pleating or ruffling to be used on a garment. If one ruffling was used there would be no pleating or tucking.  The vice versa applied.
Blouses could not have hoods
Only one pocket whether inside or out. If a patch pocket was made it could not exceed 25 inches square.
Skirts and Play Suits:
A maximum of 78 inches in hem circumference for a misses size 16 skirt in non-wool fabrics. If wool was used it was limited to 9 pounds in weight
Waistbands could not exceed 3 inches in width
Skating, quilted and lined skirts were banned. So were reversible skirts and culottes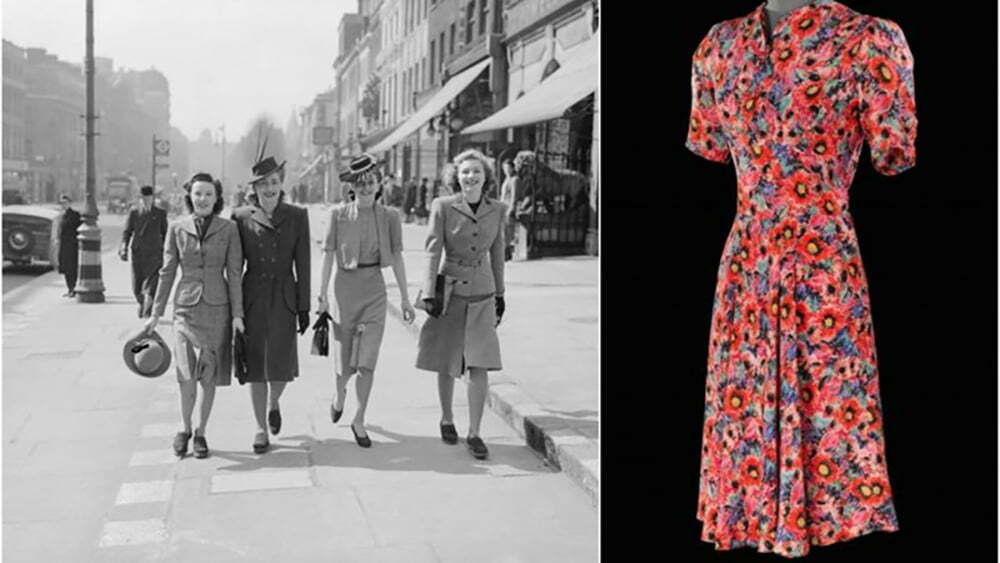 Dresses:
Quilted could not exceed 300 inches square
Each cuff could only have 2 buttons and 2 buttonholes
A maximum of 144 inches sweep for evening dresses
Coats:
Norfolk and bi-swing backs were banned
Coats could not have tabs or epaulets
Sleeve circumference could not exceed 16 ½ inches.
Fashion remained simple and functional until the end of the war and the lifting of rationing.  Leftover fabric from military stores was released, and cotton became more available. Fashion designers were free to turn their attention to making newer and bolder designs. As such women fashion started seeing longer skirts with more fabric and embellishments.
1940S New Look
The New Look by Christian Dior in 1947 was a complete shift from the frugal designs of earlier years. It borrowed aspects of Victorian fashion. The silhouette was an exaggerated waspish waist with a wide A-voluminous skirt and a tight-fitting bodice.  This look used a lot of fabric; up to 15 yards for the voluminous skirt. The look took over the fashion scene adopted by many fashion designers in their sewing patterns until the 1950s.