The shortages of World War II extended to the jewelry industry with a shortage of silver and gold. Precious stones were also not readily available because of the difficult logistics of getting them. Jewelers had to make do with what little was available. Some resorted to harvesting beads and semi-precious stones from high-end evening gowns. They could get pearls and rhinestones. Another improvisation was done with commonly available materials like leather, shells, pumpkin seeds, olive pits, wood, cork, and fabric. Women with time in their hands also made amateur jewelry.
1940s Wartime Hewelry
Many people wore patriotic-themed jewelry during the war. You could find also jewelry pieces brooches, earrings, and necklaces with military themes like miniature soldiers, planes, guns, and grenades. There were also lots of "V" pendants by people hoping for a victory.
'Sweetheart jewelry' was military themed jewelry that was sent by servicemen to their loved ones back home especially wives and girlfriends. These included lockets, charm bracelets, pins, and pendants. These pieces were usually made of plastic, wood, or metal to make them affordable. The heart was the most common design with an eagle or service emblem in the background. Some had words engraved on them e.g. sweetheart, mom, or sister.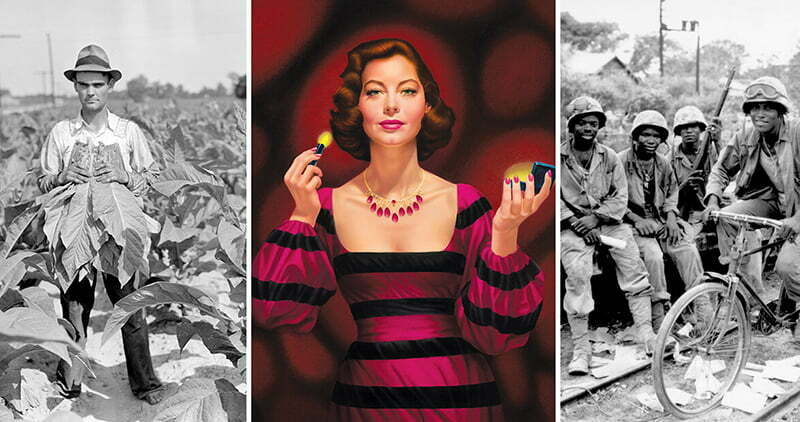 Mexican silver jewelry was also popular in the 40s women's fashion with pieces by designers such as Spratling and Rejabes highly sought after. On the American scene, Alfred Phillipe and Miriam Haskell were some of the big names in jewelry design.
The US fashion industry was a bit removed from the war, which allowed it to thrive even as the war was going on. Providence city in Rhode Island became the jewelry center in the US, home to skilled native and immigrant jewelers. The immigrant jewelers were mostly exiles fleeing the war in Europe. The raised the bar in craftsmanship and jewelry quality improved while prices came down.
Postwar jewelry in 1940s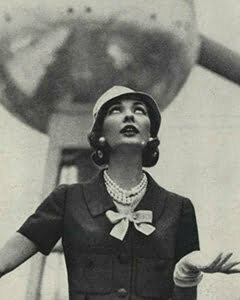 Fashion made a comeback after the war. Jewelry became part of the New Look introduced by Dior. It was opulent and extravagant with voluminous skirts and exaggerated feminine profiles. The look went well with chunky jewelry pieces. A choker was part of the standard set of accessories as well as charm bracelets, brooches, and earrings. Rhinestone was the preferred semi-precious adornment for jewelry pendants. It was loved by jewelers because it came in different colors; blue, white, black, and yellow. Iridescent rhinestones emerged during this period and quickly became popular. Plastic materials like Bakelite remained popular for affordable everyday jewelry.
1940s Jewelry Brooches and Pins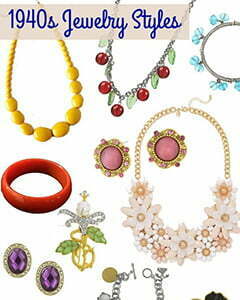 Floral themed brooches were popular in the 1940s fashion, some of them homemade. Figural pins also became very popular and were nicknamed jellybellys. These were popularized by Alfred Phillipe. He used sterling silver and airplane windshields to make their cabochons. He later used colored glass and plastics.
1940s Bracelets and Bangles
3-dimensional bracelets in flower and bird themes were popular in the 40s. they were wide and accented with colored glass. Charm bracelets with Victorian inspirations were etched with different life events of the wearer etched into them.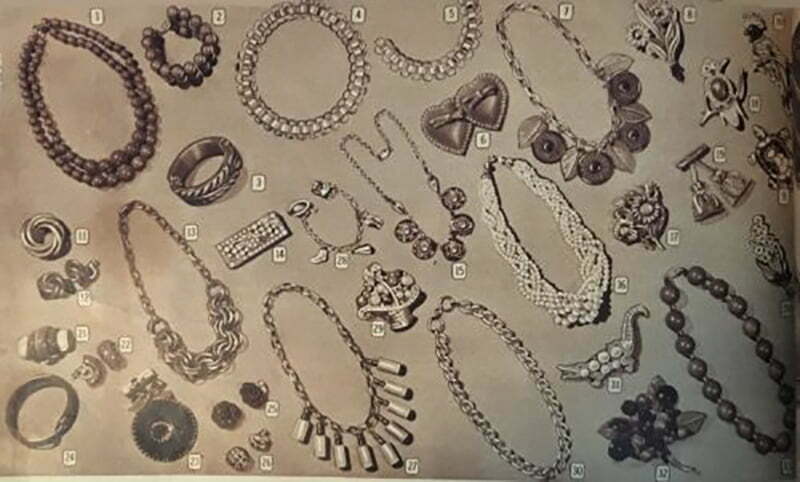 1940s Style Rings
A cocktail ring was worn with formal cocktail attire to announce the class and sophistication of the wearer. The genuinely expensive pieces were set with precious stones with diamonds being the ultimate. But a majority were gold plated metal with colored glass 'faux stones'
Unmarried women also wore signet rings with were etched with the wearer's initials and set with her birthstone. The ring was removed when she got married. Engagement rings were usually set with white gemstones, with diamonds being the favorite. Wedding rings were usually simple gold or silver bands.