You probably remember the 1950s for several historical events that include the start of the Korean War, and the first human organ transplant to mention a few. What you may not realize is that men's fashion was exceptional during that era too.
The 1950s stood out for economic and social advancements. Sartorially, it was the best era too. The world was in a celebratory mood. Consequently, you see this replicated in the kind of attire that men wore everywhere.
Men's 50s fashion was highlighted by the following features:
Clean-cuts
A preference for traditional styles
An acceptance of conservatism in dressing
Historically, the 50s stood out for the inexplicable joy that filled the land. With World War 2 clearly in the past, nothing could prevent men from stepping out in their best attire. Mostly, aestheticism was the primary theme in all the different styles of dressing.
Aestheticism was evident in not only fashion, but also children's toys, motor vehicles, and household appliances. The 1950s culture pointed out more towards an obsession with the visuals. Societies seem to enjoy sartorial celebrations and that was reflected in fashion.
What stood out?
50s Oversized Fifties Shirts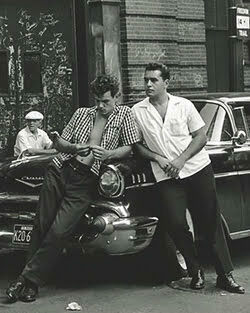 Are you interested in recreating men's 50s fashion? Well, you would be surprised to note that you do not have to crack your skull looking for ways of doing just that. For starters, you only need to invest in a few oversized fifties shirts.
Today, you may be seeing more of the tightly fitting shirts. That was never the case almost 6-7 decades ago. The preferred shirts were not merely oversized. Instead, they were also geometrical and graphic. Men preferred donning them during the day.
The freedom the shirts offered made them a must-have in men's closets. They allowed men to perform different activities in a relaxed manner too. Most casual wear comprised oversized outfits. Polo shirts also made the list.
Double-Breasted Suits for 50s Men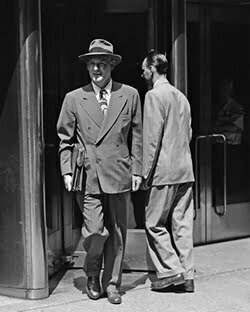 Oversized shirts were not for formal events though. If you had to report to the office or a formal social event, then wearing a double-breasted suit would make you stand out. Today, double-breasted blazers are enjoying a resurgence of sorts in street styles.
Double-breasted suits owed their popularity to different factors. For example, men considered them easily adaptable to different events and occasions. They were also compatible with multiple dress codes. However, they must fit perfectly to pull them off like a 50s veteran!
1950s Men's Fashion – Bomber Jackets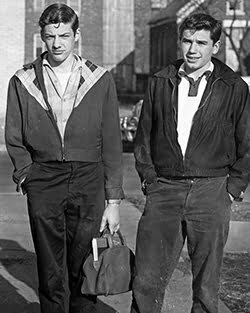 Bomber jackets scream the 1950s men's fashion more than any other piece of attire. Do not feel under pressure to restrict yourself to navy and khaki colors. Instead, explore your adventurous side by experimenting with much brighter colors too.
Bomber jackets are positively notorious for their mix of bold visuals and colorful prints. As you wear them, do not forget to pair the jackets with matching outfits to pull the look you are after through.
1950s Men's Fashion – Leather Jackets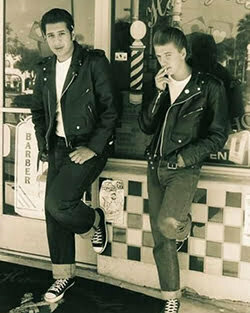 Wild One is one of the most defining films of the 1950s. In it, you will see Marlon Brandon wearing a leather jacket that has become iconic. Leather jackets are not only classic but also cool. They act as the perfect staple piece too.
Your 1950s men's fashion look remains incomplete as long as you lack a leather jacket. For this reason, choose your jacket well. Essentially, you ought to go for one that is likely to stand the test of time. Do not ignore the importance of choosing based on the shape and fit either.
1950s Men's Fashion – Loafers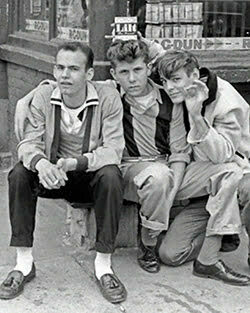 In the last 10 or so years, you might have noticed the emergence of loafers. Well, they are not a novelty of the 21st Century. Men wore loafers in the 1950s. It comes in several versions too. These include tasseled versions, Gucci, and penny to mention a few.
Loafers stand out for their stylishness. They are perfect for all seasons too. No other footwear is as super versatile as the 1950s men's loafer. Furthermore, loafers work well for men who frown upon trainers. Therefore, go for suede or patent leather to complete your look.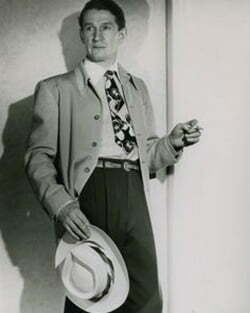 Finally, it is worth mentioning that several other attributes made the 1950s men's fashion stylish. These include the extremely popular fedora hats, which are not a creation of the 1950s, though. Fedora hats came much earlier but saw their popularity skyrocket in the 50s.
Men were crazy over their hairstyles too. The Elvis Presley hairstyle was on most men's heads. Therefore, get your oversized shirt, or don that double-breasted suit, and cover your pompadour hairstyle with a fedora hat to complete your 1950s men's fashion impression!