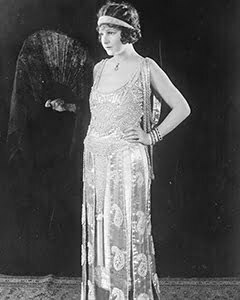 The roaring 20s are a great theme for weddings not only due to the great fashion and context of this era but also because there is so much to choose from when throwing a 20s themed wedding. So, whether you want to draw from the sophisticated affairs of Downtown Abbey, The Great Gatsby's lavish partied, or even from the casual gatherings of the prohibition era, there are many ways you can theme your weddings to pay homage to the style of the 1920s decade.
Vintage themed wedding dress styles are very romantic and you can choose a vintage-inspired dress style for yourself in celebration of your daughter's wedding. The roaring 20s were after all synonymous with celebration and exuberance and where better to express this mood than at a wedding? Vintage wedding dresses for guests and mothers of bride dresses will elevate the romantic chicness of your wedding. Besides, who does not want to make an entrance?
So what does a 1920s inspired mother of bride dress look like? Like a dream! But seriously, the mother of bride dresses in the roaring 20s style is mesmerizing due to their level of detail with tulle layers, delicate embroidery, lace fringes, etc. They capture the style of the 20s adding elegance to your roaring 20s themed wedding.
How to Choose a Great 1920s Vintage Style Mother of Bride Dress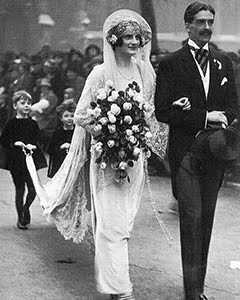 Of course, when choosing your mother of the bride dress for a roaring 20s themed wedding, t=you have to take into consideration the color. Pastels are great for the day but dark hues are best suited for an evening wedding event.
Most mothers of the bride prefer modest gowns without the heavier flapper beading decorations as the former is more chic and elegant without being too loud. Lace and chiffon are the best decorations of choice for a wedding event and you can opt for a floor-length or mid-calf length gown for either a formal or semi-formal wedding.
Another thing that makes the roaring 20s a great choice for a mother of the bride dress is that the dresses are quite comfortable and flowy. This means that they are great for a wide range of sizes and due to their unrestrictive nature, there are many plus size wedding dresses and plus size formal dresses in the vintage 20s women's fashion. Of course, it is key that you talk to your daughter regarding the color and cut that would best suit her theme because you not only want to look your best for your daughter's wedding day but also, you want to be part of the wedding she wants. Here are two of the styles that are roaring 20s inspired and look great as a mother of bride dress:
Figure-hugging midi-length lace, and sequin decorated dress with a simple silhouette and a stylish jacket. You can wear this in dark or pastel colors and pair it with simple jewelry.
V-Neck Calvin Klein dress with flowered patterns detailed with sequins. This is great for small sizes and plus sizes alike.