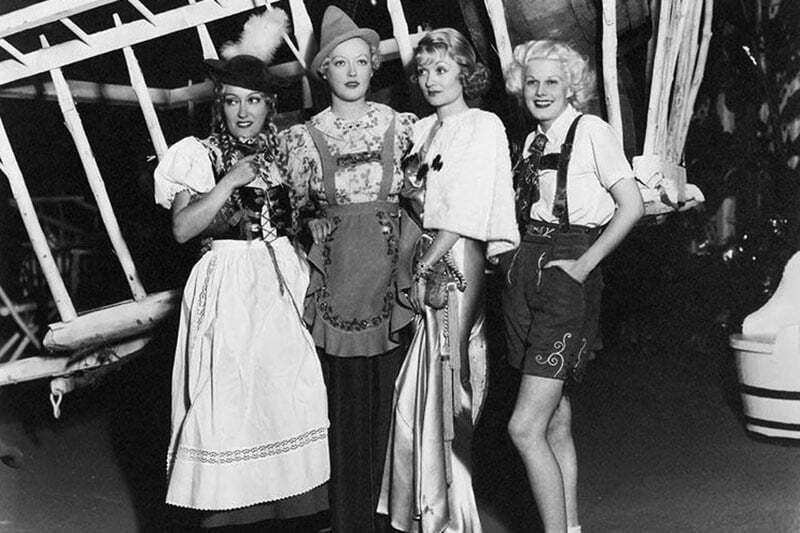 The 1930s party dress had a long and sleek, closely hugging the curves to bring out a sexy feminine silhouette. Party dresses included evening and cocktail dresses and gowns. They featured decorations around the neck which was done with beaded flowers and semi-precious stones like rhinestones. The fabric was light and flowing, mainly satin, silk or chiffon. The gold party dress designs were inspired by ancient Greek and Egyptian themes, which involved draping around a sleek form. Backless gowns made their entry into women's fashion but the era was still a bit conservative, which made designers show a bit of skin but remain within the limits of modesty.
Hollywood influences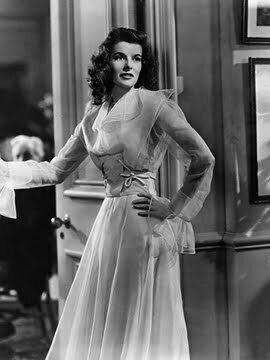 Paris designers dominated the fashion scene in the 1920s, but starting the 1930s, the American cinema gave the fashion world popular and glamorous actresses who became trend influencers. Actresses such as Katherine Hepburn and Dorothy Gish were the popular and idolized. Women followed the movie stars choice of clothes, accessories and hairstyles. These stars still went to Paris for fashion shopping, working with designers such as Lucien Lelong, Elsa Schiaparelli, and Vionnet.
Actress Irene Dunne wore the 1890s inspired leg-o-mutton which had a broad-shouldered look and set off a broad-shouldered trend that lasted for much of the decade. Gilbert Adrian of MGM cinema also set off several fashion trends. He designed a gingham cotton dress with a striped pattern for Judy Garland's appearance in Wizard of Oz. His puff-sleeved gown worn by Joan Crawford Lynton sold over 500,000 copies in the US. Crawford also set off a fashion fad with her white organdy dress which featured shoulder pads to make movement freer. These movie costumes became topics of discussion in women's fashion magazines such as Vogue and Women's Wear daily.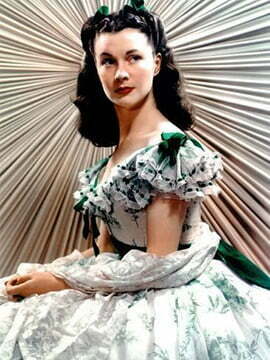 1939's Gone with the wind had a big impact on the fashion scene with dresses featuring simple adornments and monotone hues. One of its famous pieces was the Princess Ballgown which had Victorian-era inspirations with its petticoats for the fullness. Plunkett designed the 'barbecue dress' for the character Scarlett O'Hara, which subsequently became one of the most copied looks of the 1930s.
Another influential Hollywood designer was Travis Banton at Paramount Studios. His designs were soft and feminine, using the bias cut to create simple elegant lines. His designs were popularized by Marlene Dietrich in different movies such as Shanghai Express. The influence of Hollywood designers continued until the start of the war.
Feminine form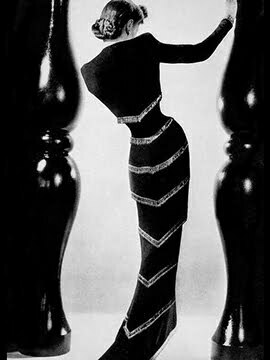 The 1930s saw hemlines lowered again with longer skirts and natural waists. Designer Schiaparelli's innovative designs featured pink hues, synthetic fabrics, and zippers. Her evening gowns came with matching jackets, wide shoulders and narrow waists.
Britain's Norman Hartnell's designs were popularized by Queen Elizabeth wearing the 'white mourning' look during her 1938 visit to Paris. The dresses were soft and pretty with puffed sleeves and calf-length skirts, hugging the feminine form loosely.
The bias cut, pioneered by Madeleine Vionnet was prominent in designs that highlighted the feminine form. The dresses hugged the form while draping the contours, much to give a sleek statuesque look.
The late 1930s saw backless evening gowns become popular. They featured wide shoulders with sleeves, halter necklines, and high necks. The gowns came with matching jackets and were preferred to wear for going to the theatre, nightclubs, and dinners. occasionally birthday party dresses were worn for elegant birthday parties.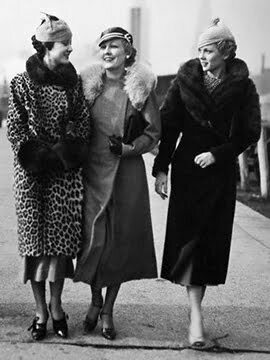 The natural waistline was prominent on 1930s dresses which featured fitted midriffs and wide shoulders created with the use of seams below the bust. Skirt length was conservative at mid-calf for the bigger part of the decade. Shorter and fuller skirts with hems just below the knee were popularized by Paris designers towards the end of the decade. They found favor with many women because of their practicality.
Ensembles were also popular, and they were done by wearing a matching dress with a coat. The clutch coat was also trendy and took its name from the fact that the wearer had to clutch it close because it did not have a zipper or buttons. Another trendy piece was the handkerchief skirt which featured lots of pleats, insets, and panels.
Evening gowns were accessorized with elbow-length gloves, while daytime party dresses were worn with shorter gloves. Other accessories would be matching hats, shoes and handbags to complete an ensemble.