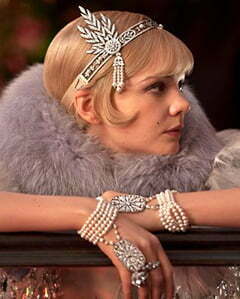 Gatsby's headbands were a common fashion accessory in the 1920s. The name comes from the novel "The Great Gatsby" by an American author F. Scott Fitzgerald which was published in 1925. Gatsby style headbands were an important part of 1920s flapper fashion. Flappers were the young ladies of the 1920s who were considered the flag bearers of Roaring 20s; the era of cultural progress.
In 2013 the novel of Fitzgerald was filmed and the lead female character Daisy Buchanan was shown wearing a flapper headband according to the 1920s women's fashion. Such headbands then again became popular with the name Gatsby's headbands.
Simple Gatsby's headbands often include a band that wraps around the head with a feather on one side. The fancier ones often replace feathers with beaded applique and a brooch. In the 20s these headbands were worn with flappers' inspired below knee length dresses, t-strap heels, and long pearl necklaces. Gatsby beaded cap also called skull cap is also a similar hair accessory but is not loved as much as headbands.
DIY Gatsby Headband
Gatsby's headband is a simple and beautiful accessory. It can be made by oneself with very few supplies. If you want to make one by yourself to recreate that Gatsby style, follow the following simple instructions.
Make a Simple Feathered Gatsby Headband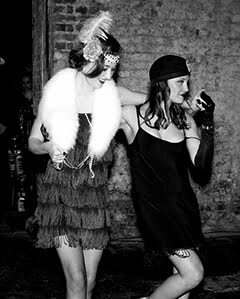 To make a simple Gatsby headband; you will need the following supplies:
1) An elastic band of your choice
2) Fabric glue
3) Thread and needle
4) An ostrich or peacock feather of 4-5"
5) A piece of applique (optional)
Instructions:
Sew the ends of the elastic band. Glue the feather on one side of the band which will come above your temple. Sew the applique above the feather on the headband.
Create a Fancy Sparkly Headband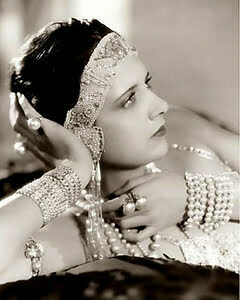 To make a fancier headband that can add glow and sparkle in your overall makeover; you will need the following:
1) A beaded applique
2) A crystal/pearl studded brooch
3) Fancy elastic band/ plastic or metal hair ring
4) Needle thread and fabric glue
5) Glitter glue (optional)
Take a feather-shaped beaded applique to replace the feather. A crystal-studded decorative brooch can be added for more glow. You can make this with a decorative elastic band or can simply take a plastic or metal hair ring and cover the hairband with glitter glue.
Gatsby's headbands are an elegant way of adding oomph to your overall look. They are particularly worn when recreating flappers' look for 1920's fashion-themed parties. These bands are usually worn over the 20s inspired bobbed haircut but women are now wearing it on long hair as they look great with any hair length.