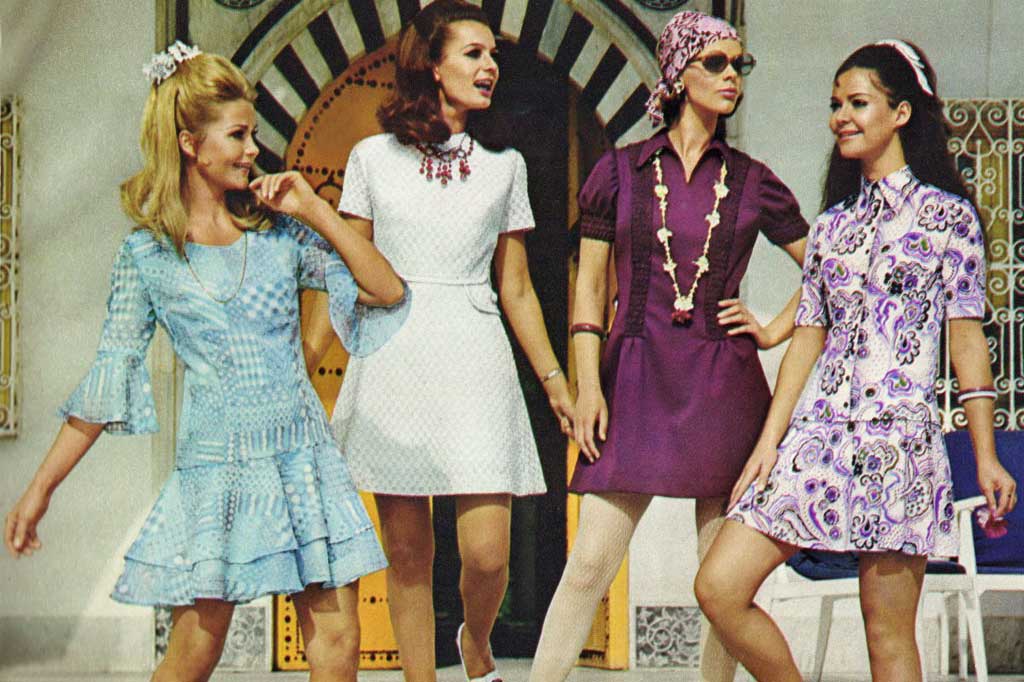 The 1970s fashion witnessed massive changes. Some trends were discarded, and in their place, new trends were adopted, but there were some trends that made a comeback as well. It was also the time when people were exploring themselves and what they actually were from within and how they wanted the world to see them. For this reason, people started wearing outfits that were not a conventional trend in fashion but would rather be known as the rebellious trends. However, these trends stood the test of time and judgements of people to be later considered as the high fashion trends that would be loved by people of the next generations as well. The daytime dresses of the 1970s had various categories and each of these categories further had varieties that people would flaunt. Scroll down to find some of the trends of the 1970s daytime dresses for yourselves.
1. Top and Miniskirt Combo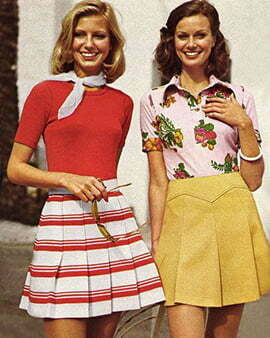 The people of the 1970s were exposed to great fashion and trends of the decade. Among those people, who had the courage to be different, opted for fashion that defied the rules and regulations of a conventional lifestyle. Top and miniskirt combination came under such a fashion category that was adopted by those who were bold enough to be themselves and showcase their free and rebellious spirits in front of the world. These tops and miniskirts came in various designs, prints, and colors. Often, women mixed and matched different items to create a whole new outfit. Ranging from plain miniskirts and floral shirts to striped skirts and plain t-shirts, one could find them in every style. These outfits were often paired with bandanas tied around the neck and some jewelry for more style.
2. Hippie Dress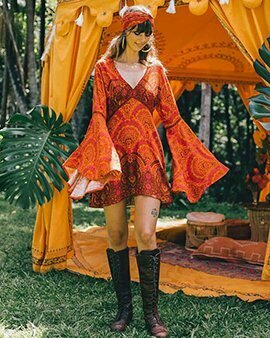 The rise of the Hippie movement in fashion in all its glory could be seen during the 70s era. People would wear outfits of bright and contrasting colors with psychedelic prints. Leather jackets with knotted strings of leather hanging at the hemline were usually worn over these hippie outfits. Peace pendants and matching headbands were popular accessory items worn with these outfits. Bright bellbottom trousers sometimes also had a colorful piece of fabric added to the flare of the trousers. These outfits were often worn by hippies who rejected the ordinary standards of fashion and embraced the freedom and rebelliousness they were born with. Heels and flats were common footwear worn with hippie dresses.
3. Jumper Dress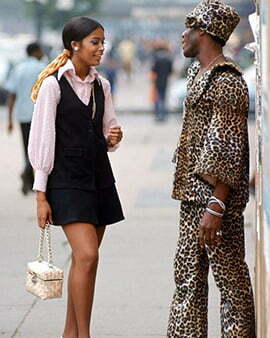 Jumper dresses were a cute take on miniskirts and jumpsuits during the 1970s. These cute and stylish outfits could be worn on a number of occasions. These outfits were particularly popular among the teenagers of that time. Girls would pair these jumper dresses with plain matching high necks and tights to contrast with the different colors of the dress. Tights were a common clothing item and were considered a necessity that was conveniently worn with a number of outfits. Footwear that was usually worn with jumper dresses was block heel pumps. People of today's world still wear jumper dresses but the main form of these outfits that we see today comes in denim. In the 1970s, you could find this outfit in various designs that included buttons, pleats, and pocket detailing, prints that included stripes, checkered, and plaid and fabrics that included corduroy, cotton, and wool so that your jumper dress could match your taste and style.
4. Long Maxi Dress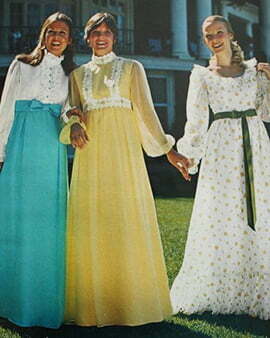 Maxi dresses of the 1970s were an ideal fashion clothing item that one could wear on parties and casual days as well depending on the material they were made of. These dresses came in various colors, prints, and designs. Sometimes, the whole outfit was made out of a single-colored fabric and at other times, the blouse would be of a different color and skirt would be of a contrasting color that would start below the belt. Long maxi dresses of small floral prints were also popular. Laces were used to adorn the blouses and hemline of the maxi usually had ruffles to add more style to the dress. The sleeves of these maxi dresses were usually in the style of bishop sleeves.
5. Tunic Dress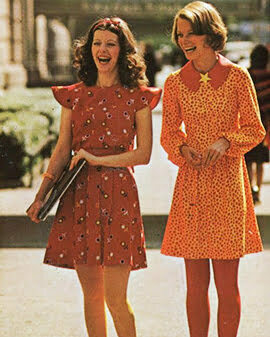 Tunic dresses were another form of the 1970s daytime dresses. These dresses were often made out of fabrics of bright color with prints of contrasting colors adorning the fabric. Girls usually wore these outfits with bright-colored tights. These dresses sometimes had collars and sometimes you could get these dresses with plain round neckline. You could get plain and straight tunic dresses, or you could get those that had pleat detailing. The sleeves were usually either cap sleeves or bishop sleeves. The trendy footwear worn with these outfits included strappy heels and wedges.