Fashion trends in the 30s focused on creating simple but yet attractive looks for women. Even the men have their fashion around their flamboyant looks and masculinity. On a more specific note, the styles, fabrics, and house dress patterns in those days were unique to each country.
However, 1930 was a decade when most styles transitions started. House dresses also received their share of the fashion changes.
History of House dresses in 1930
This is what happened before the 20th century?
Before the 20th century, most fabrics come in plain patterns. Due to poor designs, women's clothes became less catchy. Even though there were techniques available for printing patterns on fabrics, production was slow and pattern limited. See more 1920s fashion.
However, in the 20th century, the use of screen printing became very popular. Before the mid-1900, screen printing had grown to a large scale, and production was faster than before. Owing to this reason, women's dresses towards the mid-1900s were more of colorful patterned fabric than plain.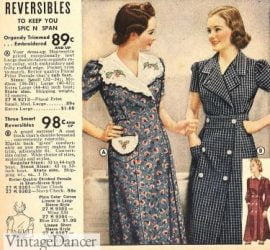 What happened in the 1930s?
Nowadays, we have the liberty of having our clothes designed and made by a tailor. We can sew or buy as many as possible regardless of how expensive they are. It was not so in the 1930 era. Then, a closet full of clothes was a luxury to the wealthy. Most people do not own many clothes, but the few they have are well tailor-made. Even inexpensive and simple-to-sew house dresses were not an easy buy. That made most women independent. They sew and mend their clothes. And as most women attend less function then, dresses for staying at home were more in need.
This is what happened after
Little by little, the dressing styles and needs, fabrics, and patterns of women's wear gradually but constantly kept changing. The change in fashion was prominent around the 1970s. Many people blamed the political and social changes, which occurred after the Second World War. The war relaxed the societal norms a bit. Women in large numbers started entering the workforce to help support their families.
However, this paved the way for more fashionable styles with prominent feminine features. Therefore, jeans, shirts, shorter skirts, etc, gained more favor over house dresses.
What was housedress like in 1930?
A housedress is everyday wear, especially for domestic work. Probably, for housewives and maids or some clothes, you can at least wear them at home with comfort. It comes in different patterns and fabrics, including colorful, bright, and dull ones. More so, it is different from dresses worn for formal occasions.
However, as days go by, many women's house dresses suit other functions too. It served more than just a dress for domestic chores, staying at home, or running errands. Many women started to enhance their house dresses with hats, beads, and gloves to look more elaborate.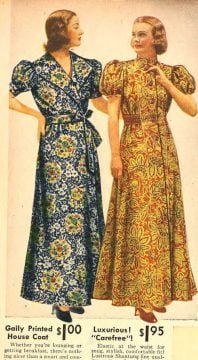 Patterns for 1930 house dresses
It is very common to wear loose-fitting house dresses in the 1930s. To feel comfortable, house dresses have loose waistlines. Additionally, sewing or buying clothes was something not done often then. Therefore, such clothes were tailored to fit women regardless of their condition. So that women can wear them regardless of being pregnant, cooking, or nursing a baby. Most house dresses, too, come with easy front closures (zip or button). Some, however, come in simple wraps.
Still, it is also common to see house dresses with sashes, pocket flaps, collars, and peplums. Even you cannot help but admire the varieties of cool patterns available. The 1930s house dresses come with printed patterns. Some of the popular designs are gingham check and geometric patterns. More so, it being a domesticated garment makes stains less noticeable than plain fabrics. Also, pockets were very common too.
Fabrics for 1930 house dresses
Clothing patterns for house dresses in the 1930s were not the only noticeable thing in this historical era. Also, fabric choices are very important.
Hence, the fabrics for 1930 house dresses seem to fall under the category of clothing that is inexpensive and cool to the body.
Calico
Cotton
Rayon
Polyester
Seersucker
Poplin
The most used fabric in the 1930s was cotton. However, a lightweight, comfortable, breathable, and soft fabric was the best fit as house dresses are everyday wear. House dresses look and feel great. They do not yell, oh! This is a "housewife or maid," so have pride in wearing them.
Fortunately, the revival of 1930s fabrics and patterns worn is now possible. Luckily, there are excellent references available to enable you easily recreate as many styles as you want. Therefore, if you are a big fan of them, it is time to rock these vintage styles with the right fabrics and patterns.