80s Fashion Jewellery Trend to Take You Back
                                            "You are never fully dressed without jewelry" – fashion quote.
Women wore fashion jewelry for adornment. Just like real jewelry, it also helps to complement looks but is very affordable. They come with simulated gemstones rather than semi-precious stones, gold-plated brass, and crystals. That is by the way. There are varieties of fashion jewelry worn in the '80s now in vogue. You may have some in your possession or find some appealing to you. Just know that modern fashion jewelry is quite charming. More interesting is the fact that the 80's jewelry now comes with much greater charm and in different styles. You just relax and allow me to take you through these trendy 80s fashion jewelry.
Types of 1980's Jewelry
As fashion shifted its focus from social rules to individuality, it ushered in the liberty to explore better. Thereby, it made the 1980s a decade of bold jewelry. Not like 1920s accesories, women wore oversized hooped and beaded necklaces to complement their big, curly hair in 1980s.
1980 trended with jewelry like bangles and bracelets. It was a time of bold and bright (multi-colored) bangles, neon beads, rubber, and jelly bracelets.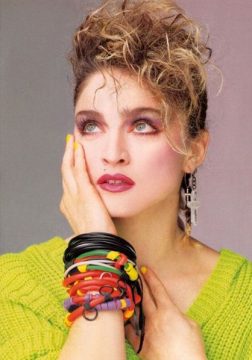 One of the known pop singers and fashion icons of that time, Madonna loved bangles. Most of the time, she flaunts her jelly, beads, and leather bracelets. She always wears a generous amount of them.
Cyndi Lauper is another famous artist that does not joke with her bangles. She is well-known for her extreme fashion accessories but her bangles I love. Her 80's jewelry styles consist of bold multi-colored bangles, beaded bangles, braided bracelets, and more. When I first heard about "Cyndi Lauper & The Bangles," I thought she was referring to her jewelry. Well, that was the name of her backup singers in 1986.
Dressing Style in the '70s and '80s was on the extreme, and so was jewelry. With various types of fashion jewelry around, you can find one for every occasion.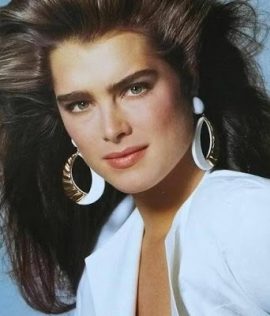 Some of the common earrings are door knocker earrings, circular oval earrings, retro earrings (dangling and neon), disco balls, and geometric earrings. While women were grabbing every huge earring at their reach, tiny earrings such as studs fancied men.
The '80s marked the beginning of young men wearing earrings for fashion. They pierce their ears just like women. However, diamond stud and hoops earrings were their favorite choice.
Princess Diana's name popped up when I searched the most iconic names as far as it concerned the 80's fashion jewelry. She loves to add extra features to her dress with pearl necklaces or chokers.
Most of her necklaces are a combination of both – pearl choker. I can not count the number of times I sighted her pictures with her flaunting them.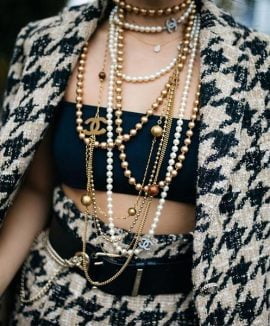 Some of her common pieces are emerald and diamond chokers, single and twisted double-strand pearl necklaces, diamond and sapphire chokers, which she sometimes wore as a headband.
Pearls, diamonds, gemstones, and other designer jewelry are expensive for the average American. So, many instead went for cheap pearls and gemstones. Alternatively, some go for chunky and long pearl strand necklaces (Cyndi Lauper style) with multiple colors.
Fashion jewelry in the 80s also emphasized rings. Women wore colorful resin and layered rings with unique designs. It is a great piece that adorns the fingers. When it comes to ring, it is a common accessory for both genders. So, men did not fold their hands and watch. Men show off their three-four finger rings and nugget ring. However, both men and women rock cocktails and custom rings.
It is great news that many old-fashioned 80s rings now come in distinctive styles. They are inexpensive too. More so, designers strive to create great pieces that are stunning and can closely imitate gemstones.
The 1980's brooches are back and better. Brooches were not as popular as other pieces of jewelry because people had less interest in them. But they are glamorous and make a great fashion piece. Even so, you can wear them on your hair for more sparkles.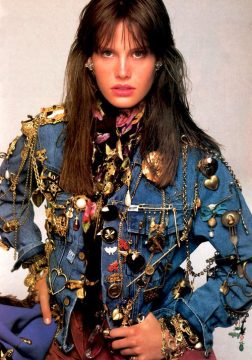 Aigrette brooches, Cameo brooches, fringe brooches, Celtic brooches and more, are worth possessing. Maybe not as a symbol of wealth or power but as an accessory that spices your style.
What are the styles of 80s fashion jewelry?
Jewelry transforms. Iris Apfel was right when she that "jewelry is the most transformative thing you can wear."
The 1960 and '70s revolution brought about change and fast development in fashion. Therefore, it does not only provide access to express one's feelings through clothing but with jewelry too.
The 1980s fashion jewelry comes in bespoke styles. Here are some of the popular ones:
Hip hop jewelry, e.g., hollow chain
Diamond stud earrings
Pearl button earrings
Pearl strand necklaces
Dome rings
Oversized hoop earrings
Door knocker earrings
Pearl chocker
Neon plastic earrings
Cocktail rings
Therefore, anyone who wishes to look attractive without worrying about paying more has the option in fashion jewelry.
Believe me; you cannot go wrong with the 80's fashion jewelry trend. Although you are not the jewelry type, who knows, you may find something appealing to you in the season's trend.