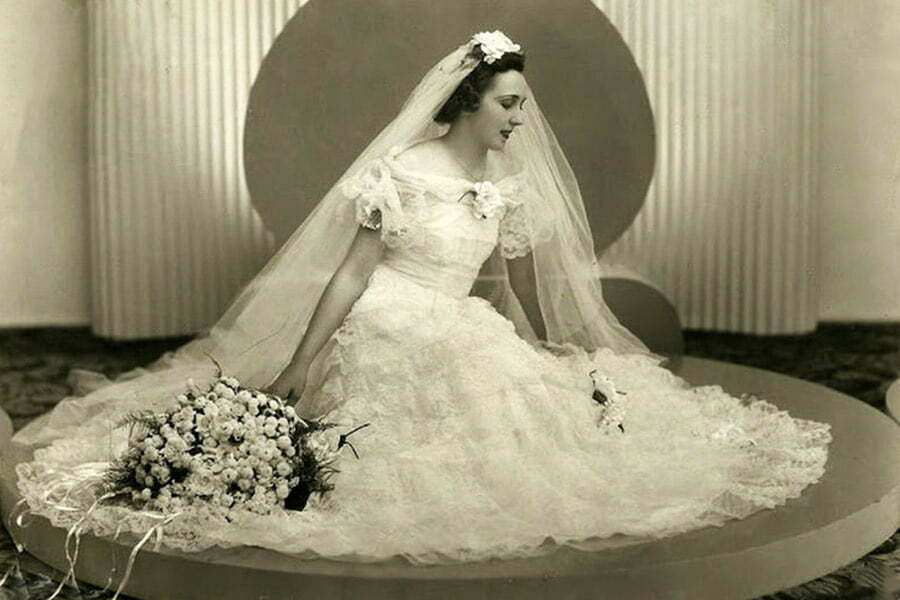 Hollywood glamour had a big influence on fashion, including wedding dresses in the 1930s. Backless silk gowns and long beaded dresses in white, pastels and ivory were trendy. The Art Deco movement also had a big influence on fashion with its simplicity and class. The 1920s had seen the popular drop waist short dresses. In the 1930s, the natural waist was back with form-hugging and long sleek silhouettes. Preferred fabrics for these gowns and dresses were satin, silk, and rayon.
The gowns featured high necklines, long sleeves and the bias cut that made hugging contours. The wedding dresses of the 1930s were floor-length and had tulle floor-length veils with lots of lace. Fashion magazines were closely followed by women for news on famous weddings such as Princess Marina of Greece and the Duke of Kent's in 1934.
DIY fashion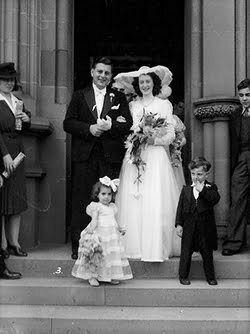 The financial difficulties of the depression were limiting to wedding budgets, which made brides get creative with their wedding fashion. It was common for brides to wear their Sunday best as summer wedding dresses. Some also wore new white dresses and could be worn after the wedding in the same color or dyed to a new color. Afternoon dresses made from chiffon floral fabric or silk crepe were also worn as wedding dresses by some brides.
Brides also upcycled wedding dresses from previous weddings. The dress was updated using trims, sleeves, buttons, and other embellishments. Handmade wedding gowns were also made using readymade sewing patterns that could be purchased together with fabric from local tailors or mail-order catalogs. Popular fashion magazines also carried these patterns which allowed women to copy trending fashion on a budget.
Long and wide trains and veils were popular in many weddings, while bridesmaids wore mid-calf length skirts or dresses for daytime weddings and receptions. The art deco movement introduced long panels and geometric shapes. Waists were accented with slide buckles and belts. Gathers, pleats, and ruchings were seen towards the end of the decade.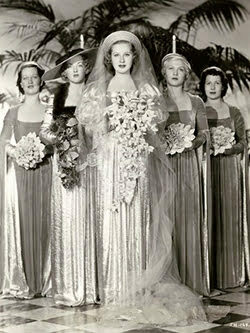 Wedding gowns were long-sleeved as people were still a bit conservative and many churches demanded covering up. A short-sleeved dress could be worn with a cropped jacket. Butterfly sleeves were made from a double layer of light fabric. Split sleeves that opened at the elbow were also seen in some dresses.
Royalty celebrities and the film Gone with the wind had a big influence on the comeback of the Victorian gown. The plus-sized wedding dresses featured crinolines to make the waist and hips fuller. It had leg-o-mutton sleeves roses and bows, garlands and ruffles.
The lace veil was gradually being replaced by the tulle, but a popular look was to wear a combination of the two. The veils became longer, reaching the floor starting from the shoulders or back of the head. Veils were usually worn with some sort of headdress. Those who could afford wore tiaras with diamonds or semi-precious stones like rhinestones. Starched lace and small pearls were the affordable options for decorating fabric tiaras. The tiara was designed to stand like a royal crown. Towards the end of the decade saw flower crowns becoming popular again. Some brides wore hats with the angled look being popular. Large sunhats and shower cap like halo hats were also worn.
Celebrity weddings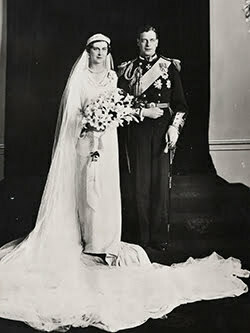 The bias cut pioneered by Paris designer Madeleine Vionnet was widely used to make form-hugging gowns and dresses for glamorous weddings. Hollywood had a big influence and cinema-inspired knockoffs were popular DIY fashion items. Some of the celebrity weddings where spectacular wedding dresses were seen included;
Clark Gable and Carole Lombard's wedding in 1939
Wallis Simpson and the former king of England. The bride wore a bias-cut gown with decorative buttons and matching gloves
Princess Marina of Greece and the Duke of Kent. The bride wore a white and silver brocade gown decorated with motifs of English roses. It had a high V-neck with the train dropping from the shoulders. The lace veil was 10 feet wide and was extended with tulle.
These weddings were closely followed by women in the US and Europe, and they were extensively covered in fashion magazines. The Modern Bride magazine also came out in the 1930s to report on wedding fashion. One of the most famous Hollywood dresses was that worn by Joan Crawford for Letty Lynton in 1932. It was copied in many wedding dresses for the decade.