The 1940s marked the end of the Great Depression and the beginning of the Second World War. Nonetheless, people found wars to remain beautiful and fashionable in these times. The fashion world moved from international items like French and Swiss jewelry to American homemade jewelry. Hollywood actresses displayed these jewelry designs all over pages of magazines and local shops went into the business of replicating them for cheaper prices. The jewelry was made from Sterling silver, Vermeil gold, Bakelite plastics, and other available materials. Towards the end of the decade, rhinestones became popular in the designing of jewelry.
1940s BRACELETS AND BANGLES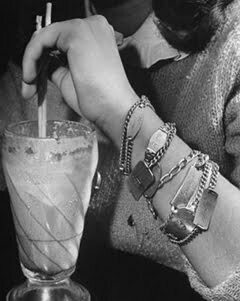 Bracelets in the 1940s fashion were a popular piece of jewelry. The most popular styles of bracelets were the identification bracelets or charm bracelets. The ID bracelets were a thin metal chain, either gold or silver with a flat center, on which the wearer's name or nickname would be engraved in a stylish font, usually cursive. The charm bracelets were also a thin chain with different charms attached at intervals. These charms ranged from animals to symbols to anything the person wanted. Women collected various charms for their bracelets as they wished. Bangles were also not left out of the mix. Women were seen adorning their wrists with various colors and numbers of bangles. Since they were made of cheap materials, they were inexpensive and available.
1940s NECKLACES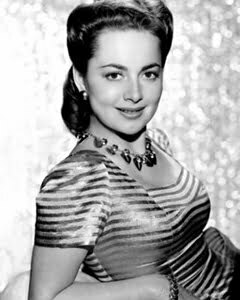 In the 1940s women's fashion, your outfit wasn't complete without a bold, beautiful beaded necklace resting on your neck. These beaded necklaces were usually short enough to just rest on the neckline or to the nid-chest. The beads were made of different materials like plastics or even pearls. Beads were usually round, although there were other shapes available and in different colors, as the wearer pleased.
Another necklace that was popular in the 1940s was the Locket. With the war ongoing, women bought lockets with which they could carry pictures of their loved ones. These lockets were made of gold or silver materials with thin chains, in different designs. The popular designs were heart-shaped or oval-shaped.
1940s EARRINGS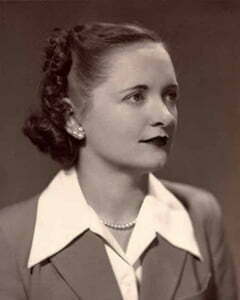 Earrings usually came in a matching set with necklaces or brooches. The major design for earrings was the large "button" design. These earrings were available as clip-on or post and screw for pierced ears. The earrings were usually made of the same materials as the necklace, such as plastics, pearls or faux pearls, and so on. Most times, women had to choose between wearing earrings or a large bow on the hair or hats, to avoid being overdressed or having too much jewelry on.
1940s RINGS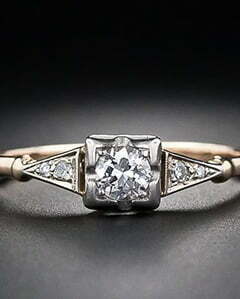 Rings were worn for different reasons. Most times, the type of ring one had a meaning or significance to the wearer. Children and young women wore rings that have their birthstones or initials engraved on it. These rings were mainly a gold or platinum band with the gemstone placed at the center. The stone could take any shape or size, but most were oval-shaped, round, or square-shaped.
Married women also wore wedding rings. These rings were usually a set of two rings. One was a plain gold or platinum band or slightly beautified with an engraving of a flower, while the other was a band with a small gem attached. The worth of the rings was in the worth of the stone and the purity of the material used for the band.
1940s BROOCHES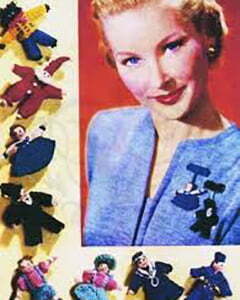 Brooches were worn on blouses to beautify them. These ornaments were worn on the chest and mostly, had symbols or emblems of patriotic significance. They included red, white, and blue designs, flags, trumpets, military insignia, and V designs were popular, to show support for the war and keep morale up. The brooches were made of metals, bakelite plastics, and other materials. They weren't large ornaments.
As the war began to relax, different designs of brooches began to make waves. Such designs included animals, hats, hands, and so on. Brooches and pins designs later evolved into movable parts. Vintage brooches have remained fashionable to this day.