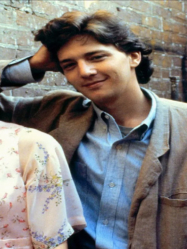 Photograph: Paramount/Allstar
Pretty in Pink is an interesting romance film of the '80s. It displayed the fashion craze of the 1980s, from their hairstyles to dressing and accessories.
The popular characters like Andie, Duckie, Blaine, Iona, and Steff have some fashion moments.
This feature is one thing that makes the film captivating, even more, helps to inspire your 1980s outfit ideas.
Before, we dive into the fashion styles of these characters; I think you should know first what the film is all about.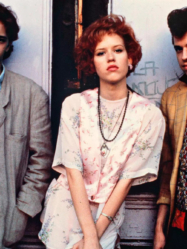 Image from: https://www.imdb.com/
What happened in the Pretty in Pink film?
The 1986 movie "Pretty in Pink" is a comedy-drama with a touch of romance.
It featured Molly Ringwald as Andie Walsh. Andie is of lower class and his father (Jack) has a low-paying job.
She buys clothes from the thrift store and recreates them into styles that attracted her to almost every guy in school. Her best friends are Duckie and Iona.
Steff McKee and her girlfriend Benny Hanson are some of the rich kids in school. They bully and even harass Andie and her friends.
Blaine, on the other hand, is also a rich kid and a friend of Steff. However, he is friendly towards others and even fell in love with Andie.
Well, their journey of love was not that easy. They received their share of criticism, and have some moments of breakup and reconciliation.
Even up to a point, Blaine withdrew from Andie. The reason is that Steff, whom Andie rejected his advances did not support the friendship as status differs.
Blaine later found the truth about why Steff resent Andie. Andie also found out that Blaine truly loved him from Duckie but just could not man up to admit it.
In the prom, Andie rocked the new pink dress she altered with her creative ideas. Anyways, everything worked out fine for the young lovers, Duckie inclusive.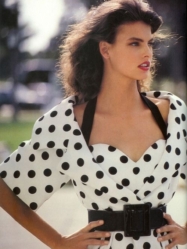 The source of the picture is unknown, if there is any infringement, please contact us to delete it
Fashion style trends of Pretty in Pink
She may not have the money to buy exquisite wears to school but she sure knows how to make her dress turn heads.
Well, it could be a good turn or a bad one. One thing I know is that many people are not so delighted in some of her clothes style choices. She could have  worn better.
What is a good vintage prom dress from Iona was turned into something less appealing.
At least her prom dress should have been the most iconic costume in this movie, not an ill-fitting exaggerated gown.
That is by the way. It is hard not to notice Andie and her felt hats with an upturned shallow brim. To make it more elaborate, she ties a floral scarf around them.
Duckie is not one of those preppy rich kids like Blaine and Steff, but he was richer in his dressing. Even in prom, he was dapper.
Well, I do not know about you but I cannot deny that the bolo tie, winged collar shirt, and floral blue tuxedo blazer look good on him.
He truly displayed the fashion craze of the '80s with his heavy accessories. From scarves to hats, jewelry, blazers, ties, lapel pins, watches, wristbands, and glasses, he wears them all.
He is the hero of the story, a fashionista and his supplies of checker blazers never run dry.
Iona is not as attractive as Andie – in the context of the movie. Yet, you cannot help but look at her twice.
Her crazy hairstyles and fancy wigs seem to have drawn inspiration from her record store – that is my guess though.
She may not have been the main protagonist but sorry Andie, Iona's choice of clothing was better and more stylish.
Also, she was the big sister we all wish to have. Being there for Andie to defend and advise her.
Blaine is handsome but plain.
Have you seen the recent Andrew McCarthy known as Blaine? Yes, he is older now but still looks as charming as ever.
I know it is all a movie but who wouldn't fall in love with a handsome rich kid? And one with a good heart too.
However, he has no fashion sense. Once he has his plain shirt and blazer on, he is just fine. Anyways Andie looked beyond that to see what matters.
…And for his prom white tuxedo jacket with a black bowtie, which won my heart, regardless of how many people wore the same.
Steff doesn't wear it tight
I do not know why he loved unbuttoned shirts or why he chooses not to knot his tie in prom. But I know that anyone who feels the heat of rejection, especially a rich kid will surely find a way to cool off.
He was jealous and a bully but that did not stop him from flaunting multiple linen suits.
How to dress like Andie
When you think of Andie Costume, think of a closet full of felt hats, vintage cardigans, exaggerated jackets, drape-flowy fabrics, brooches, paisley brocade dress, and long pearl jewelry.
For her pink polka prom dress, make a loose fittings high neck off-shoulder gown.
It may not glitter like the "Material Girl" costume or look enchanting like the "My Fair Lady" costume.
However, the simplicity of the Pretty in Pink dress makes it easier to sew for cosplay.