What type of clothing was popular in the 1950s?
In the fashion industry, the 1950s were a period of significant development. New fabrics had been invented from petrochemicals and soon became affordable.
Fashion in the 1950s saw a clear gender divide. Women and girls' fashion emphasized elegance, formality, and carefully matched accessories, while men and boys' designs evolved toward a more casual day-to-day look. New designers such as Cristobal Balenciaga and Hubert de Givenchy disrupted the overly feminine form popularized by Christian Dior in couture womenswear, while innovative designs and colors marked a playfulness in fashion for both men and women.
Before marrying and entering the workforce, teenagers stayed with their families for lengthier periods. This spawned a new market for clothing and products aimed at teenagers.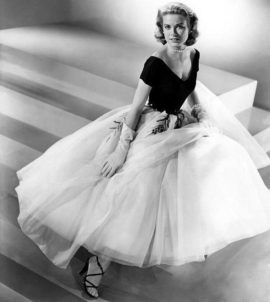 Although women began to wear pants for some occasions, the fashion atmosphere in the 1950s moved towards femininity and formality. As the cocktail dress was introduced to the public, this was especially true in eveningwear. These dresses, worn to the new cocktail party, are a cross between daywear and evening gowns, with the length of a day dress but the embellishment of eveningwear. Even as sheaths and form-fitting dresses became popular, full-skirted dresses, such as Dior's heavily decorated evening gown, remained popular for formal eveningwear throughout the decade. The strapless bodice, which was relatively new at the time, was especially popular since it balanced out the large skirts.
What was the 1950s prom dress?
The prom gowns of the 1950s are romantic, elegant, and innocent. The 1950s prom dress has become a timeless symbol, just like the era when it first became popular.
With the rise of America's flourishing youth culture in the 1950s, proms grew in popularity, and high school seniors and juniors were all anxious to have a piece of the dance hall action.
During the 1950s, proms were highly popular.
The desire of teenagers to look gorgeous like their favorite Hollywood stars led to the invention of exquisite prom dresses in the 1950s. Sequins, rhinestones, lace, and embroidered appliqués were common embellishments on these gowns. Organza, taffeta, tulle, and satin were used to create the dresses. Prom dresses from the 1950s come in a variety of colors.
The features of 1950s prom dress
Some aspects had to be paid special care to in order to complete the elegant look; they always added a lot to the dress's sophistication.
Layers of tulle and snug princess cut bodices characterized formal 1950s prom gowns. These dresses were floor-length or tea-length, and they were made of finer materials than classic swing dresses. Pink was the most popular prom color, but other bright or pastel hues were also popular. The skirt is usually big and "poofy," whereas the torso of the garment is usually tailored.This feminine, innocent, and elegant aesthetic is a timeless classic.
The wide, fluffy, tea-length skirt was one of the hallmarks of classic 1950s prom dresses.
Full-skirted dresses were very popular in the 1950s. These dresses were often tea-length,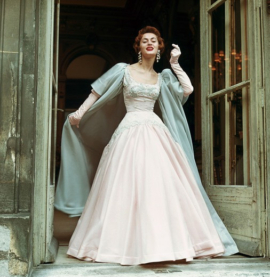 reaching mid-calf, but they might be longer. Ruffles were optional for those who wanted to channel their inner Little Bo Peep.
A tulle skirt and a curve-hugging bodice were also essential parts of a gorgeous '50s prom dress, to offer you a bit more visual information. While many of these outfits were shoulder-baring, notice how her date assists her with her shawl for modesty's sake.
While sticking to the era's classic silhouette, a dress with unique tiny touches, such as a chiffon sash or floral embellishment, was extremely fashionable.
Elbow-Length Gloves: Silk, satin, lace, and everything in between. Gloveswere the most important accessory for any stunning prom appearance in the 1950s.
Details on the Appliqué: See Elizabeth Taylor at the UCLA prom in 1950 if you want to look like a true movie star at your prom in the 1950s. At the time, the actress wore a tulle gown with flower appliqué on the bodice and skirt, which was highly fashionable.
People began to abandon tulle skirts in the late 1950s in favor of sleeker styles. Is there a popular choice? The bubble hem dress is a shorter dress with a large, trimmed skirt.
Many prom gowns from the 1950s have remained fashionable and are still worn today. Having a vintage gown or two in your closet will ensure that you have something unique and lovely to wear to prom or any other special occasion.
Vintage 1950s gowns are still aesthetically pleasing in the twenty-first century, and they are being used as inspiration for sensual and stunning gowns worn at shows, awards ceremonies, and other events. It's cool to have one on hand.
The prom was the perfect recipient for all the varied styles and statements to be made, especially with female dresses, as fashion reached a new pinnacle in the 1950s.