Roaring 20s Halloween Costume For Women
The 20s were a time when women started "breaking the rule!" They chopped off their hair, wearing it close to their faces. As for makeup, go for a smokey eye and dark red lips. Flappers must be one of the most typical features of the 1920s. Wanna experience an evening that can only be described as the cat's pajamas? Quickly check out the swanky 1920s costume. A fabulous flapper! A cool gun-toting gangster!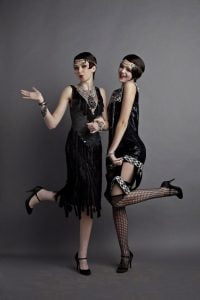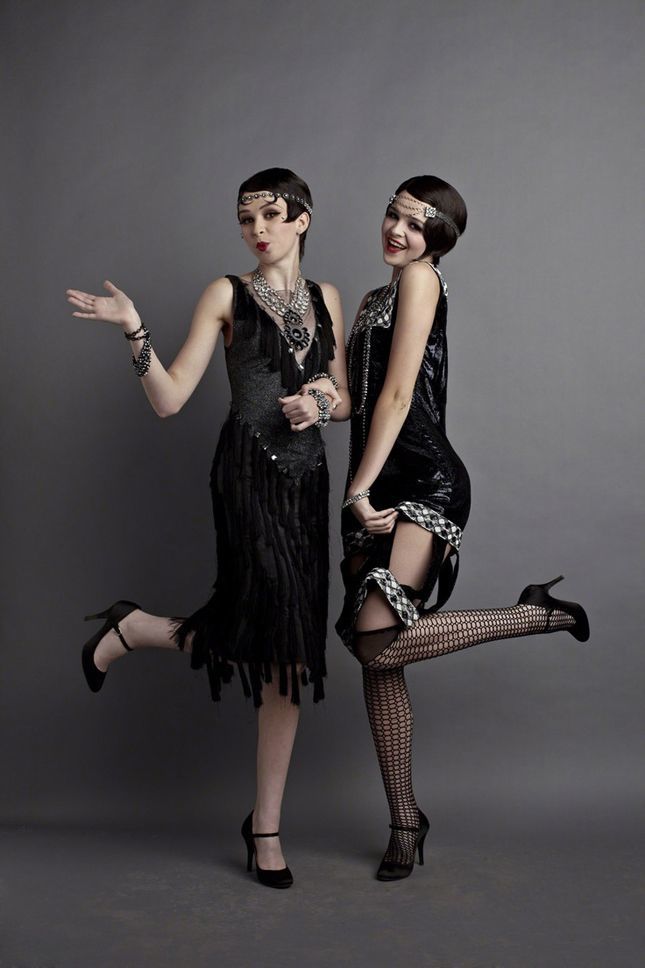 Flapper costumes are featured by glitz, glamour, sparkles, and fringe. Beautiful 20s flapper dress features a sequin diamond in the center and comes with a matching sequin hat. Sexy flapper costumes can help accentuate the curves and reveal a little bit more skin. Women can sparkle, shine and put on a roaring 20s themed dance performance while wearing flapper costumes.
Choose a sexy flapper costume to exude old Hollywood glamour. The first choice is  jazzy flapper costume, decorated in feathers and rhinestones. Don't forget to accessorize with long black gloves and fishnet tights. Or you can also channel a Daisy Buchanan by adding flashy accessories. Wrap yourself in a boa and hold a matching purse. Just scan the crowd to find your very own Jay Gatsby! It's the perfect roaring 20s attire to wear while you sip on a glass of champagne and make small talk with other high society members!
Gangster costume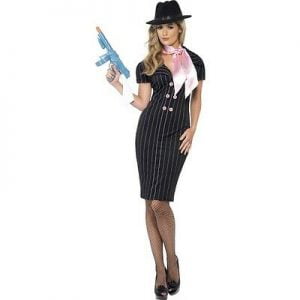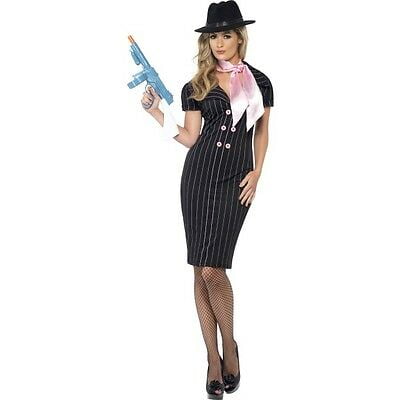 If you are obsessed with the gangster lifestyle, definitely being powerful, you can find the gangster costume for women which maybe featured suspenders, pinstripes and pins. Moreover, the tie, fedora hat and arm garter are also necessary.
1920s Clowns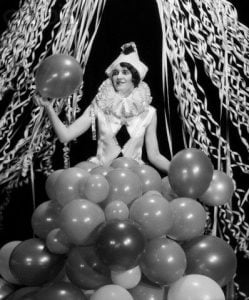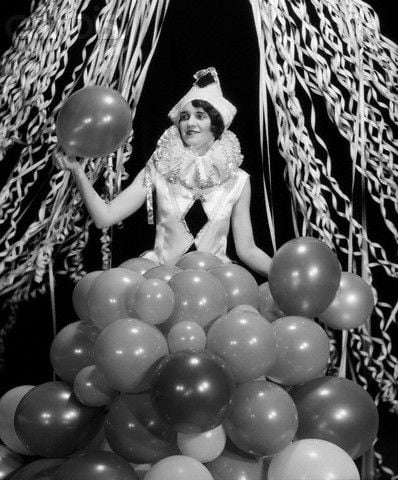 When Halloween became a secular holiday and as trick-or-treating started to become a more popular activity, Halloween costumes started to become all the rage for people of all ages. In the 1920s, costumes started out simple and homemade. The Pierrot clown, with its dramatic black and white painted face, was a popular costume. Other Halloween staples, like witches, gypsies, and farmers, got their start in the 1920s.
While those looks are certainly a staple of the decade, they aren't your only options if you're looking for 50s Halloween costumes ideas to rock this year.
1930s Women costumes for Halloween
1930s Gypsy Costume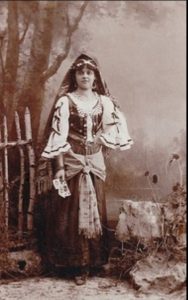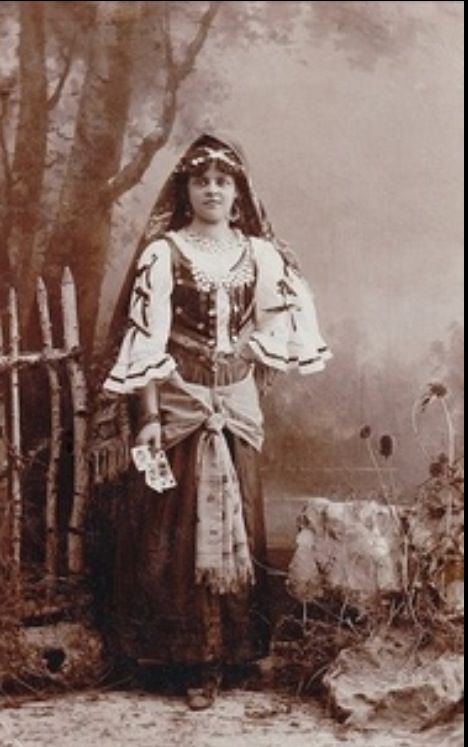 There are many mysterious Gypsy women that you can see in 1930s movies. Wanna turn the 1930s clothing into a gypsy costume? Just add scarves, head wraps, big hoop earrings, and of course your fortune telling ball with your look. Otherwise, you can also select some belly Dancing clothes with Boho accessories.
Costumes inspired by the 1930s horror movies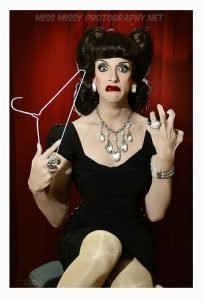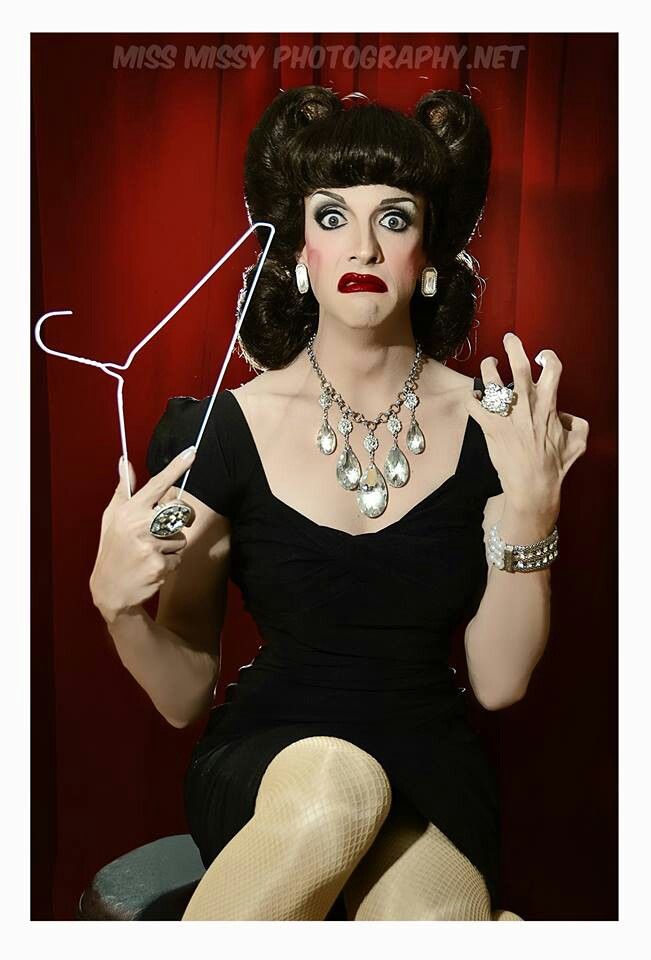 The 1930s Halloween costumes that you would also prefer may be something related to horror movies because the 1930s were the decade of vintage horror films: Frankenstein, Bride of Frankenstein, Dr. Jekyll and Mr. Hyde, Dracula, The Mummy, and The Black Cat.
When you think of the 1930s, you're probably thinking of the old Hollywood glamour. Ladies like Joan Crawford, Jean Harlow, and Greta Garbo graced this decade with class. For casual costumes, you will need floor-length dresses, luxurious fabrics- more so silk than lace and lots of shine and dazzle, fitted waists (In the 1920s, the style was a drop-waist. In the 30s, they brought it back up to the natural waistline to accentuate the figure.), big, bouncy curls, and minimal accessories like some sparkly earrings. For makeup, think matte foundation, thin arched eyebrows, false eyelashes, and dramatic dark lipstick.
1930s Mickey and Minnie Mouse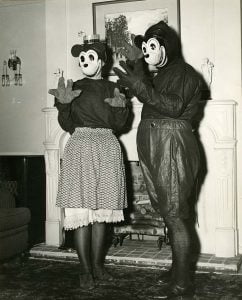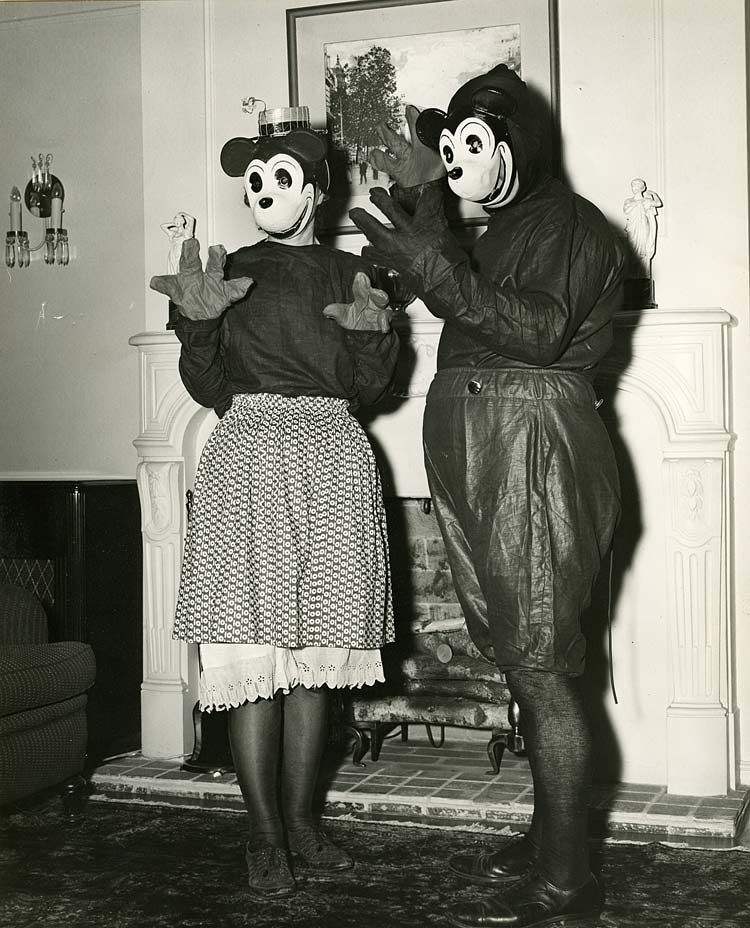 Ben Cooper revolutionized Halloween costumes, and was quick to scoop up intellectual properties for mass-produced costumes you can buy at the store. No longer were trick-or-treaters limited to homemade costumes. In the 1930s, Cooper got a big license for Walt Disney creations, including Mickey Mouse, Minnie Mouse, and Snow White. After these animated products became smash hits, they were easy costumes to buy and become, with rubber masks and cheaply made slips. But Halloween classics like witches, goblins, and scarecrows were still staples for most people.
Women Halloween costumes in 1940s wartime fashion
The Pinup style costume in the 1940s wartime fashion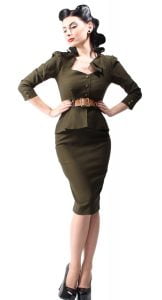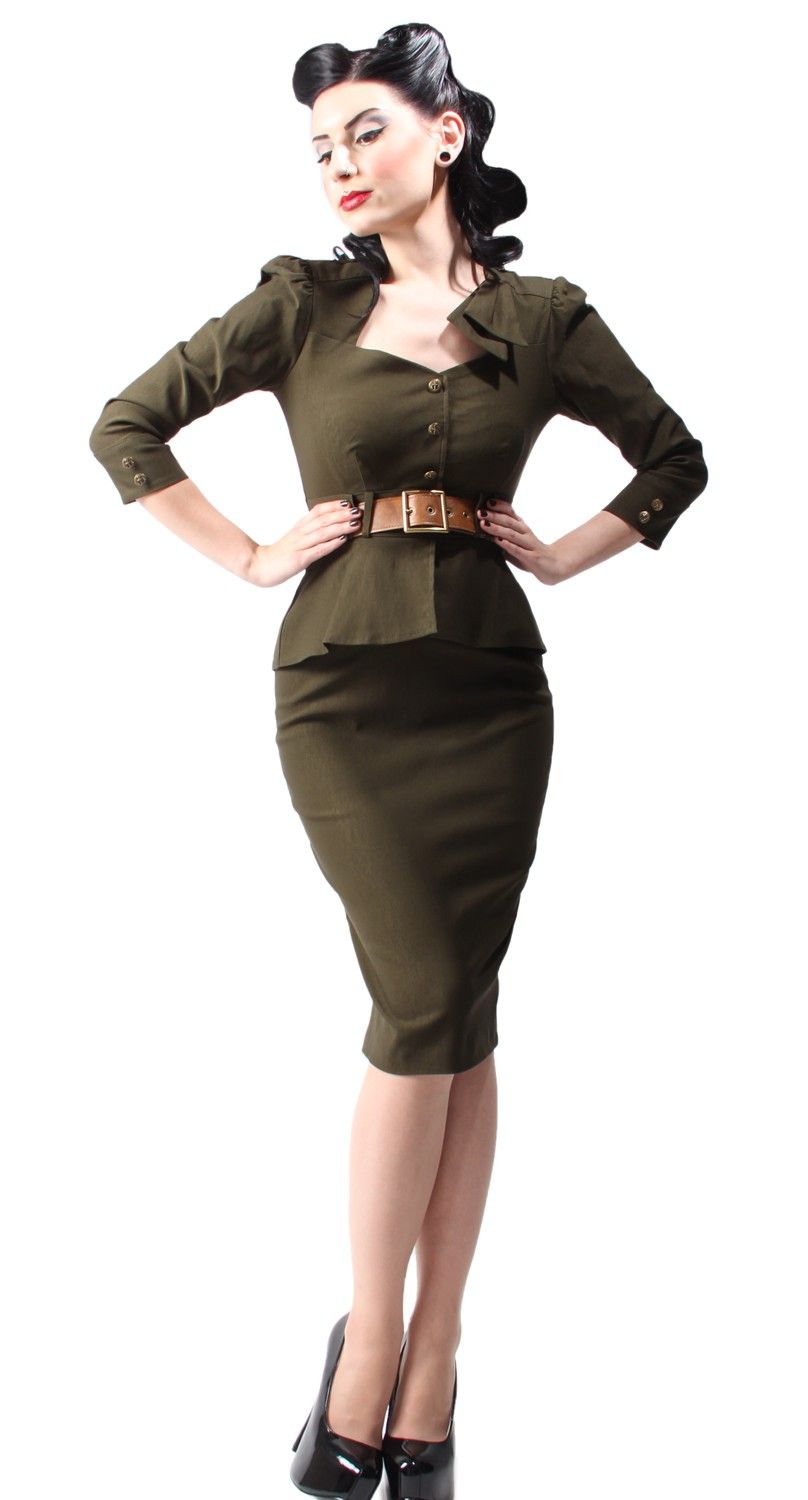 As women started entering the workforce during the war effort, fashion started to get more professional-looking. Lots of button-down skirt suits in this era! The iconic 1940s pinup makes a perfect vintage costume. Hair of the 1940s was fabulous: get ready to pin-curl! This era is when those wonderful pinup styles of voluminous waves and victory rolls started to emerge. For makeup, eyeshadow is minimal, but a red lip suits this decade well. "Doll" hats that perch on the top of your head work very well, as well as 40s style bonnet-style hats and halo hats. Prepare Oxfords and Mary Jane Pumps (Mostly closed-toed, professional looking shoes).
1940s Witches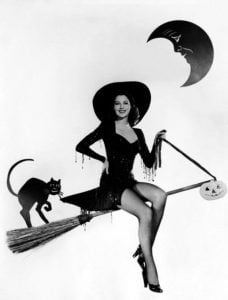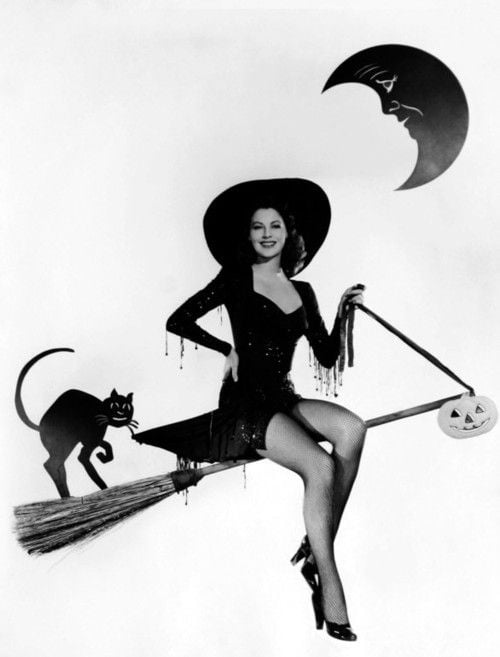 Spooky skeletons and cute clowns were still all the rage in the 1940s, but one trend that maintains till this day started in the 40s: the sexy Halloween costume. With the rise of pinup girls and sexual liberation becoming more and more commonplace, women took classic Halloween costumes like witches and cats, hiked up their skirts, and got sexy all for the sake of dressing up. Bodysuits and fishnets weren't uncommon, and neither were heels and heavy makeup for these costumes.
1950s Halloween costumes for women
Pink Ladies Costume: Grease Costume of the 1950s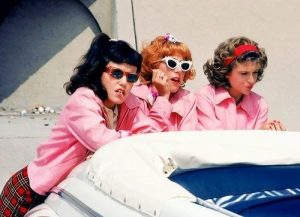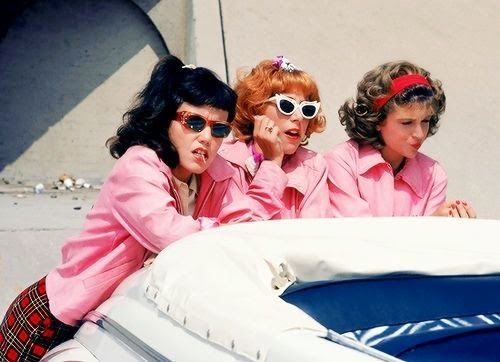 When you think of the Rock n' Roll age of the 1950s, what comes to your mind probably includes car hop girls in poodle skirts and guys with slicked back hair in greaser jackets. If you'd like to bring the movie to life, Grease costumes can make it.
Grease-It's probably the most iconic movie to capture the 50s. With this Pink Lady jacket of Sandy from Grease, believe me, you are going to be instantly transported into their high school years! The faux leather leggings and shiny heels are the perfect complement to your authentic Pink Ladies jacket. Of course, use a scarf to complete your signature movie look.
Costumes inspired by the 1950s icons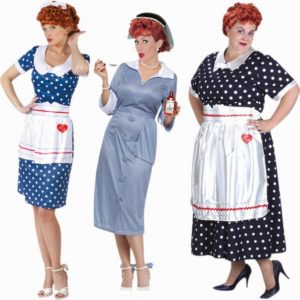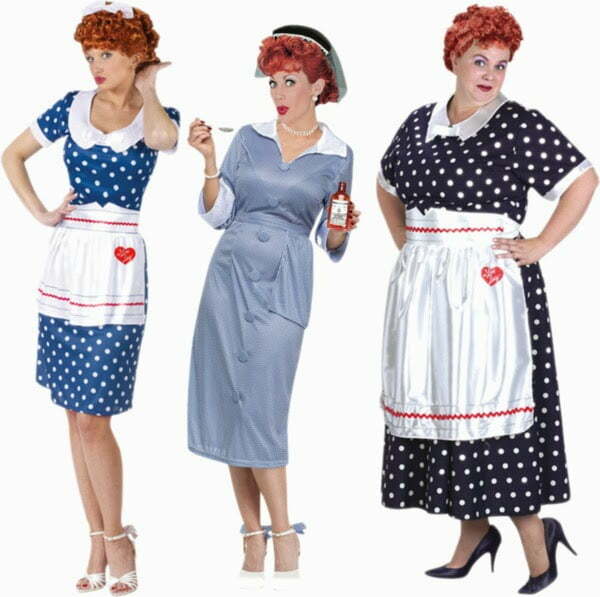 If you want to celebrate the iconic decade, there is definitely room to think outside the box! Dress as one of your favorite glamorous 50s movie stars, like Marilyn Monroe or Audrey Hepburn, or embrace your kooky side by dressing as everyone's favorite housewife Lucy from I Love Lucy.
1950s Tiki costume: Hawaiian Dress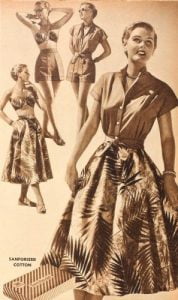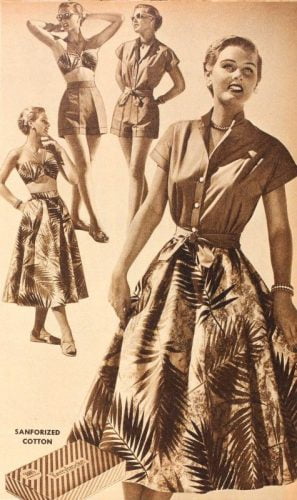 Dressing up as a Hawaiian with bright floral prints, grass skirts, so taking the tiki trend and luau fascination to the next level. A popular party trend in the 1950s was the tropical Tiki room. Hawaiian music, drinks, and clothing were what everyone was listening to and wearing.
Cowgirl Costume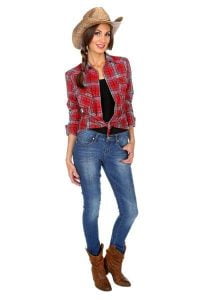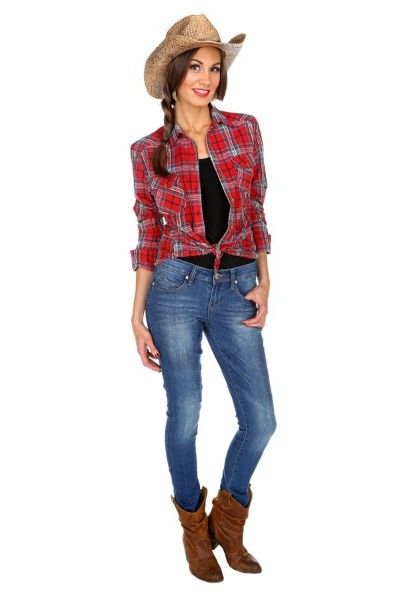 Western films were also wildly popular in the 50s, so cowboys, and Indians were huge themed costumes. As mass produced costumes from Ben Cooper continued to be all the rage, pop culture figures like Zorro, Tarzan, and Davy Crockett were also popular. Don't think that boys were the only ones roping and riding in the Wild West. Girls were known to do all the same work as men back in the day, even if they didn't get quite the same credit for it as the guys. The cowgirl costume comes with a holster belt, hat, vest, and collar to make sure one fully ready to handle any outlaws. You can wear a blouse underneath to play up the classic cowgirl outfit.
Rockabilly Girl Costume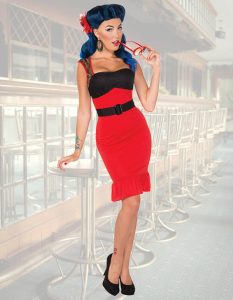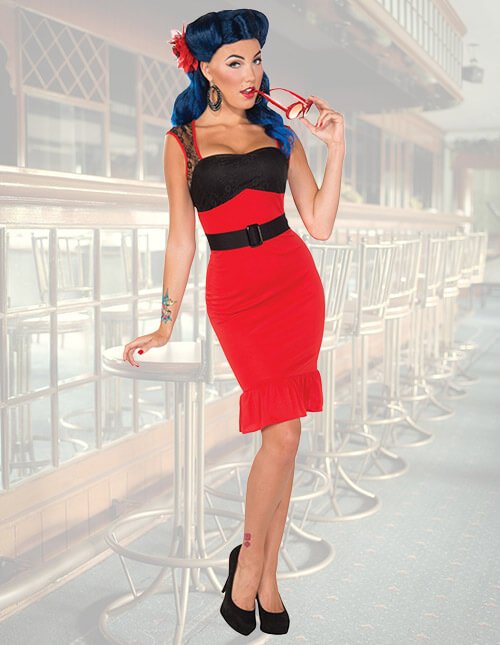 Buddy Holly was well known for rocking the 50s with some good tunes. Rockabilly is a 50s inspired pinup fashion blended with western elements and the rock n' roll lifestyle. Just pair the Buddy Holly costume with a rockabilly costume dress. Even you can bring an imitation Stratocaster guitar and some drumsticks as accessories to complete the look.
Popular women Halloween costumes in the 1960s
1960s Hippie Costumes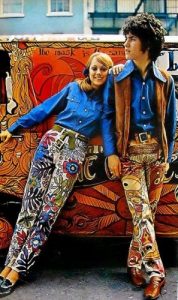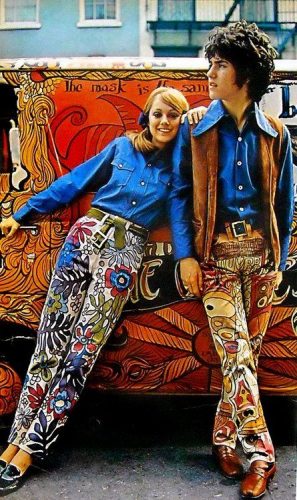 Celebrate a swinging decade of change with groovy 60s costumes, including go-go girl and hippie costumes that bring back memories of the Summer of Love. There are a few options for 60s costumes, including flower child, or a groovy 60s go go dancer, Mod fashionista, or boho festival-goer. If you are going for a mod 60s costume, check out these trends: Bright color blocking or geometric patterns, Sleeveless tops, Capri pants, Box dresses, Mini skirts, Go-go boots, Big sunglasses and chunky jewelry. Mod makeup usually consists of defined lashes and sharp cat eyes with nude lipstick. Hair trends of the time were pixie cuts, or long hair that was flipped out at the bottoms with bangs. Mod or hippie dresses, boots, wigs, jewelry and accessories can be a costume on their own.
1960s Superheroes Costumes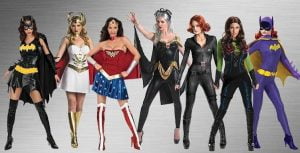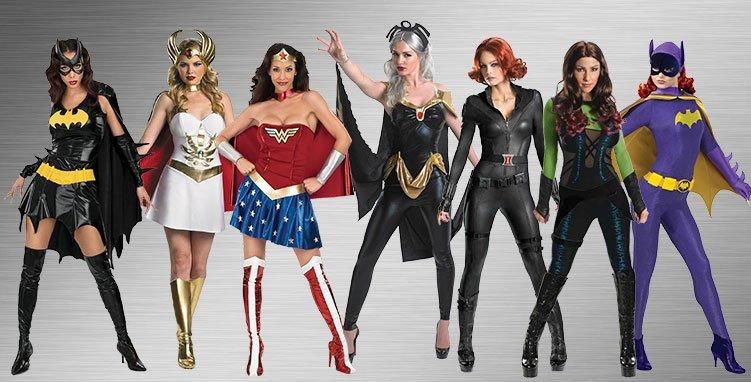 Cat woman and Bat girl were hugely popular in the 1960s, and Halloween costumes followed suit. Women could even sex these costumes up with figure-hugging bodysuits and short skirts with capes, like what we can see today. If you have your eye on women superhero costumes, you'll be amazed with those selection: superwoman costume, black widow costume and spider woman costume and so on.
1960s costumes inspired by movies and TVs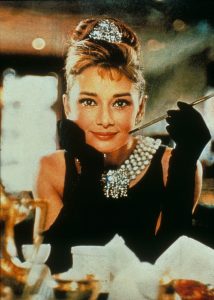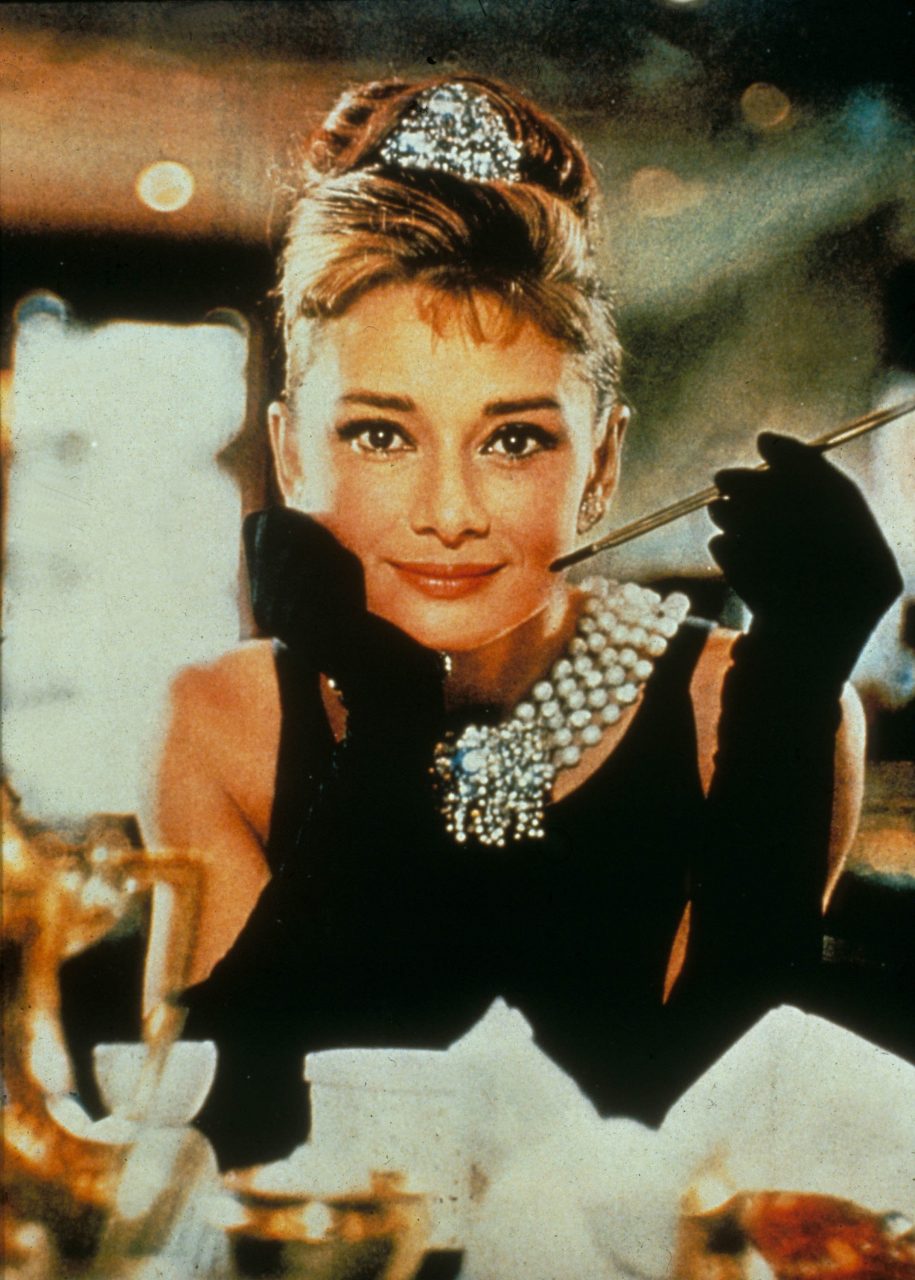 Classic TV shows and movies set in the 60s have inspired a revival of classic Halloween costumes. Dress like the Addams Family- Morticia Addams, Lurch, Wednesday Addams, and Uncle Fester for a vintage family costume. For something less spooky but full of class, dress up like Audrey Hepburn in Breakfast at Tiffany's. Her classic black gown, white pearls, and long stem cigarette holder are as iconic as they are beautiful.
1970s Disco costumes for Halloween
1970s Disco & Diva costumes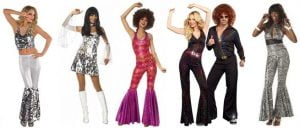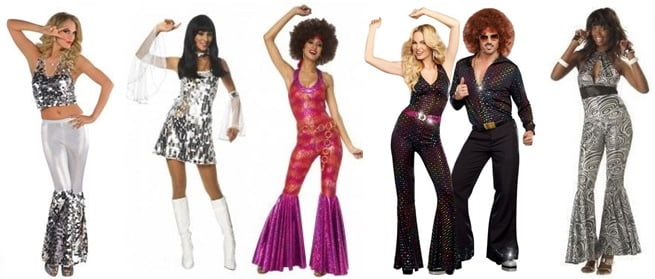 when seeing the bell-bottom jeans, the shaggy hairstyles, listening to the funky disco music, you can feel something like in the 1970s. The 70s was a magical time for anyone involved, anyone who set foot on the dance floor under a disco ball. You can relive the past with great 70s costumes by cultivating a groovy experience.The  decade was full of vibrant options. Select some particular hippie girl costumes, ad bell sleeves. They help give you that flowing, fluttering movement that pairs perfectly with all the best disco moves. Disco fashion in the 70s was all about one thing, shining! Dazzling silvers and glimmering golds were a must when it came to any disco dress.
Halloween costumes for women in the 1980s
Valley Girl Costume of the 1980s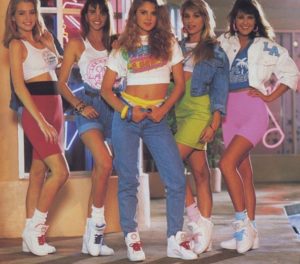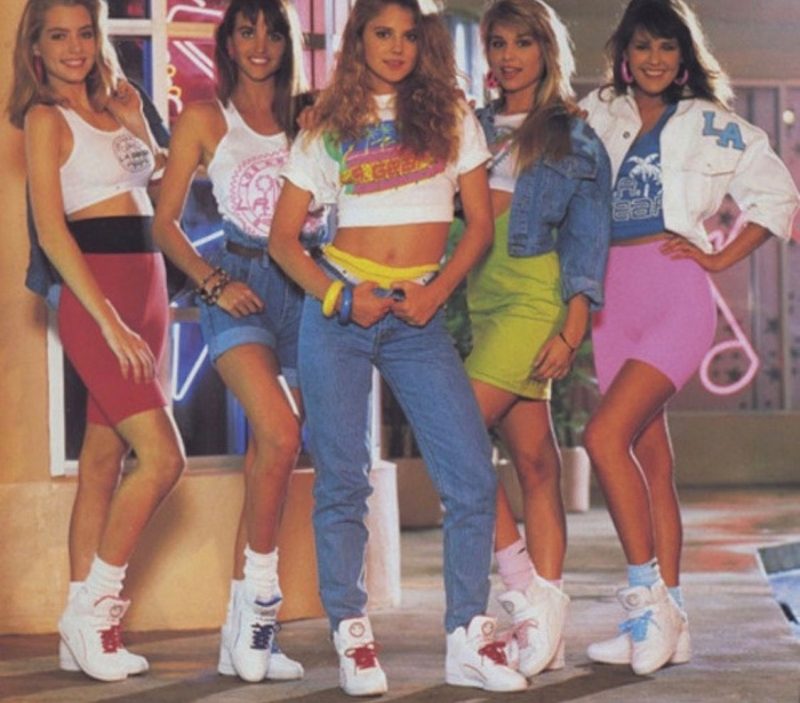 The 1980s was a different time, it was a "totally rad" time. All of the 80s outfits were full of neon colors, big hair, and big shoulders. The music scene was equally robust, with pop icons like Madonna and Prince ushering in an upbeat, dance-worthy sound. Movies introduced us to hits like Beetlejuice and Ghostbusters, TV characters, like Kelly Kapowski from Saved by the Bell; and others rock the look of the big-name superstars who sounded through your boombox, like Prince, Madonna, and Joan Jett. There was a lot more variety at the box office, with films like E.T.: The Extra-Terrestrial and Back to the Future taking some of the top spots. Music was peppy and synthy, everyone had a Rubik's cube, and life was Smurfy. Whether you want to punk out with rainbow colors as a rock diva, work out to some 80s music, or become your favorite movie star, begin your adventure with the looks that had the gals practically singing about all the fun they wanted to have, headbanging with the Home girls or wigging out with the Valley Gals.
1980s Elvira costume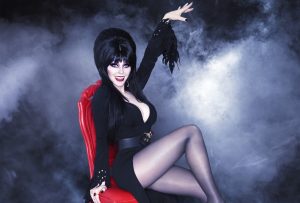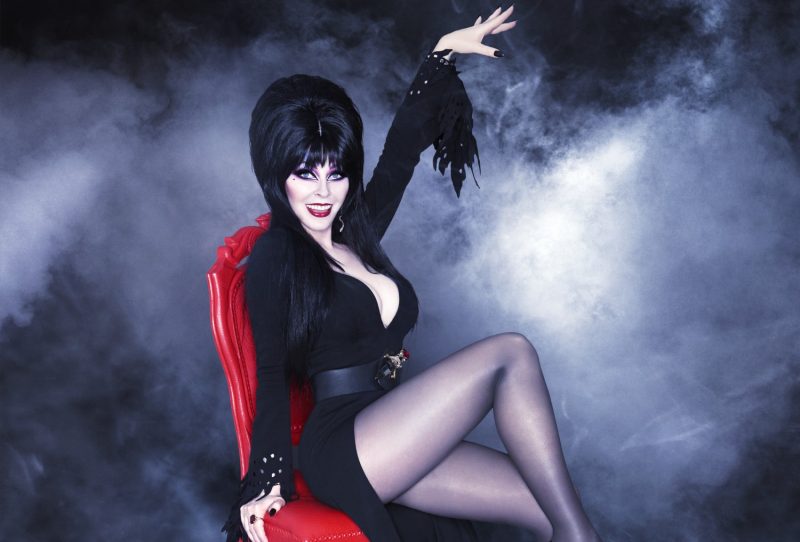 By the 1980s, you could really dress as whatever you wanted and with whatever budget. Ben Cooper no longer owned pop culture-centric Halloween costumes, allowing kids to buy higher-quality outfits to dress as Princess Leia, Freddy Krueger, or the Care Bears. But the ultimate pop culture costumes of the 80s were very much of their time. Women dressed like the sexy Elvira — complete with a big, black hairdo. And men favored squeezing in to a one size to be Hulk Hogan.
Conclusion
Do you know what you're going to be for Halloween this year? Would you like to try some vintage Halloween Costumes? Inspired by famous faces, must-see movies, and cultural movements of different eras, these Halloween costumes are a fun way to let your retro spirit shine this October. Get your vintage vibe on this Halloween with the above chic costumes you might even want to take out post-holiday.