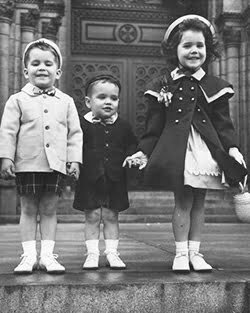 The 50s were a booming time with hearts renewed hope after the horrors of World War II. It was the time for a baby boom. The recovering economies offered jobs that afforded families money for children's clothes. Fashion trends for children reflected this cheerful decade with bright colors and more embellishments. While children's formal wear largely borrowed from adult fashion, daytime casual wear showed a lot of variety for both boys and girls. High waisted skirts, poodle skirts, and ballet shoes for girls, while boys sported overalls, three-piece suits, camp shirts, and wide-legged pants. Children's clothes from this decade have a timeless classic vintage look.
Fashion for boys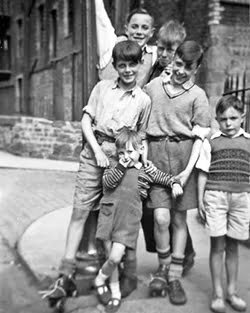 Jeans had become quite popular by the 50s, especially for urban boys. The cool look sported a pair of jeans, a t-shirt and a pair of sneakers or canvas shoes. A crew cut completed the look. small boys below 5 years still wore small shorts but most boys wore long pants as soon as they hit 5 years. Boys below 10 years occasionally wore short pants suits for a formal occasion such as church service.
Older boys in senior high school sported the 'clean-cut' look for formal occasions and school. These featured slacks worn with a bright flannel shirt patterned tie and sweater or sports coat. Older boys also sported the European Continental look which had a broad-shouldered short jacket, tapered cuffless pants, and a slightly cinched waistline.
In Europe and the UK, boys wore uniforms to school which mostly required shorts and knee-length socks. The uniform could include a blazer and tie in some schools. Boys wore long shorts while at home and for play. Jeans were yet to catch on in Europe and boys wore heavy gabardine or cotton pants instead. Formal wear mirrored adult men's styles.
Fashion for girls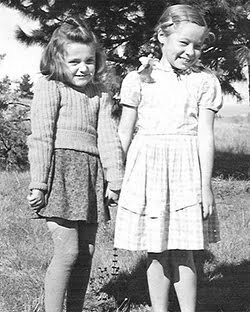 Although it was becoming more common for girls to wear long pants, they were not for school or formal wear. Girls wore cotton skirts or dresses, and bright sweaters for formal occasions. Pleated skirts and bolero jackets were also part of formal wear.  Young girls wore dresses with ruffles, stripes, plaids, and checks while older girls' fashion was more toned down. They wore belted dresses with pleats and bow collars, and detailed pockets.
The 'Magic-grow 'skirt for fast-growing pre-teens was an adjustable dress that could accommodate a few inches growth by fashion designers. Older girls also wore denim pants while at home or working in the garden. This was paired with a cotton or flannel shirt.
Wool and velveteen skirts and sweaters were a hit with teenage girls in the mid-50s. as were pullover sweaters and quilted cotton skirts. They also wore blazer jackets, two-piece ensembles, and slim skirts. Bright yellows and pinks were seen on skirt dresses with embellishments ruffles, bows, and accents.
The late 50s saw the casual look for girls become more popular. Colorful Bermuda shorts paired with vestees or pullovers. Holiday wear also included pleated circle skirts worn with hooded cotton knit sweaters.
Very young children, boys and girls alike wore long gowns while toddlers wore embroidered rompers with colorful motifs.