In the 1950s women's fashion, swimwear was suitable for curvy women, which meant processing structured underwear into shape and support design. By the end of 1950s fashion, bikinis began to be accepted and welcomed by more and more mainstreams, thanks in large part to Brigitte Bardot wandering around the French Riviera.
The different styles of 1950s swimming suits
1.Polka-dot swimsuit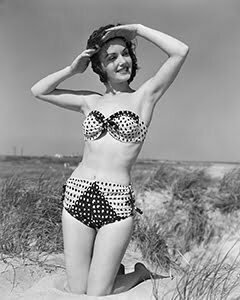 Who doesn't like the fun, flirty appearance of dots? The dot pattern is very suitable for everyone's style and personality and is always a popular print. When you wear an elegant and charming swimsuit with a polka dot style, please get in touch with your 1950s retro masked girl. You can find the whole polka dot one-piece swimsuit, mix and match swimsuit styles can combine polka dots and solids, or display polka dots with other prints or special accessories. Don't forget oversized sunglasses, scarves, or huge sun hats to end this look with a retro charm.
2.Second Wave Retro High-Waisted Bikini Bottom
The cheerful flowers on this Madewell suit take us back to 1953 when Brigitte Bardot wore a floral print bikini to prepare for the paparazzi and shocked the crowd at the Cannes Film Festival.
3.Valentine White Bandeau Bikini with Shirred Skirt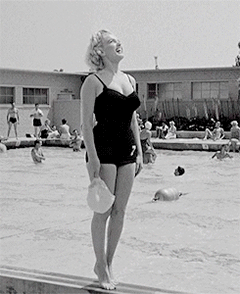 This vintage white bikini is an almost perfect replica of the iconic 1950s style suit worn by Marilyn Monroe. The bottom of the skirt is an added bonus-around 1930 to early 1940, during the heyday of swimwear, these were all the rage.
1950s history about bathing suits
At the end of the winter of 1950, Los Angeles fashion designer Rose Marie Reid (famous for designing the beachwear of stars such as Marilyn Monroe) obtained a patent in a bathing suit. The elastic fabric used in the bathing suit can be tightened. Reid already has a number of patents related to swimwear, and he has just created the earliest version of a modern one-piece bathing suit.
According to a patent filed in 1946 but not granted until 1950, the present invention will "shape and support the half-length and abdominal area of the wearer's body in a more pleasing way without feeling discomfort or hindering their free movement. Reid's Patented designs are still more customizable than modern single-piece products but are different from the zippers, buttons, and shoe straps used in Reid's previous designs.
History about 1950s Bathing Hair Caps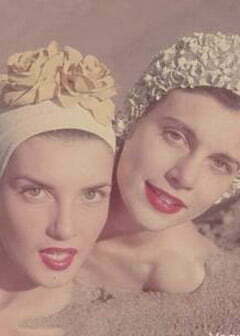 Hair was so important to an appearance in the 1950s that no woman wanted to wet her hair while swimming, so a luxurious bathing cap covered with flowers, petals, and rubber nails became a must-have accessory for the beach. This kind of bathing suit fashion has also been transferred to hats used in fashionable occasions, as decorative flower clusters, making the hat unhappy, forming a bell-shaped wreath completely decorated with flowers.
On the beach, women like wrapped shirts, button dresses, or simple towel dresses as a cover. Aprons, kangaroos, or shawls only really became popular 20 years later.
1950s history about swimming suits
By the 1950s, swimwear designers began to sprinkle rhinestones and exquisite applique designs on the outside of one-piece swimwear. Clothing and costume designer Rudi Gerhreich invented the nude bikini in 1964 and is the most widely known designer today. In 1956, his pink wool one-piece swimsuit was decorated with buttons on the front and was widely praised for it. "magazine.
But the biggest news in the 1950s and 1960s was that the smallest swimsuit bikini ever was widely accepted. As usual, Hollywood paved the way for its acceptance. Ava Gardner and Lana Turner wore two-piece suits in the 1940s, but with Bridget Bardot in the 1956 film "And Compared with the bikinis worn in "Women Created by God", their costumes appear tame.
History about Corset style 1950s swimsuit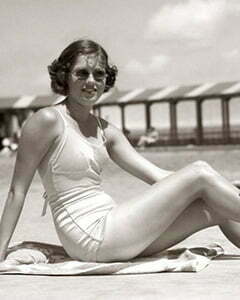 In the 1950s, ladies continued to wear all swimsuits, rarely wearing bold two-piece bikinis. Until the early 1960s, zippers were still used in the backs of swimsuits to maintain the appearance of the corset. Sometimes there are zippers at the side seams. Swimsuits from the 1950s and early 1960s were cut directly through the legs in a plain apron form and concealed a separate matching fabric cane. Subtle changes have taken place in the past few years, and the humble apron style quickly became obsolete. Take a look at these cute all-in-one swimsuits and sportswear, they were typical in the 1950s. The pattern matching of this retro dress is another courtesy of retro clothing, showing the typical coverage of the era, and this sportswear follows the Japanese style of the era, but can make the legs tan.
History of playsuit from the 1950s: Apron-style swimsuits and game suits
Every swimsuit in the late 1950s was equipped with a detachable belt, and almost every woman seemed to wear what we thought was the equivalent of a beach corset! This is especially noticeable in the mustard version, which appears to be almost colorful Corselette. Some of these swimsuits came from Marks and Spencers, and one-piece swimsuits are still being produced today. Elastic pleated swimsuit c1955.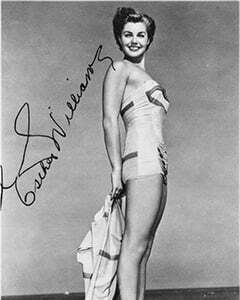 Swimwear in the 1950s was very popular, including a variety of fabrics such as cotton lining, elastic Lastex, and elastic waffle nylon. You can see the floral pattern of the waffle elastic swimsuit on the far left above. Immediately to the right is an example of a ruched swimsuit similar to the flower pattern above. This kind of swimsuit is more popular among children.
The legs on the floral and red swimsuits are also the "high breasted" legs of the day. Today, this type of leg cut is described as a low-cut cut on the label, because the suit has been cut higher above the leg to make the leg look longer, and of course, it can also expose more of the body. For similar retro swimwear, you may find something suitable in Popina. Try Poppiswim retro swimwear boutiques, try retro styles, such as Grace, as shown on the left. This is indeed an excellent reproduction of swimming costumes and flattering suits. Crazy people are all the rage, how do you resist?
In the 1950s, bikinis were still considered custom figures, most suitable for movie stars and strippers, but the fashionable version of the two-piece one-piece swimsuit was often regarded as the skirt swimsuit of the 1950s.
The two-piece suit features a sturdy patterned fabric bra with a wide safety belt. These shorts are placed on top of shorts and modest skirts and are very popular. Women who want to hide thigh lumps or hide varicose veins especially like them. These are usually made of satin cotton and are printed with vivid exotic prints.
Bathing suits vs swimsuits for hourglass body shape
1. What is the figure of the hourglass figure?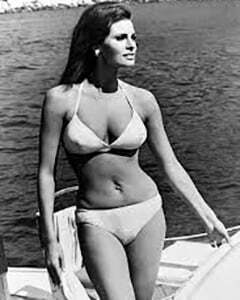 The hourglass-shaped figure is a well-known term for the "classic" female avatar-well-proportioned chest and hips, slender waist, and well-defined contours. Even if you are slim, you can still become an hourglass. Proportionally, you have the perfect bikini body-enjoy it!
2.The points of the hourglass figure
The hips and shoulders are roughly the same widths, and the waist is narrow.
Medium-to-large bust, proportional to hips and hips.
The curved and balanced figure, very suitable for swimwear.
Swimsuits for hourglass body shape: best bikini types for hourglass-shaped women
How to choose a bikini for an hourglass-shaped figure? If you are lucky to have an hourglass figure, then wearing a bikini is easy-you just need to maintain a natural balance. The easiest way to achieve this is to wear matching suit-mixing different bikini tops and bottoms can lose balance and make the process more complicated.
1.one-piece swimsuit
High waist buttocks and fall into the neckline style, lengthen the legs and highlight the natural curve. For maximum curve enhancement, choose a side-cut monokini.
2.Bikini top
Pair it with a classic breast-enhancing triangle bikini top to show your full bust. If the breasts are small, try a sexy strapless/tube top design. If you have larger breasts, you may prefer the extra support of a backless top.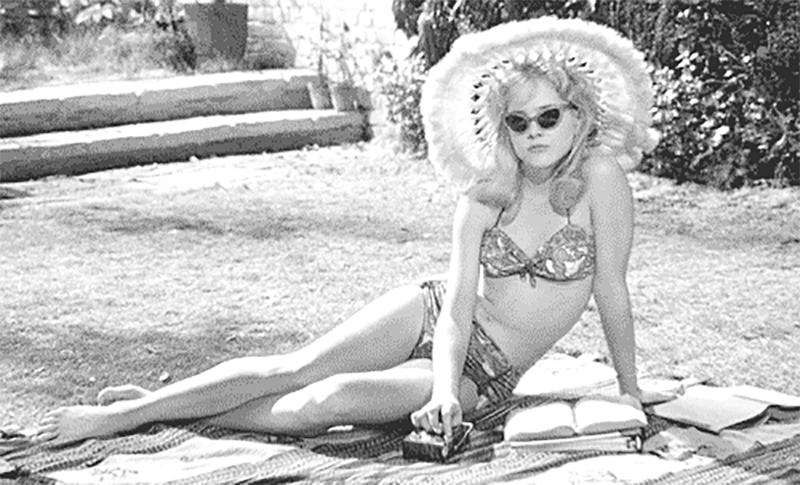 3.Bikini bottoms
When it comes to swimsuits with curved hips, simple swim shorts cut at the waist look great. However, if you want to further enhance the natural curve, please increase the volume of folds and other decorations. For a retro look, a high-waisted bikini will attract your attention while tucking a round belly.
4.Types of bikinis to avoid in hourglass shapes
When buying an hourglass-shaped swimsuit, there is no bikini type to avoid: the main thing to avoid is mismatched patterns, colors, and styles, which may make the top and bottom of the bikini incompatible.
Bathing suits for hourglass body shape
Now, some simple tips about one-piece bathing suits: you can choose a strapless or detachable shoulder strap model. A good idea is a swimsuit with a tube top, and try the sweetheart neckline. Monokini hollow swimsuit will further improve your figure and make you look crazy and sexy, and various patterns will be good. You can choose the color according to your taste and choose the top-bottom balance model. What to avoid? The imbalance between top and bottom. You are very harmonious and keep this way. In addition, you can wear whatever you want!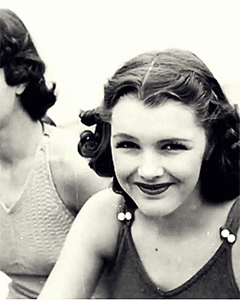 Here you will find a summary of bathing suits recommendations on the shape of the hourglass:
-One-piece bathing suit: strapless style, single-core bikini
-Tops: tube top, strapless, sweetheart neckline
-Bottoms: any type of bottoms suits you
-Pattern: Eye-catching patterns on the top and top. If you choose a calmer print, please choose the same calm at the top and bottom.
-Color: eye-catching or overall eye-catching-you look good in any situation!
In conclusion, swimming suits and bathing suits are supposed to be the same meaning, which demonstrates that they have a very small difference. Both swimming suits and bathing suits look good on hourglass body shape. Most importantly, confident women look good in anything! If you want to learn more about swimming suits or bathing suits, please visit our website: https://www.vintage-retro.com/1940s-swimsuits-into-radical-items-bikini/.