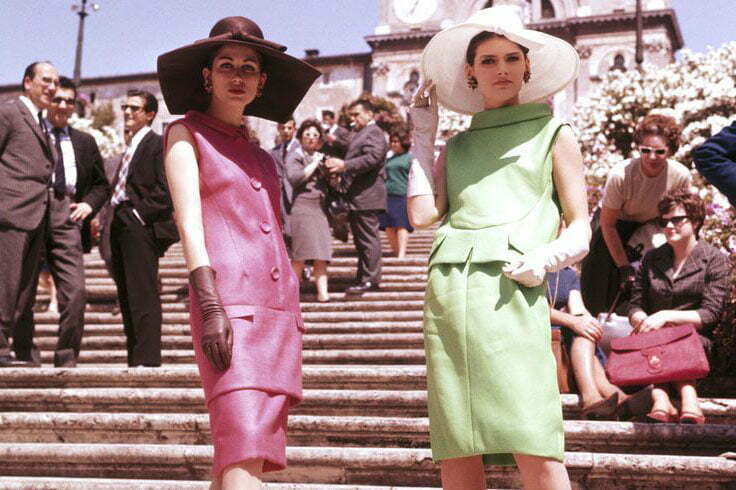 1960 was a decade of vivid colors and bold prints. The fashion that this decade gave birth to was extremely revolutionary and continues to influence designers even today. The fact that this fashion was wonderfully contagious is the reason that we still see it in today's world. Fashionistas from around the world still follow in the footsteps of 60s fashion icons to recreate gorgeous vintage dress looks.
Scroll down to find some of the ways as to how a 1960s dress can be styled:
#1: Houndstooth Plaid Vintage Dress
The 1960s were a decade teeming with plaid patterns, and houndstooth plaid vintage dress is a classic example of a 1960s dress. The color combination of this dress gives off a super cool vibe. You can style this dress by adding big collars and pockets to it. The button detailing also adds to the style. Wearing gloves and a trilby hat really compliments the overall look. In the end, complete the look with 1960s iconic pointed-toe kitten heels.
#2: Mod Dress
Most 60s mod dresses were brightly colored solids with minimal design and very short hems. There were also 60s mod print dresses that used repeating geometric lines and shapes to make visual drama. These could be left undecorated or with some contrasting trim to further enhance the mod style. To style a mod dress, you can wear some accessories like oversized round or square sunglasses, wrist length gloves, big button earrings, a plastic bangle, a plastic or vinyl purse and a pair of tall go go boots.
#3: Floral Dress
Floral dresses were a trendy piece of clothing in the 1960s. The bold floral prints would make you stand out in an instant. If you are also planning on wearing this dress, then style it by wearing a belt around the waist. Adding collars to the dress can add perfection to your style. Pair your vintage floral dress with white tights and matching square-toe low heels to look magnificent.
#4: Shift Dress
Shift dresses were a popular 1960s fashion choice and made you look chic without putting much effort. These came in various prints, such as stripes, polka dots, and checkered designs. You can get these dresses in multiple colours, and styles and you can style these bold colored 1960s shift dresses by adding buttons, bows, and belt. Wearing the right kind of accessories and proper footwear can enhance your look even more.
#5: Vintage Disco Dress
Disco style dresses gave rise to bold patterns and vivid colors. There were various floral, geometric, and striped patterns adorning these dresses. When going to a disco night with your friends, you can style your disco style vintage mini dress by pairing it with white Go-Go boots. You can also add a matching headband to your hairstyle to look stunning.
#6: Black and White Trend
Black and white was a favourite colour combination among the people during 1960s. It was not only cool but classic as well. Dresses were being made in black and white broad checkered patterns, and matching accessories were also trending. If you also have a 1960s black and white vintage dress, then style it by going with black and white accessories. Black and white knee-length boots, a white schoolboy hat, matching plastic bangles and round sunglasses can give you your desired fashion icon look.
#7: Hippie Outfits
The hippie style of the 60s was born from the beat movement and brought with it wild patterns and cool accessories. If you also want to look as cool as a 1960s hippie, then style your brightly coloured, psychedelic patterned top with fringed and patterned bellbottoms. Add a loose belt to your waist and a colourful bandana to your hairstyle. You can also wear symbol earrings and colourful bangles to look cooler.
#8: A-line Vintage Dress
A-line dresses were a common but chic fashion in the 1960s and continue to inspire people even today. You could either get a plain A-line dress or a dress full of colourful patterns and look fantastic. Style your A-line 1960s dress by adding round pockets and a glossy black buckle belt to the straight neckline. You can also wear nude tights with it to make you look stunning. Chopping your hair into a bob can instantly put you under the limelight.
The bold and bright fashion of the 1960s included mod style, beatnik style, and hippie style. These styles of fashion are still seen as the most stunning trends ever created. The people of today's world can also become 60s fashion icons; all they have to do is recognize their 60s style and then recreate the vintage dress look by styling it in all the best ways possible. The next time you are going out for shopping, don't forget to lay your hands on your favourite 1960s dresses and matching accessories.