Protest art uses creativity to convey its message, express its thoughts and make its voice heard. The expression of this kind of creativity comes through artworks. Such as street walls painting and murals, drawings, printed materials.
However, unlike these common artworks, protest art can also use unconventional materials like clothing designs for their cause. A practical example of using unconventional materials as a protest art was explicit in the hippie's 1960s counterculture movement. When tie-dye became their emblem, and that lasted through the 70s.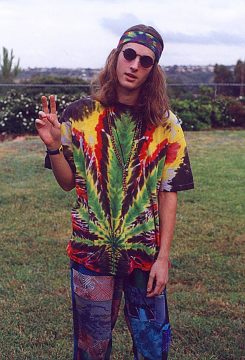 Who invented tie-dye shirts?
Asia
The origin of tie-dye dates back as far as the 5th century (AD) in Asia. It is the continent with the earliest samples of tie-dye fabrics.
Some of the local names peculiar to tie-dye fabrics are,
Japan – Shibori
Indonesia (Java) – Jumputan
Thailand – Mudmee
India – Bandhani
Africa
However, a few centuries later, the indigo tie-dye fabric in Nigeria (Western African) became popular. It is common with the name Adire.
Europe
It was until the 20th century (1909) that the Western World saw the introduction of tie-dye. Professor Charles E. Pellow was the first person recognized to have introduced it to Columbia University through one of his lectures. In the late 60s, some notable persons like Gordon Deighton (London) publicized tie-dye wear. He took it upon himself to produce tie-dye shirts, trousers, jeans, etc. He made the dresses specifically for the young men and sold them through Simpsons of Piccadilly (a retail store).
United state
In the United States, the likes of Janis Joplin hyped the tie-dye clothes. She made her tie-dye clothe herself. It is understandable since it was an unusual design those days; many, who wore it, made them themselves.
Besides, she is a bohemian (boho) fashion idol. Her fashion style reflects bright and psychedelic designs, layered outfits, excess jewelry, and headpieces.
The Woodstock event
The Woodstock event in 1969 also did justice to tie-dye innovation. Joe Cocker and John Sebastian were some of the artists who performed in that show with their dyed T-shirts. Rit, a dye company, also made several tie-dye T-shirts, which they sold in the show. The invention of tie-dye clothes in the United States is not specific to anyone. Before long, it existed in other countries like Japan, Indian, and Nigeria.
However, many Americans give credit to some persons. Just as aforementioned, Janis Joplin, Joe cocker, the hippies, etc., gave tie-dye dresses the recognition it now has in American fashion.
Why tie-dye shirts were popular in the 60s?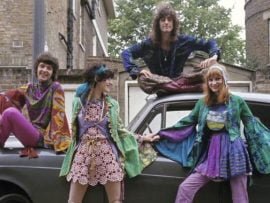 The symbol of using tie-dye as a protest art began in the 1960s by the hippies. It became not only a symbol of countercultural movement by the hippies but much more. They wore tie-dye shirts and dresses and other clothes with intense colors, including the ones with psychedelic designs. This kind of clothing came with symbolic representation. Many may not know that 1960s hippie's demonstration was not only about their individuality or about freedom. They also advocated for non-violence, love, and peace during the Vietnam War. Therefore, as they became popular, the wearing of tie-dye cloth also spread among many American youths. Even though they were not hippies, they rock the bright designs with poise.
More so, the availability of Rit dyes made tie-dye possible and affordable. Rit dye (in powdered and liquid form) is a type of dye for household purposes, usually sold commercially in stores. Therefore, anyone who could lay their hands on it can easily transform their jeans, shirts, and dress into dyed ones.
The method usually involves tying and dipping the clothes in the hot solution (dye and water). Then, allowing it to dry. As the fashion of tie-dye increases daily, many turn it into business, making and selling tie-dye products. An example of such was the Waterbaby Dye Works by John and Ceci Sebastian.
Clothes became neutral
Before the early 1900s, there was some evidence that women wore men's cloth. Then, there was no coinage of the word unisex. Many believed the Victorian dress reform movement in 1881 could have led to that. Nonetheless, society frowned upon it and considered such as insubordination.
Not until the '60s and '70s that the two great movements witnessed in America ushered in a new wave of fashion.
The hippie movement in 1960 – liberation from societal standards and
The women's liberation movement in 1970 – protest for gender equality.
This era got women freedom from fashion rules. Of course, many choose shirts and minis, jeans, and fitted gowns over what society demanded.
Summary
Now, with the recent comeback of tie-dye trendy styles and patterns in America, anyone can rock them flawlessly. Tie-dye is no more about the liberation movement or a community that loves psychedelic designs.
It is about being one of the top fashions in women's wear. You can get women's tie-dye shirts in beautiful prints and varieties suitable for any season.