Have you watched Top Gun, the 1986 blockbuster movie? Do you know the 1980s men's fashion from this movie? That featured Tom Cruise as Pete Mitchell callsign "Maverick" as the leading character. If you have, I bet you found it interesting like many others.  However, we will skip the actions, beautiful scenes, fights, and weapons. Instead, we will take a closer look at the Maverick Top Gun outfit.
The movie, which was about US navy pilots, showcased one of the most inspired military pilot aviation costumes. Even more, anyone who wants to play or portray the character from the movie can do so. All thanks to the perfect replicas of the male and female Top Gun costume, which is at your beck and call.
How to Dress Like "Maverick" from the Top Gun Movie
If you are a top fan of Maverick just as I am, you may have always wished to have his honored look.  Well, this may be the time to cosplay Top Gun's main protagonist – Lt. Pete "Maverick" Mitchell.
Maverick dressing costume includes: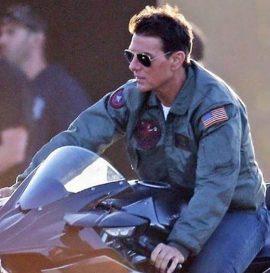 Top Gun bomber jacket– This iconic flight jacket has a unique style that sets it apart from other bomber jackets.
You cannot go wrong with wearing it. Even more, you can now make your choice. You can choose the 1986 Top Gun brown G-1 flight leather jacket, with fur collar or the new Tom Cruise "Top Gun" green bomber nylon jacket. Both come with knitted cuffs.
Military boots– You cannot rock the Maverick Top Gun outfit without the boots. The boot is a must-have regardless of which version of the Maverick costume you choose.
However, any black military but a strong-looking boot will do. With your Top Gun bomber jacket and military boots ready, you can wear the Maverick costume of jacket and jeans. Just make sure you have your white T-shirt ready too. Alternatively, you can dress like Maverick in an olive-green flight suit. The pilot aviator's fancy jumpsuit can make a good Halloween costume as well.
Finally, pop up your style with an aviation sunglass. It should not necessarily be Ray-Ban RB3025 Aviator Classic sunglasses though. Other cheaper variations are available too. Lest I forget, Maverick also wore pilot helmets and lots of patches set.
Male & Female Top Gun Outfit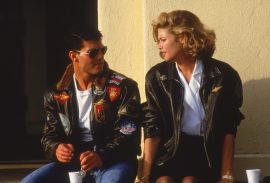 Many designers have modified the Maverick Top Gun costume for females and children too. However, apart from the Maverick Top Gun outfit, are other Top Gun Characters with unique costumes and look. For example, you can add a mustache to look like Nick "Goose" Bradshaw or wear a garrison cap like Lt. Commander Rick "Jester" Heatherly. Kelly McGills "Charlie" was the female lead in the Top Gun Movie. You can do some justice to her iconic outfit as well.
All you need is a formal black pencil skirt (at knee length), a white blouse, a pair of stockings, black heel shoes, and a faux leather bomber jacket with belted cuffs. Then, complete your look with a blonde, short and curly wig.
Regardless of which version of the Maverick Top Gun costume you want, there is an iconic outfit for everyone.