Love conquers all. Even with a world war going on smitten couples took time to make vows to each other. But weddings during the war were hurried affairs. The wedding was often done after the groom was conscripted or during a short leave. This left little time to shop for a wedding dress. Notices were short, engagements quick and weddings simple. Weddings dresses of these years included Sunday best dresses, evening ball gowns, and more often than not, wedding dresses from previous weddings by relatives before the war. Fabric rationing hampered wedding dress designs which led some brides to resort to silky parachutes to fabricate their wedding dresses.
1940s Sunday best dresses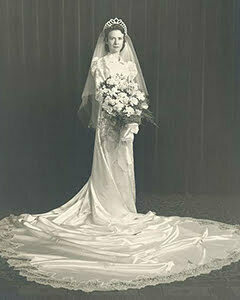 Practicality was valued in the hard times of WWII. In Europe, people bought dresses using limited coupons, while in America frugality was encouraged in the face of uncertainty. Many brides chose wedding dresses that could also be worn after the wedding. She would choose a trendy design and favorite color to be sure it would be wearable for at least in the next season. Satin and silk were scarce because they were used in parachute making. Synthetic fabrics like crepe, taffeta, and rayon satin were still available. Lace was limited and expensive which forced many brides to go without a veil or wear a very short one.
New wedding dresses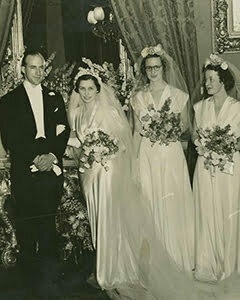 Fashion designers in early 40s fashion were limited in what they could do because of rationing. The popular princess gown wedding dress could not be made because of the fabric shortage. The most common design had a fitted bodice with long fitting sleeves and a sweetheart neckline. The skirt was full at the hips and fell in an A-shape to the floor. There was minimal embellishment because lace was scarce. Trains were short or absent.
Most wedding dresses came with a long veil that hung from a pillbox hat kept in place with a hatpin. A headpiece made of flowers was also a popular way of adding color to the outfit. It would be made of beautiful real flowers that were in season. The bride would carry a matching bouquet. The headpiece would also match the couple's corsage. The most popular flowers were roses in white, pink, or red.
Young flower girls were seen in more elaborate traditional weddings. They wore dresses with puffy floor-length skirts. Bridesmaids wore dresses similar in design to the wedding dress but in a different color; pink rose was the favorite as well as electric blue, yellow, and bright florals. Their dresses were short-sleeved and accessorized with hats, flowers in the hair, and short veils.
Borrowed dresses for Women in 1940s
Many brides opted to wear wedding dresses borrowed from their mothers, aunts, or grandmothers. Some wedding gowns went as far back as the 20s. It was also not uncommon for brides to share a wedding dress during the wedding season. This was more so in the UK where getting a new wedding dress was close to impossible.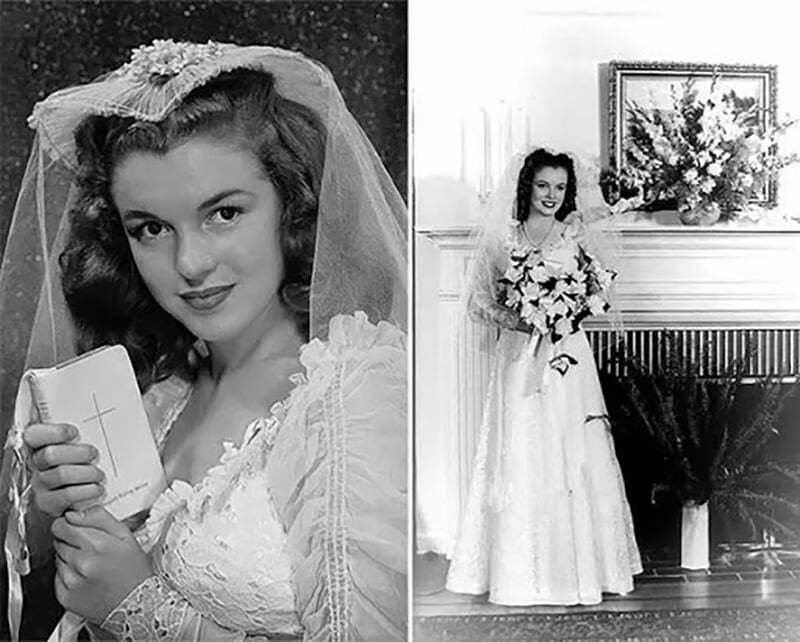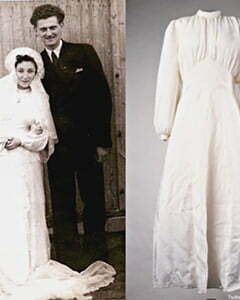 The parachute wedding dress of 40s women's fashion was one unintended good consequence of the war. Parachutes in WWII were made of silk lined with nylon to keep them light and foldable. The silk was white and undyed which made it ideal for use in making wedding dresses. A single parachute had adequate silk to make an elaborate wedding dress with all the embellishments including puffy sleeves and a long train. Many women in Europe and Asia collected discarded parachutes for making dresses, while grooms in America would bring back parachutes in good condition as souvenirs for their brides.
The parachute wedding dress made the bride, even more, appealing with her resourcefulness in making do with whatever was available. It was also seen as bringing honor to the man brave enough to jump in the service to the nation. These wedding dresses became very popular in the last 3 years of the war.
American servicemen also brought back captured Japanese parachutes which initially had high-quality silk. It was also not uncommon for French women to use parachutes from German troops. The silk in parachutes was a universally coveted material by women everywhere.
1940s Postwar wedding dresses
A sense of grandeur returned to weddings after the war with decadent designs using lots of fabric. The princess ball gown wedding dress became popular with its romantic feminine profile; tight bodice and a voluminous skirt. Brides could also afford to decorate their wedding dresses with lace, frills, and grand trains.