Are you looking back to vintage 70s fashion? This is a good choice because the 70s were full of big changes in men's fashion. Brighter colors, tight contours, wide-bottomed trousers, and lots of synthetic fabrics defined the disco fashion for men. On the opposite side were the natural and earthy patterns and fabrics of the hippie movement. This was defined by wide and loose-fitting contours, natural dyes, natural decorations, and a heavy dose of oriental inspirations. Formal wear for men saw a sharp change as well, as suits became extra slim with loud stripes and checks. Jeans and corduroys saw a big comeback as well. The 70s had something for every man.
Early 60s men's suit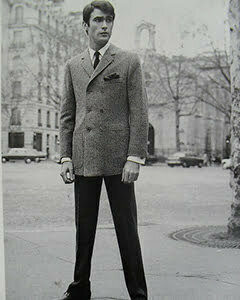 The mod movement of the 60s inspired by the London fashion scene had given the world skinny suits with large lapels and low waistlines. This style continued in the early 70s with short single breast jackets and tailored waists. Much of the vintage 70s clothing features large stripes, checks, and plaids with earthy backgrounds.
Designers continued to use fitting sewing patterns in the 70s for men's suits. Although the formal suit in the conventional style was fading, many men still had to wear one to work. But the younger crowd found ways of infusing new into the old. Elements of disco fashion were used in the formal suit. These included flared pant legs, wide lapels, and bright colors. Plaids and pinstripes were also seen in formal suits, as well as color-blocking using bold white and black contrasts.
The three-piece suit remained popular for office workers and Wall Street dudes, but some a touch of extravagance. Psychedelic prints and body-hugging contours were seen even on high-performance CEOs. Colors went from somber to bright and loud. White became a popular color for formal suits. Wide lapeled jackets featured plunging necklines, which allowed the wearer to show off a masculine chest when the occasion demanded.
70s Disco fashion
The mod movement had introduced the flared pants in the 60s.  In the 70s, the flaring became wider to become the iconic bell-bottom of the 70s. The bell-bottom was a popular style for all kinds of men's pants but more so in casual wear.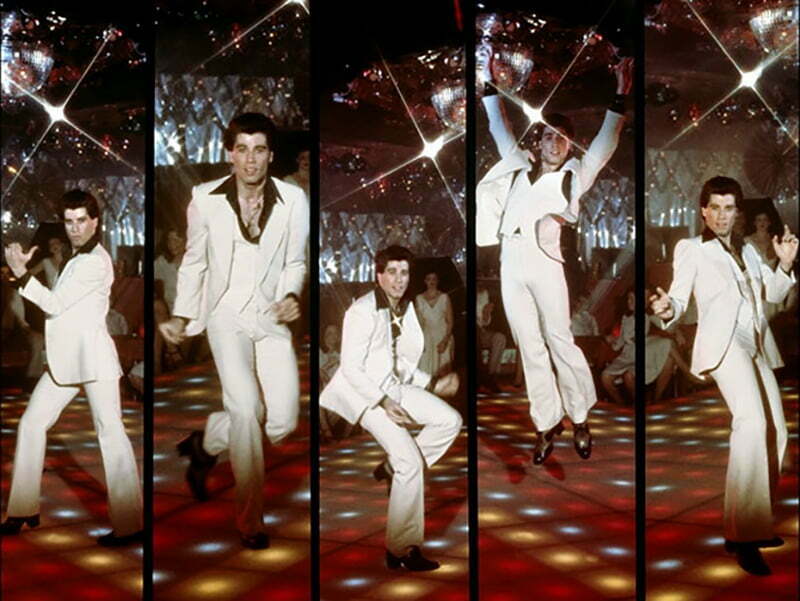 High waisted jeans and corduroy pants were very popular in the 70s, especially for blue-collar workers and college boys. Synthetics fabrics became highly popular in the 70s with polyester and jersey blends being the preferred fabrics for shirts and trousers. More opulent shirts were made of silk.
Polyester was the fabric of choice for clubbing fashion. It was flexible and light enough for dancing. Polyester blends also stayed cooler and absorbent for the whole night. The disco dude would typically step out in a muscle hugging flashy shirt, bell-bottom pants, a wide belt, platform boots, and a silver or gold necklace to add a sparkle.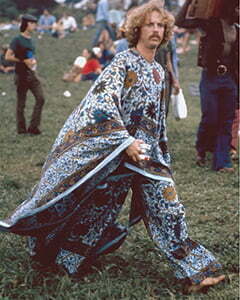 The hippie movement was big on keeping things simple and friendly to Mother Earth. This emphasized the use of local materials like cotton, leather, and linen.  Hippie outfits were loose and flowing, meant for comfort and practicality. The sewing patterns were simple and basic
The 70s have a lot to offer for vintage men's fashion whether you are looking for a comfortable outfit for a yoga class, or an outfit for a proper disco experience.