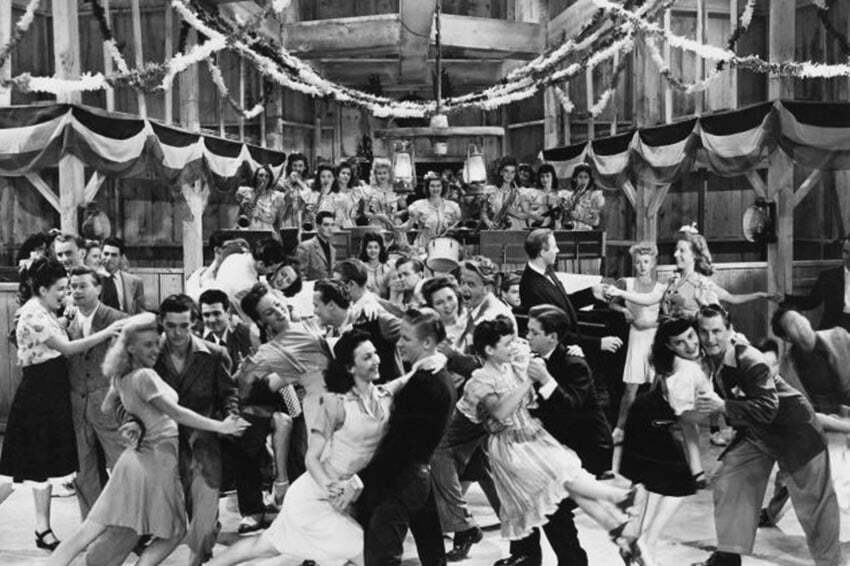 The time of the 1940s was the time of extreme elegance combined with style and perfection. During this time, people were giving special attention to their looks and strived for perfection in every aspect of fashion hence, the beauty and marvelous looks of the people we see today and can't stop admiring. Following the style of amazing people of that time and copying their fashion statements can be challenging if you don't have appropriate accessories. And, if you are going to a 1940s party, it is important that you put on all the right things and win the spotlight. Below, there is a list of all the things that you should wear for a 1940s party.
Learn about 40s women's fashion here.
1. 1940s Vintage Golden Bow Bodycon Dress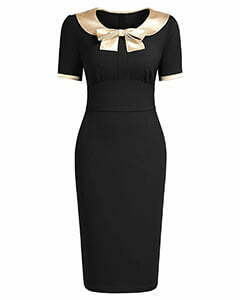 Going to an amazing 1940s themed party is no less than a magical dream come true, however, looking for a 40s style dress to wear to that party can be tough. In situations like these when you can't decide what to wear, opt for this majestic 1940s vintage golden bow bodycon dress and stun everyone around you. This is a perfect dress with just the right amount of elegance and style and can make you stand out of the crowd in an instant. Put on your high heels and a hat to add perfection.
2. 1940s Vintage Red Wrap Dress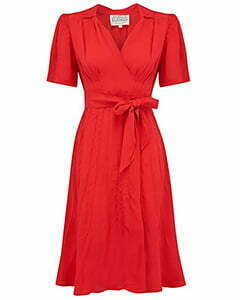 If you are looking for extreme style in a dress but, at the same time, something that is not too much, your search can take a long time. So, to avoid the part where you need to search for the ideal dress, for a stunning look that speaks glamour with every step you take, you should go for this majestic 1940s vintage red wrap dress. The wonderful red color of this dress adds extra perfection to your look and the bow tie at the waist gives your body a beautifully flattering shape. With this dress, you can wear some sparkly jewelry and woo the audience at the 1940s party.
3. 1940s Retro Style Short Sleeve Formal Mermaid Dress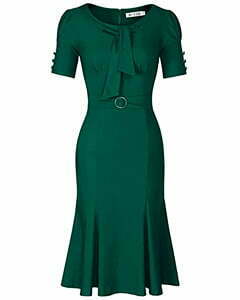 There is no dress like a mermaid dress for a 1940s party. If you want to look fabulous and can't handle the stress of wearing a heavy dress, then you need to wear this 40s retro style short sleeve formal mermaid dress. The button detailing on the short sleeves, the bow detailing on the neckline, and the buckle detailing on the waist are the components that add luxury to this dress. With this dress, wear your favorite heels and you are good to go.
4. 1940s White Fascinator Hat with Big Bowknot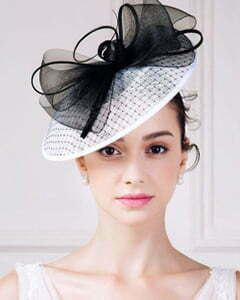 For the fashion of the 1940s, after beautiful dresses, what comes immediately next are the marvelous hats with beautiful designs and net detailing. These hats are an important part of a 1940s party and your look is considered incomplete if you are not wearing one (some might even frown) so, you better get your hands on one of these before the party starts! With the hat, wear your pearl earrings to complete your look and add style to your overall attire.
5. 1940s Coral High Heeled Pumps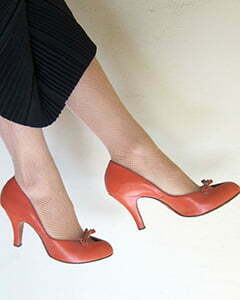 You are not ready for a 1940s party if you don't own a pair of high heeled pumps. Wearing the right dress, the perfect hat, and the statement jewelry won't do you any good until and unless you are wearing the appropriate shoes. For a 1940s party, opt for these 1940s coral high heeled pumps party shoes. The little bows adorning the high heeled pumps add perfection to their style and your look on the whole.