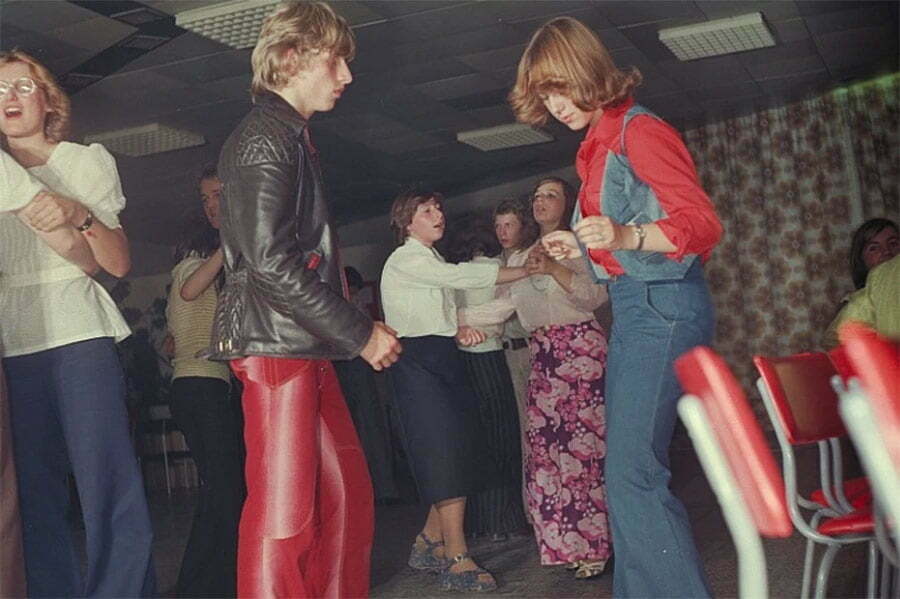 When it comes to vintage fashion, the 70s have always been the brightest star among all the other decades of the fashion industry. The vintage pants of the 1970s were able to manage a special place in everyone's heart, and their place is still thriving with style in today's world. These pants not only make a person look amazingly stunning but also are super chic to wear. With these pants, you don't have to compromise your comfort as they are brilliantly comfy, as well.
We are seeing all sorts of trends and fashions relating to vintage pants. There are various fabrics in which these pants are being sewn. There are also tons of different prints to choose from to get your favorite 70s vintage pants stitched. The choice of style of pants varies from person to person, and with 70s vintage pants, everyone has the liberty to style them however they want.
Below, there are some of the styles of 1970s vintage pants that you can choose from:
1. High Waist Bell Bottoms
In the 70s fashion, bell bottoms have made a special place. They are not only cool but also super stylish. You can sport these high waisted bell bottoms with cute crop tops or with your favorite t-shirts. The solid color of these pants gives off a cool vibe. For a funky look, wear a shirt over your bell-bottoms and tie the hem of the shirt into a knot. With this fantastic style, it is time for you to put on your platform heels and rock the world on your steps. Don't forget to wear the right jewelry for the right occasion.
2. Picnic Plaid Pants
For a style like no one else, going with 70s vintage plaid pants is the most suitable option. The plaid fabric gives the pants an even more amazing look. You can wear these pants with stylish tops of your choice. A top with a boat neckline will enhance the beauty of your pants noticeably. It is essential to coordinate the colors of the pants and the top carefully so that you don't make any fashion blunder. Now, the next thing you have to do is wear your statement earrings and a hat to complete your perfect look.
3. Hippie Bell Bottom Jeans
For a classic but fresh look, 70s hippie bell-bottom jeans are the ideal choice when it comes to vintage fashion. A piece of classic denim fabric with the cool stitching of bell-bottom jeans adds to your style massively. The color of the denim goes with almost any other color when opting for a shirt to go with it, and it is also super easy to style when you are in a hurry. You can either wear your sandals with these jeans, or you can go for sneakers for a more casual and sportier look. The pockets detailing on these jeans look chic, and you can also wear a belt to complete your look.
4. Wide Leg Trousers
Wide leg trousers are the smartest choice for many people. These trousers are super stylish and make you look stunning in an instant. The vairous prints of these trousers bring out the style even more. Going with a white button-down crop top to wear with these can instantly make you a style inspiration for many. Choosing the right hairstyle with the right accessories can turn you into the queen of the 70s vintage fashion. With these trousers, you can wear whatever footwear you like, but white platform boots are preferable as they make you stand out in a better way.
5. Black Disco Pants
Though black, for disco pants or boho hippie pants, is a very basic color but there is nothing more classic and stylish as compared to this plain vintage color choice. With making you look smart, it also makes you appear super elegant and chic. With this black disco pants, you can wear any multi-colored shirt. You can also go with any print, whether it's floral or stripes, for a shirt to wear over these pants. When going out, opt for black heeled boots to wear with your black disco pants to add more perfection to your already perfect style statement.
No matter what style you opt for, the 1970s vintage pants are the one style in vintage fashion that is not fading anytime soon, and we are glad too. These pants not only come with style and comfort, but you can also choose the pants that match your affordability. With these pants, mixing and matching also become very easy as you can sport any type of shirt without looking dull and boring. The right accessories with these pants will enhance your look in the best possible ways. So, the next time you are going on a shopping spree, don't forget to lay your hands on your favorite 1970s vintage pants.