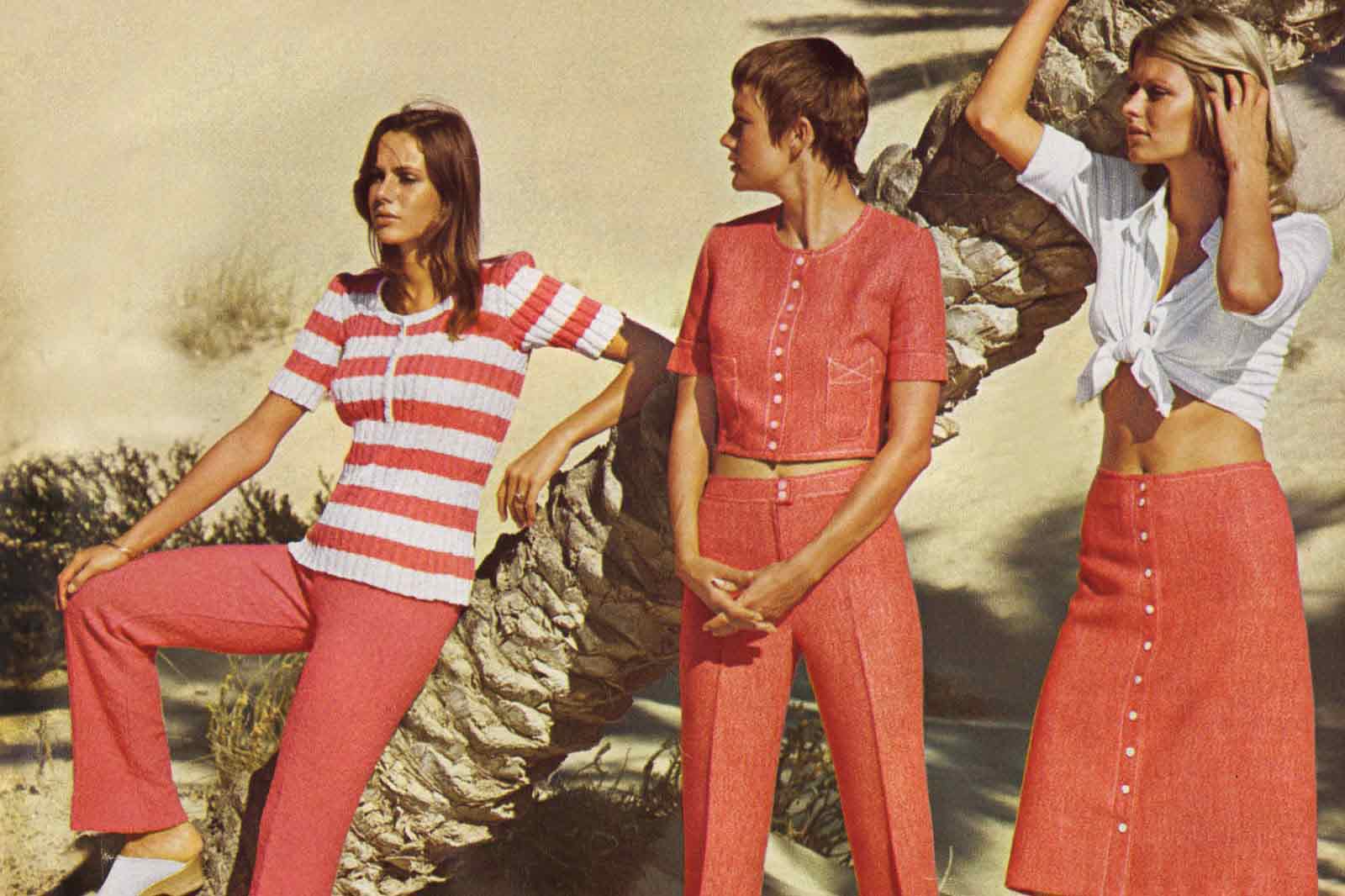 The decade of the 1970s gave us major fashion trends and inspirations that people continue to follow to this day. Ranging from long maxi dresses to miniskirts, leather jackets to beautiful shirts, and bellbottoms to go-go boots, this era witnessed the best of the fashion industry. The fashion of 70s style women's shirts was incredible with all its designs, prints, and cultural significance. These shirts came in all colors and styles one could think of. These shirts were often ready-made, but you could also get customized shirts according to your taste and style. You could wear denim and leather jackets over these shirts as well and you could also pair these shirts with trousers, pants, and skirts and with a number of accessories ranging from headbands, bandanas, sunglasses, bracelets, and big chunky jewelry. If you also want to get some ideas as to how you can wear 70s style shirts to stand out of the crowd, keep reading to find a list we have created just for you.
1. Ribbed Polo Shirt
Ribbed polo shirts were a popular clothing item during the 1970s. You could wear these shirts with trousers, pants, and even skirts and still look super cool and stylish. These ribbed polo shirts came in various designs and prints. You could get them in monochrome style, floral patterns, geometric shapes, and classic striped style as well. These shirts came in various color combinations as well. Some had lines of different colors, others had a different colored collar and the rest of the shirt would be of a different color. You could pair these shirts with your favorite trousers and sandals and go out with style.
2. Graphic T-shirt
Graphic t-shirts were a trendy piece of clothing that people of all ages would wear without hesitation. These shirts not only made you look cool but also gave you an exotic style that was envied by everyone who wasn't sporting this style. The graphic designs on these shirts included plants, animals, sun and stars, lips with word art on them, and a lot more. The color combination of the shirt and graphic design was also nicely created. These shirts were often paired with denim pants and beret of your favorite color. Wearing tinted sunglasses with this outfit was also in fashion.
3. Striped Shirt
Stripes have always been a trendy style to follow and we don't see them going anywhere anytime soon. In the 1970s, you could see stripes everywhere, ranging from stripped bags and boots to striped shirts and sweaters. You could get shirts with stripes of different shades of a color or you could get a multi-colored striped shirt that gave you a cool look. Striped shirts were usually paired with pants, but you could also pair them with skirts and shorts.
4. Zig-zag Pattern
The zig-zag pattern on shirts became popular with the hippie movement that brought in a major shift in the fashion trends of the 1970s era. You could wear these zig-zag pattern shirts of different colors and styles with bellbottoms and leather jackets. Combining this outfit with peace pendants, peace badges, hats, and bracelets was also very common. The flare of the bellbottoms sometimes also matched the print of the shirt and this showed the free spirits of the people living during that magnificent decade.
5. Flower Power
Floral patterns on tunic shirts were a common but stylish fashion followed by the women of the 1970s. Tunic shirts filled with floral patterns showed the importance of flower power slogan that was used between the late 1960s and early 1970s as a symbol of non-violence ideology and passive resistance. These shirts not only looked super cute but were quite trendy as well. You could pair these shirts with sheer tights or leggings and pointed heels. Wearing cat-eye sunglasses with these outfits was also considered extremely stylish.
6. Button-Down Shirt
In the 1970s, button-down shirts were not only sported by men, but women wore them with the same trendy and modish look as well. These button-down shirts often had pleats detailing for added style and shiny buttons for extra sparkle. When wearing a monochrome button-down shirt, women often paired it with plaid miniskirts and matching socks. Common footwear that was paired with this outfit included closed-toe pumps and block heels.
7. Psychedelic Prints
Psychedelic prints came from psychedelia or psychedelic movement that included colorful art of contrasting and vivid colors. These prints usually included geometric shapes, spirals, and concentric circles. Psychedelic prints were often found on boho tunic shirts. These shirts had bell sleeves and were paired with go-go boots that were also a trendy fashion item. Women wore headbands that matched the prints of their tunic shirt to add to their already fabulous looks.
8. Peasant Shirt
Peasant shirts with crochet trim were a cute 70s shirt trend that was followed by women of all ages. These shirts came in various prints, designs, and colors and were often paired with boot cut pants. Belts of different designs and contrasting colors were worn at the waist for more style. These shirts also had crochet lace adorning the hemline and ribbons intertwining the center partition.
9. Embroidered Shirt
Embroidered shirts of the 1970s looked extremely graceful and stylish at the same time. These shirts usually had strings of embroidery adorning the neckline and the sleeves. The color combination of the shirt and the embroidery were usually in contrast in a beautiful way. You could pair these shirts with denim skirts that had buttons and pocket detailing or with casual trousers or pants.
10. Polka Dots
There is no doubt about the fact that polka dots are everyone's favorite trend. In the 1970s, polka dots women's shirts were also another popular trend in fashion. These shirts came in a number of different styles and colors. The base color of the shirts often contrasted well with the color of the polka dots. Some of the shirts would have ruffles going around the neckline for added perfection. These shirts were usually worn with matching trousers or pants.