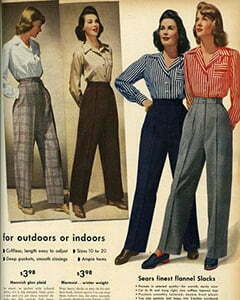 Women in pants were not a common sight in the 40s outside of factories. Pants were seen as too masculine but as more women stepped into men's jobs in the factories, this began to change. Pants were more practical for women and safer than skirts. More women began wearing pants off the job emboldening other stay-at-home moms to experiment with pants.
Young women started wearing wide-legged which were very similar to men's pants. The waistband was at the natural waistline. The legs dropped in a straight line to the hem making the slacks appear loose and unflattering to the wearer's form. The legs were pressed in a single crease running down the front. The hems were uncuffed. These slacks had big pockets for holding tools or other small objects.
These slacks were made of tough fabric denim, gabardine, and corduroy. The colors were work-friendly; black, grey, brown, and blue. Some designs had stripes and checks. Buttons were fixed at the sides instead of the front which was seen as too masculine.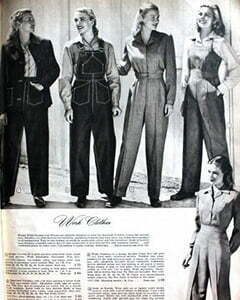 Women's pants design gradually became more feminine. The crotch was placed low, up to 4 inches in depth. The hips became wider and baggy. Postwar designs used pleats in front and darts in the back to give some shape to the hip area. In-seam pockets added to the fullness in the hips. The leg was tapered, different from straight-leg designs of the following decades. The trouser leg was short, but some women were their trousers long and rolled up the hems. A vertical crease at the front put some shape into the leg.
One peculiar women pants design in the early 40s women's fashion was the jumpsuit, also called the 'siren suit.' These were commonly worn by women in Europe where air raids were common during the war. This light cotton or soft flannel suit. It was designed for easy wearing when the raid siren sounded, hence the name. It had a zipper in the front and cuffed ankles. It also had an attached hood for covering the hair such that there was no fussing around. Some designs came with a coat and a hood for warmth and comfort in cold weather.
Blue Jeans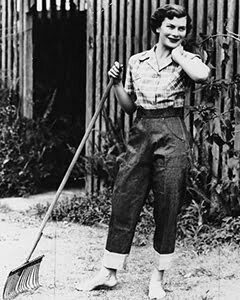 The most popular work pants for women were blue jeans. Women wore them in factories as well as farms. Women's jeans had narrower legs, and later designs had curved hips. Teenage girls wore led the way in wearing jeans as casual wear before older women picked up the trend. Blue jeans were worn with button-down shirts, peasant tops, or sweater tops. Cowgirl entertainers also helped popularize blue jeans, which they wore with western-style shirts. The biggest brands for women jeans were Lee and Levi. Wrangler entered the market in 1948 with a trendy collection featuring a front zipper, which became an instant hit and put the zipper in front since then.
Women in factories also wore denim overall that were alternatively called pinafore style pants. They were suspended with shoulder straps, with a bib in front and large slit pockets to hold assorted work tools. Overalls design did not change much from the men's design that had been used since the 1930s. Overalls were exclusively made from heavy denim, but postwar overalls were made from softer fabric.
Overalls were worn with a button-up top or t-shirt underneath. Teenagers also wore overalls fashionably without shirts in warmer weather. But the appropriate overalls for wearing in this style were pinafore style with a large bib covering the chest area such that only the arms and shoulders were exposed.
Fabrics other than denim began to be used for women's overalls in the late 40s. The most commonly used were cotton twill and chambray, and synthetic blends.
Pantsuits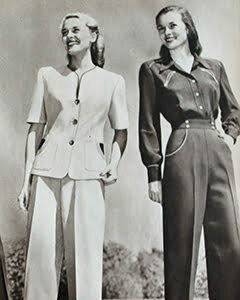 Slacks became more feminine and more women began wearing them with a blouse top as smart casual wear. The blouse top was tucked in the pants with a cardigan or pullover on top in cold weather. Young ladies took to wearing pants with tight-fitting sweaters. Pants could also be worn with a polo shirt for a sports event. As it became more acceptable for women to wear pants, women started matching them with button-up shirts to make smart pantsuits. These were the predecessors of women's suits in later years.